Kitty Black
Theatre author, translater, writer, producer, director, manager, agent - and original radio pirate.
30th April 1914 - 26 December 2006
On Boxing Day 2006 Kitty Black passed away at the fine age of 92. She was a founder of Radio Atlanta. We asked Colin Nicol, one of the first disc-jockeys to be signed up for that station, to pay tribute to the woman he has described as "the queen of British pirate radio"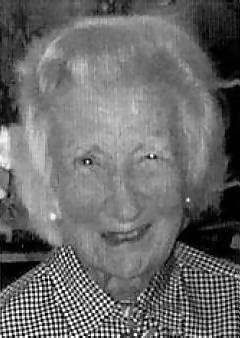 Kitty Black. Photo from 'The Author' magazine, kindly provided by Colin Nicol.
After an education at Roedean (in Johannesburg) and at St Albans and in Paris, South African-born Kitty Black started work in London in 1937 with the famed H.M Tennent theatrical agency. Her account of those years, among the glittering stars of the Forties and Fifties particularly, makes fascinating reading in her autobiography, Upper Circle (Methuen, 1984).

She was an exceptional secretary and a talented pianist as well as fluent in French. Before long, she was adapting and/or translating works by such as Robert Louis Stevenson, Jean-Paul Sartre, Jean Anouilh, and Fritz Hochwalder among many other great names of the time. She produced original works, was responsible for simultaneous translations for World Theatre Seasons 1963-75 at the Aldwych Theatre and was secretary of The Apollo Society.

Vivien Leigh, John Gielgud, J.B Priestley, Edith Evans, Emlyn Williams, Noel Coward, Margaret Rutherford, Richard Burton, Mai Zetterling, Alan Badel, Brenda Bruce and Stanley Baker were just some of her friends and contemporaries. The doyenne of play agents, she dealt with Samuel Beckett and other such leading figures as Arthur Miller, Peter Ustinov and Christopher Fry. All the great names.

Miss Black established herself at the Lyric Theatre, Hammersmith, running it with Murray Macdonald for eight years, producing new plays and satirical revues. The choice of presentations by Company of Four raised Parliamentary questions about the definition of 'educational plays' to avoid the then detested entertainment tax. That was not to be her only run-in with authority.

Music and golf were her recreations - and knitting. That last plays a major part in her own description of her involvement in the infamous raid on the Radio City fort in the Thames Estuary. She knitted a golf stocking for a friend while sailing out to participate in that boarding and the removal of the transmitter's crystal. All in the cause of attempting to recover £10,000 she had invested in equipment which was then in the hands of Reg Calvert, the proprietor of the station. He was later shot and killed. One of the Sixties' famous court cases ensued. (Kitty's article, describing the raid, can be found on the Offshore Echos website.)

The Times of London obituary of Miss Kitty Black on 12 January covered her outstanding contributions to British theatre, but there was that other side to this extraordinary woman that was overlooked, possibly because she was herself unsure of being remembered for her somewhat 'nefarious' activities. In later years, she enjoyed the notoriety of being called the Pirate Queen of Britain.

Kitty Black was a founding Board member of Project (Radio) Atlanta and one of the earliest instigators of that radio operation - the template from which Radio Caroline was later constructed. It was through her theatre association with Australian-born Allan Crawford that she became involved and her contacts, prestige and financial support were crucial to the project.

Crawford had previously been associated with Southern Music in Sydney and London. He was the proprietor of Merit Music, various music publishing companies and several record labels, mostly specialising in inexpensive cover-versions of pop records. Like many before him, he encountered the difficulties of having records played on the very restricted radio monopoly of the day in the UK.

Radio Atlanta was to be his answer - not principally to break the radio monopoly in Britain, but as the means to the end of getting his music on the air and to creating a musical empire. His business efforts ultimately failed, but the 'pirate' radio ships carried on and as Kitty wryly summed it up later: "None of us made the expected millions we thought we would, but at least we opened the airwaves to the performance of non-stop pop music by the Beatles, The Rolling Stones, and Elvis Presley, which the British audience demanded as their right. The careers of DJs such as Tony Blackburn, John Peel, Keith Skues, Simon Dee and Colin Nicol prospered".

For many years Kitty lived in her large terrace house on Brunswick Gardens, Kensington, just off the High Street. Her main reception room was large and long, extending from overlooking the garden at the rear, to the bow window on the street. There were comfortable, antique chairs and settees, occasional tables and a grand piano. A traditional kitchen below in the semi-basement, several floors extending above.

Visitors there enjoyed lively conversation and fearsome gin and tonics, the latter large and strong and an appropriate accompaniment to gossip and news. It was obvious by 1999 that she was failing in health and had to give up her beloved golf due to a shoulder injury. Driving had become a problem as well and later she began to succumb to Parkinsons. Now she has gone and an epoch is ending.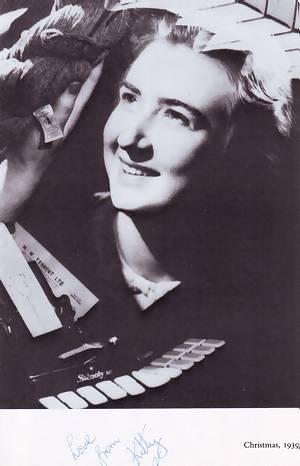 Kitty Black in 1939. Photo from 'Upper Circle' by Kitty Black, published by Methuen. Kindly provided by Colin Nicol.
As well as The Times obituary mentioned above, there was also one published in The Guardian but neither makes any mention of Kitty's involvement in offshore radio.

With grateful thanks to Colin Nicol.