Back in the sixties Radio Caroline DJ Mike Ahern had a fan club, run by Margaret Littler. Now called Margaret Mytton, she recently contacted The Pirate Radio Hall of Fame.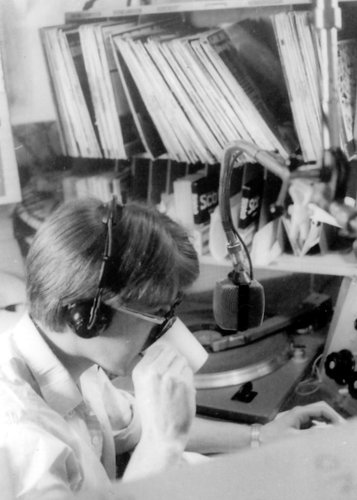 Mike Ahern enjoying a cuppa in the Caroline South studio. Photo courtesy of Carl Thomson.
She had found some off-air recordings she had made of Mike's programmes, on both Radio Caroline North and South. As Mike sadly died in 2009, she wanted our help tracing his family so that these unique recordings could be passed on to them. With the assistance of Mike's former agent, Ingrid Hooper, we made contact with his sons Christopher and Matthew in Australia. They now have children of their own and were delighted that their kids would be able to hear their grandfather's shows. Margaret sent them digitised copies and, very kindly, sent them to us too.

What Mike's fan club members didn't know was that their club president was very young. In fact she was still at school. Margaret says: "As a 13 year old, some of the letters sent to Mike via his fan club were quite an eye-opener to a convent-educated but nevertheless very open-minded schoolgirl!" Mike's show started at 9am and, during term time, school prevented Margaret from listening. So she would set the tape recorder running, at a slow speed so it would keep going as long as possible, before leaving home. She says of the tapes: "Their quality might not be great because of their age and because they were used by an obsessive 12 or 13 year-old who had no eye on posterity. I was recording from a radio, probably using a microphone rather than cables." She would listen back to the recordings each afternoon when she got home from school. As she re-used the same tapes repeatedly, only a few programmes have survived. They may not be fantastic audio quality but it is wonderful to hear them again.