Marion Adamson (née Cochrane)
20th January 1939 - 8th April 2013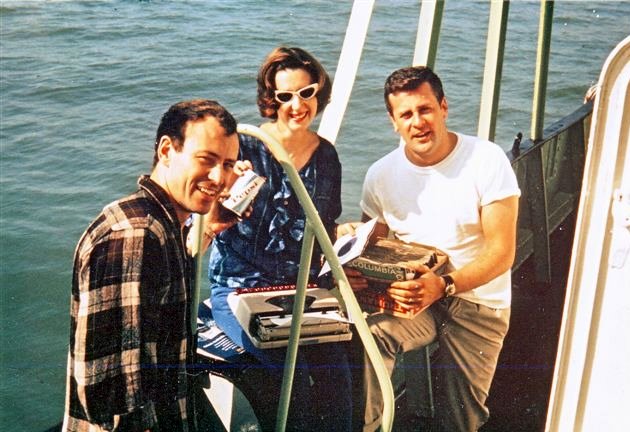 DJs Doug Kerr, left, and Eddie Anthony with Marion on board the mv Mi Amigo. Photo kindly provided by Colin Nicol.
Radio Atlanta and, later, Radio Caroline South employed a team of three women to look after the music that was played on the station, working under Programme Director Ken Evans. They were former BBC staff-member Maureen Blackburn and two Australians who had been in commercial radio in their home country - Dorothy Wight and Marion Cochrane. Although based in Caroline House, they would visit the mv Mi Amigo in pairs regularly to make sure the programmes ran smoothly. Some years ago Marion wrote about her offshore career for The Pirate Radio Hall of Fame. You can see her story and photographs here.

Sadly, during the last few years of her life, Marion had to endure a number of operations and was often in great discomfort. She had a number of spells in hospital and was admitted for the final time on 14th March 2013. She died on 8th April, aged 74.

We asked a few of the people who knew her for their memories of Marion.
Colin Nichol: "I recall Marion's cheery, cheeky smile from those days of the 60s and that's a memory that stays with me, as well as our meeting up in Sydney in the 80s – again itself a long while ago now.
Marion was up to whatever was thrown at her aboard the ship and her practical approach was right for that situation. She was an original radio pirate and one of only three 'girls' allowed on board to work. We first met on the top floor of a Soho office where Radio Atlanta was being created and like the rest of the pirates, she became a part of history."

Bryan Vaughan: "I have known Marion Cochrane for almost 50 years and am truly saddened by her passing.
When I joined Radio Atlanta in November 1963, the whole concept seemed such an incredible idea. But it really did come to pass and Marion was one of the people responsible for the success of pirate radio in general and Radio Caroline in particular. She was familiar with commercial radio from her experience in Australia and had a great knowledge of music and music programming. This was to be of enormous benefit to Programme Director Ken Evans, her boss and yet another Australian. Marion mostly worked at Caroline House but did visit the Mi Amigo on a number of occasions. She and Dorothy Wight or Maureen Blackburn usually stayed on board for a few days getting our music library and programming up to date. She was always bright, cheerful and very efficient (very much the forerunner of the modern day personal assistant). After coming home, Marion returned to Radio 2SM Sydney and later worked for Mike Walsh, a famous radio and television personality.
She will be much missed by her family and friends."

Errol Bruce posted on Facebook: "Sad, sad news. I worked with Marion aboard Caroline South in '64, '65. She was a caring, loving den-mother to we on-air guys."

Marion's daughter, Jane Morgan, posted on Facebook: "My mum Marion Adamson was one of the original programmers on Radio Caroline South in 1964 and 65. She really was a true pioneer for rock & roll music and many big artists credit their first shot of fame to mum adding them to the playlist. She passed away peacefully, listening to music right until she passed."
In 2009, when the film The Boat That Rocked was released, Marion was interviewed in the Australian press about her memories of British offshore radio. Her comments and a photo can be found on the Offshore News & Memories blog. An interview with her has been posted on YouTube, see below.