In March 1968 the two Radio Carolines, North and South, were abruptly closed down and their ships towed away. But a year later, on 2nd March 1969, Caroline fans all over Europe gathered round their transistor radios to remember the past and listen to The Caroline Revival Hour.

The Daily Mail reports on The Caroline Revival Hour. Cutting courtesy of George Morris.

The Caroline Revival Hour was the idea of a 23 year old French fan, Yves Kuhn. He already operated a drama group, Theatre 259, named after Caroline's wavelength, but he decided that he wanted to do more to keep memories of his favourite station alive. His ultimate aim was to bring it back as a full-time operation but, in the meantime, he planned to mark the anniversary of its last broadcast with a one-off programme. At the end of 1968 he began contacting French commercial stations to investigate the possibility of hiring airtime. Radio Andorra agreed.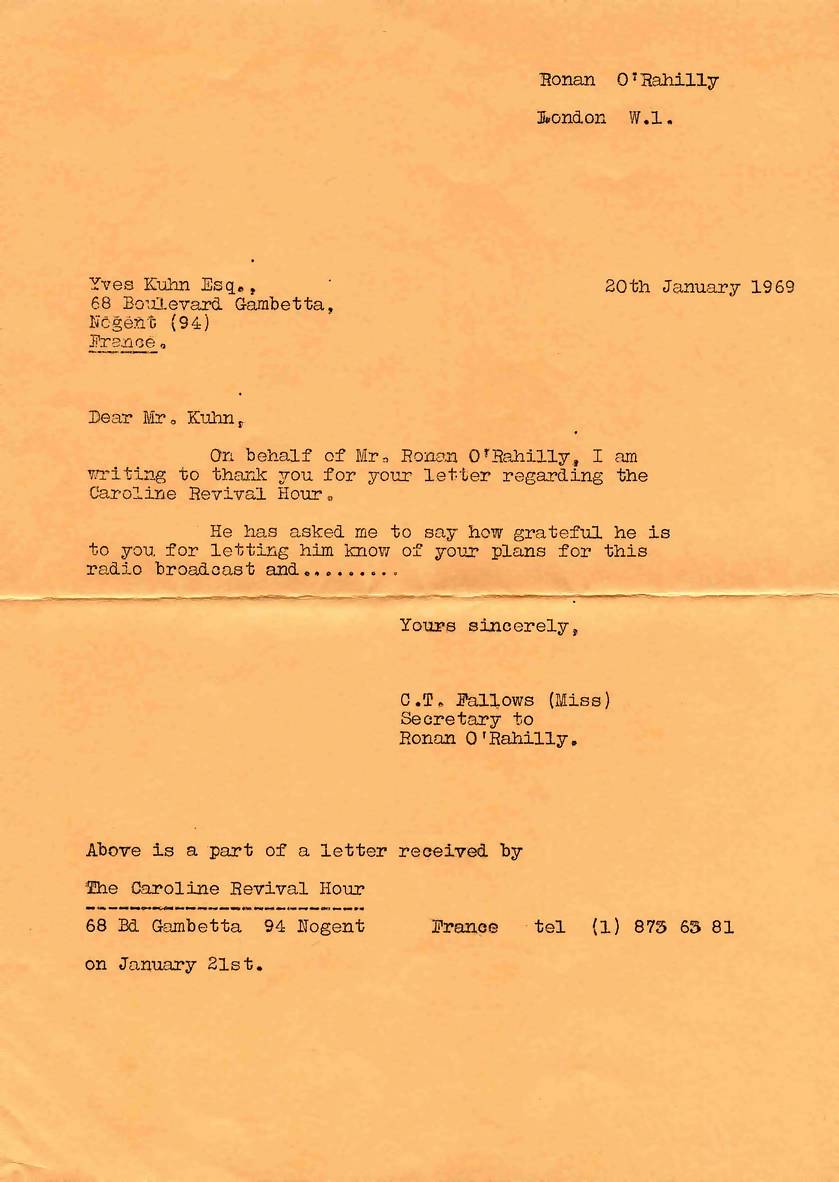 Part of a letter from Ronan O'Rahilly included in a mail-out that Yves Kuhn sent to people who answered his press advert. Click to magnify.
Yves contacted Caroline's founder, Ronan O'Rahilly to ask his permission. Part of the reply was included in a mail-out (see right). It didn't explicitly say that Ronan gave his blessing but, presumably, he didn't object either. Miss C.T Fallows wrote: "Dear Mr. Kuhn, on behalf of Mr. Ronan O'Rahi11y, I am writing to thank you for your letter regarding the Caroline Revival Hour. He has asked me to say how grateful he is to you for letting him know of your plans for this radio broadcast and ....". With this go-ahead from the founder and a transmitter lined up to broadcast the programme, Yves placed an advertisement in Disc & Music Echo magazine announcing that Caroline would return on 428 metres on 2nd March.

At the same time he began contacting former Caroline DJs. He wasn't able to reach Johnnie Walker but Don Allen, Stevi Merike, Bud Ballou and Martin Kayne all offered to present his show. Yves decided that Don would be the most suitable as he had worked on Caroline the longest and been heard from both ships. Some of the other presenters were asked to contribute phone messages of support.

Ten days before the broadcast Don came to Paris to record the show. Unfortunately the advertisements that had been booked for the programme had not arrived yet so they had to be edited in afterwards.

The programme that Don recorded lasted 65 minutes. By the time the ads had been inserted, the Revival "Hour" lasted 70 minutes. Here are some edited highlights:
Don Allen starts the show. As Johnnie Walker wasn't involved in the making of the programme, Don played a famous recording of him on Caroline South - not included here as it is available elsewhere on the site (duration 1 minute 4 seconds)

Don Allen hears from his old Caroline North colleague Jason Wolfe (duration 2 minutes 44 seconds)

Bud Ballou and Bob Stewart join Don (duration 4 minutes 24 seconds)

It is the turn of Stevi Merike (duration 3 minutes 24 seconds)

Don talks to the man behind the Revival Hour, Yves Kuhn (duration 3 minutes 49 seconds)

and that's it. It's time to go. Don says goodbye (duration 2 minutes 8 seconds)
The recording is courtesy of www.azanorak.com. Our grateful thanks to Jim Nantz and Ray Robinson.

Soon afterwards Yves published his accounts. It had lost quite a lot of money although he hadn't expected to make a profit on the first programme.
ACCOUNTS (AS PUBLISHED IN 1969)

COSTS



Hiring the station
£150
Hiring the studio
£50
Advertising in British papers
£15
Printing, paper, envelopes
£40
Stamps
£60
Telephone
£12
Don Allen
£30
TOTAL
£357

INCOME



Advertisers
£40
Listeners
£53
Advertisements - still to be paid
£75
TOTAL
£168

Andorra is a tiny landlocked principality high in the Pyrenees mountains between France and Spain. At that time its radio station had a 440kW AM transmitter operating on 428 metres as well as a 25kW short wave transmitter. However, despite the high power of its output and the elevation of the aerial (6500 feet above sea level), reception in the UK was poor with foreign interference spoiling the listeners' enjoyment. It just wasn't good enough.

There was talk of a second programme. In fact a letter was sent out announcing that the next show would be on 24th May - but it wasn't to be.

Over the next pages are a couple of letters from Yves Kuhn and cuttings from a music paper about a new pop station which, they reported, was about to launch from Andorra. That never happened either.