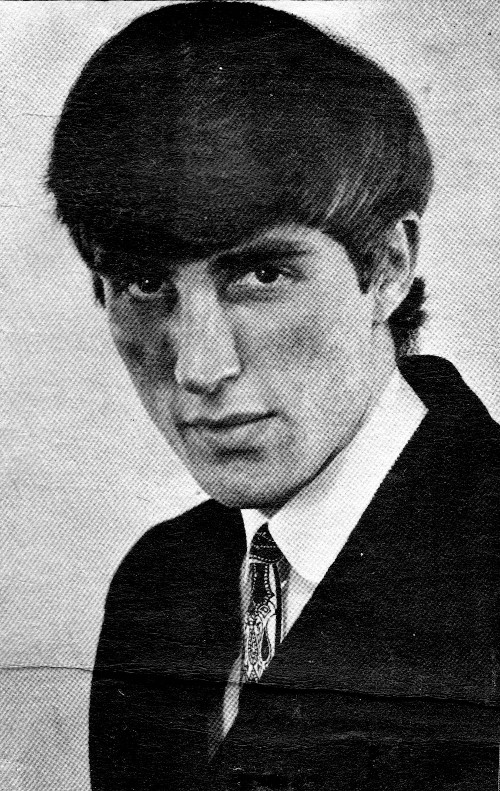 Radio England publicity photo
Johnnie's first radio job was presenting the marathon midnight to six show on "Swinging" Radio England.
Johnnie Walker and the "great gathering of the golden goodies" - with every other record by The Beatles - on Radio England in July 1966 (duration 4 minutes 23 seconds)
Radio England shared a ship with the middle-of-the-road station Britain Radio.
Johnnie Walker, early in his broadcasting career, making a rare appearance on Britain Radio during a test transmission on 11th June 1966 (duration 2 minutes 10 seconds)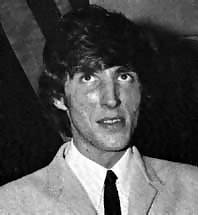 Photo from 'Who's Who In Pop Radio' published by New English Library
"Swinging" Radio England had the most complicated news bulletins ever heard on British radio. The presenter had to juggle jingles, bursts of echo and sound effects while reading the stories.
Johnnie reading the news "in the public interest", 15th October 1966 (duration 1 minute 43 seconds)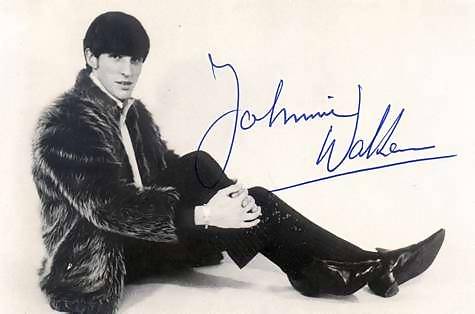 Photo courtesy of Raoul Verolleman
A studio recording of Johnnie rocking through the night in September 1966 (duration 2 minutes 4 seconds)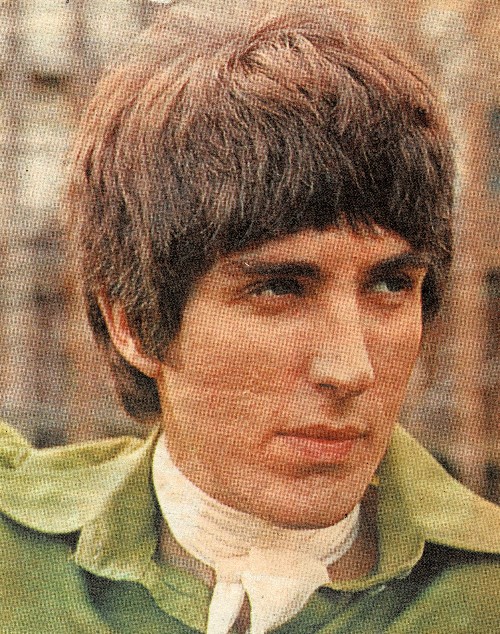 Photo from 'Disc' magazine
In October 1966 Johnnie left Radio England - just ahead of the station closing down. On his last show he dropped some very obvious hints that he was moving to Radio Caroline.
Johnnie Walker on his last show for Swinging Radio England, 15th October 1966 (duration 2 minutes 18 seconds)
Johnnie transferred to Radio Caroline South. Before getting his own show, he covered for whoever was on shore-leave.
Johnnie sitting in for Keith Hampshire on Keefers' Uprising on 15th December 1966 (duration 1 minute 59 seconds)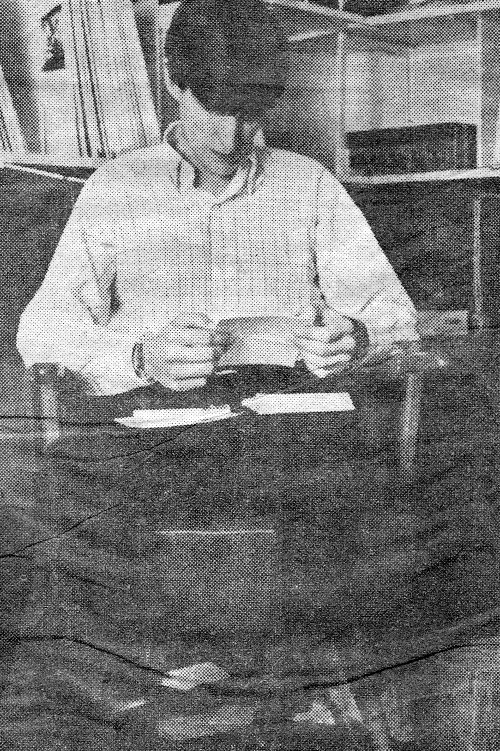 Reading the fan mail. Photo from the Daily Sketch
For most Caroline South listeners, it is Johnnie's 9pm-midnight show with its familiar Duane Eddy theme that holds special memories.
Johnnie starting a Saturday night show (duration 1 minute 44 seconds)
As well as playing the hits, Johnnie championed many of the soul singers that were then emerging and, in particular, Otis Redding.
Johnnie's "Ten O'Clock Turn-On" featuring Otis Redding (duration 1 minute 9 seconds)
The "Ten O'Clock Turn-On", "Kiss In The Car" spot and "Frinton Flashing" features were ground-breaking.
Johnnie's "Kiss In The Car", 27th December 1966 (duration 3 minutes 29 seconds)
Some "Frinton Flashing" on Johnnie's show on 6th August 1967 (duration 4 minutes 24 seconds)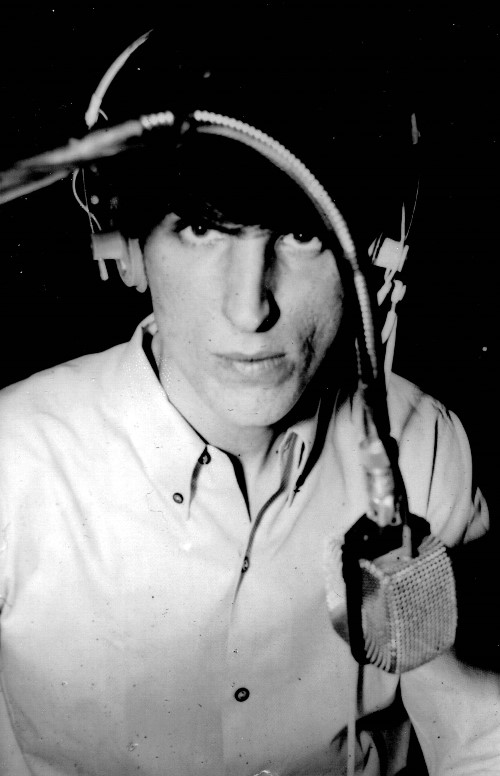 Photo courtesy of George Morris
On 15th August 1967 the Marine Offences Act became law on mainland Britain. On Caroline South most of the disc-jockeys left on the 14th rather than risk prosecution. Just Robbie Dale, Ross Brown and Johnnie Walker remained. It was Johnnie who took the station into the new era at midnight.
Johnnie thanking Prime Minister Harold Wilson in the first few minutes of 15th August 1967 (duration 1 minute 35 seconds)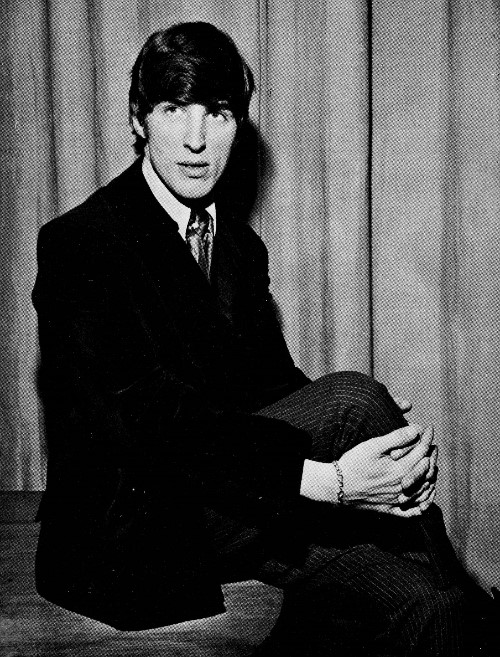 Photo from 'Beatwave' magazine
Johnnie presenting the new American Hot 100 in poor weather on 21st January 1968 (duration 3 minutes 58 seconds)
One night in 1967 Johnnie recorded a declaration of his faith in Radio Caroline over the instrumental B-side of the US hit The Ballad Of The Green Berets. It became known as Man's Fight For Freedom:
the beginning is in the past, the middle is now and the end is in the future (duration 2 minutes 40 seconds)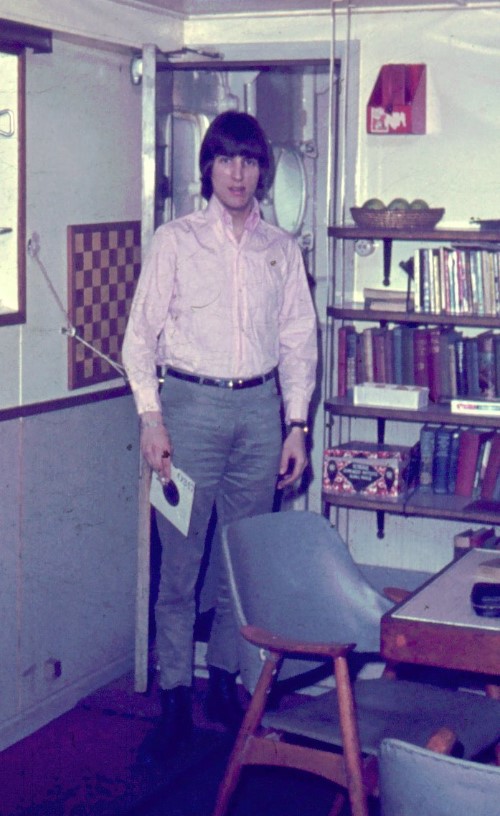 Johnnie on Radio Caroline. Photo by Morris Brown, kindly provided by Byron Richards.