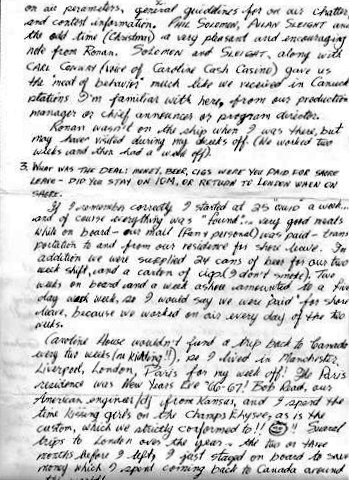 While researching for his book Radio Caroline: The True Story Of The Boat That Rocked (reviewed here), author Ray Clark contacted dozens of people who had worked for the station. Some he interviewed face-to-face and some he spoke to over the phone, but he and Canadian DJ/newsreader Gordon Cruse corresponded by letter.

We are very grateful to Ray for sharing Gord's letter with The Pirate Radio Hall of Fame.
---
RAY CLARK: How did you get involved with Caroline. When did you start and when did you finish?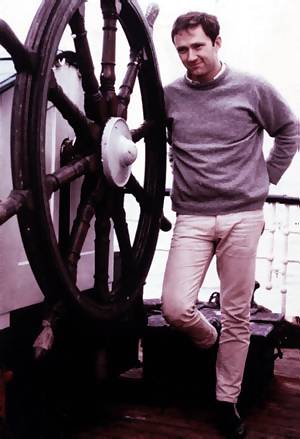 Gord Cruse on Caroline. Photo kindly provided by the man himself.
GORD CRUSE: Involvement with Radio Caroline began at Rolgay Industries on Wardour Street (#22) in the West End of London, off Shaftsbury Avenue. My work mate asked me what kind of work I had done in Canada... five years on the air at CFQC Radio in Saskatoon, Saskatchewan (Canada's prairies). Steve then turned on the radio and we were listening to Caroline South and he said "you could do that!" And I agreed. Next step was Caroline House on Chesterfield Gardens in Mayfair. Late July of '66, Graham Webb (News Director Caroline North and South) interviewed me, gave me a newscast and a couple of commercials to read, and ushered me into a little booth with a mic. About a minute into my audition, the door opened and I thought "well I guess I blew that". Graham stuck his head in and said "when can you start??!!"
May or June of 1967 I left to come back to Canada. The Marine Offences Act was in the wind.

RC: Who hired you? Did London have much contact with the ship? Did Ronan (O'Rahilly, station founder) visit?

GC: Graham Webb hired me as a newsman/DJ. As I remember London was quite regularly in touch with the ship through memos and directives to the jocks. These information/instruction communications detailing on-air parameters, general guidelines for on-air chatter and contest information (came from director) Phil Solomon, (sales boss) Allan Sleight and the odd time (Christmas) a very pleasant and encouraging note from Ronan. Solomon and Sleight, along with Carl Conway (the voice of Caroline Cash Casino) gave us the "meat of behaviour", much like we received in Canuck stations I'm familiar with here from our Production Manager, Chief Announcer or Programme Director.
Ronan wasn't on the ship when I was there but may have visited during my weeks off. (We worked two weeks and then had a week off.)

RC: What was the deal? Money, beer, cigs? Were you paid for shore-leave? Did you stay on the Isle of Man or return to London when on leave?

GC: If I remember correctly I started at 25 quid a week... and, of course, everything was found. Very good meals while on board. Our mail (fan and personal) was paid, as was transportation to and from our residence for shore-leave. In addition we were supplied 24 cans of beer for our two week shift and a carton of cigs (I don't smoke). Two weeks on board and a week ashore amounted to a five day week so I would say we were 'paid' for shore leave because we worked on air every day of the two weeks.
Caroline House wouldn't fund a trip back to Canada every two weeks (no kidding!!) so I lived in Manchester, Liverpool, London, Paris for my week off! The Paris residence was New Years Eve '66-67! Bob Read, our American engineer/DJ from Kansas, and I spent the time kissing girls on the Champs-Élysées, as is the custom - which we strictly adhered to!! Several trips to London over the year (see photo). The two or three months before I left I just stayed on board to save money which I spent coming back to Canada around the world!

RC: Were there 'plug' or paid for records on the playlist?

GC: We were given a playlist. Probably a number of titles were 'plug'! From memory, my recollections were of The Beatles, Solitary Man - Neil Diamond[1], Eloise - Paul & Barry Ryan[2], and Diane - The Bachelors[3].
During August/September 1966 our Chief DJ Jerry Leighton was touring American with The Beatles. Jerry filed interviews and comments from The Beatles which we reported two or three times a day as news and/or special feature updates.

RC: Did all supplies come from the Isle of Man, or were there tenders from Holland?

GC: Supplies came from both, I believe. The beer was Heineken! There was an almost daily supply of sightseers, mostly female, cavorting around the ship (weather permitting) in speed boats and pleasure craft. DJs supplied the smiles and the clowning!

RC: Any really rough seas? How did the ship cope in a bad storm? And if the mast needed attention, who went up?

GC: Force 8 and 9 gale force winds, thunder and lightning, and waves that sloshed across the decks in a way that made you really glad that your skin doesn't leak! Thirty-five degrees side-to-side, at the same time the bow and stern were in a competition to see which end could be higher above the waves. All of this aggravated with the frame-bending leverage that 180 feet of mast at the whim of 65 or 70mph winds would give. When the bow was high on a wave, the anchor chain was riding high but, as the wave lowered the bow, the chain followed mores slowly. The bow would then begin its next ride up with another wave... the chain still falling would finally lose its slack and the tug of war would bounce the ship. DJs became ping pong balls!!
Our dining table was bolted to the lounge floor. Partaking of a meal in all this chaos required one to hook your legs around the table legs, your arm round your plate and your hand round your cup, racing the storm-tossed chaos with your fork to get the food from plate to mouth!!
Several times I remember watching electrical sparks chase up and down the mast twenty or so feet outside the lounge window. Little sparks scurried about on the back of my neck as I longed for the calmness of a prairie squall, sitting on my uncle's tractor in my teen summers near Calgary.
Never witnessed any mast climbers.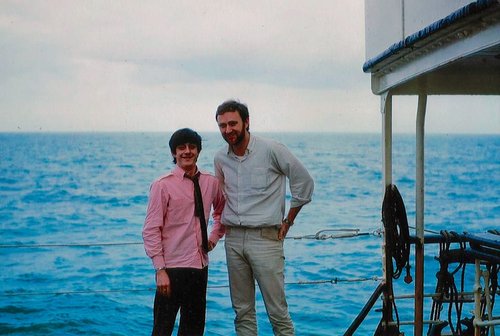 Gordy Cruse with Tony Prince (left) on Caroline North. Photo shared on Facebook by Tony.
RC: Any fun memories?

GC: Try jumping from a bouncing tender to a moving ship across six or eight feet of cold Irish Sea at shift change.... a very specific kind of fun!! Yuk yuk.
As always, the fun came from the antics of your fellow pirates.... trying to break up the guy on air with some "unmentionable performances"... the jokes and stories with the crew, the captain and the ever-changing roster of jocks.
One of the highlights on Caroline South was my first newscast, sitting at a small (2'x3') table in front of a mic bolted to the surface. A ship's gray blanket hung on either side of me. During the pauses between stories, I could hear what I thought sounded like water banging against steel. I asked about the noise when I got off the air... "yeah Gord. You're in between the water tanks!!" Oh!
If I'd known how many millions of people were listening to me that day, I'd have probably imploded from diarrhoea!!
One of the highlights on the North Ship was Mick (Luvzit) and Jan's wedding. I read the newscast just before the ceremony and intro'd Graham who described the wedding on air!!

When I was there and it was all 'happening', I didn't really realise how historical an occurrence this pirate radio scene was. I was twenty-three years old and I knew everything... only interested in radio and meeting girls!! The significance of (Caroline founder) Ronan O'Rahilly's action to further the promotion of performers by starting a rock'n'roll radio station to play their music was profound in a way I'm not sure Ronan even realised! His initiative changed British radio broadcasting! Pirate radio today in Britain is still a 'delicate subject'... one is discrete about broaching the subject at certain times and occasions. Pirate BBC Essex in the summer of 2007 was sweet irony. It was the BBC which helped the pirates celebrate the 40th anniversary of the Marine Offences Act 1967, which finally shut down the pirates, by hiring a ship, putting a radio station aboard and broadcasting to England for a week with the voice of the original pirates!! I was one of the celebrants and had a chance to not only reunite with other former pirates but meet a crew of BBC professionals now on the air. What a wonderful, irreplaceable, stunning historical adventure!! I shall forever be grateful to the Brits!

What a pleasure to do this. You have no idea of the wonderful memories you have catalysed. Please say hi with good wishes to any who remember this ol' Canuck grunt!!
---
NOTES
| | |
| --- | --- |
| | Solitary Man was released in the UK on 27th May 1966 and remained on the Caroline Countdown of Sound until August despite failing to make the British singles sales chart. |
| | Paul & Barry Ryan were played extensively on Radio Caroline but Eloise (which was actually only by Barry Ryan, despite being written by brother Paul) wasn't released in the UK until October 1968, after Gord had returned to Canada. |
| | Diane entered the UK sales chart in January 1964 - before the launch of Radio Caroline - but The Bachelors (managed by director Philip Solomon) were well supported by the station and Gord probably remembers the song being played as a 'Caroline flashback' (oldie). |
Our thanks to Ray Clark for providing the letter.
Back to Ray's interview with Peter Chicago.
Another of Ray's interviews, with Radio Caroline sales executive Terry Bate, over the page.