In 2007 Ray Clark interviewed former Radio Caroline director Philip Solomon for his BBC Essex documentary All At Sea - August 14th, What Happened Next?.

Ray has very kindly shared the conversation with The Pirate Radio Hall of Fame.

Philip Solomon was a successful music business manager before investing in Radio Caroline in 1966. He then took control, instigating a system where record companies had to pay if they wanted their new releases played on the station. Following the Marine Offences Act in August 1967, Solomon's own label, Major Minor, became the main advertiser.

He has died since doing this interview. He passed away in 2011.

As can be seen below, he was evasive about some things - for instance why the two Caroline ships were towed away in March 1968 - and some of what he said was downright bizarre (how could David McWilliams have possibly been swindled out of his royalties by Peter Rachman, a man who had died in 1962?) but the conversation is still very interesting. We are grateful to Ray for sharing it.
---
RAY CLARK: Let's start with your involvement with Radio Caroline. How did that come about?

PHILIP SOLOMON: I was approached by a man called Ronan O'Rahilly. He had gone broke with Caroline. He was the one that started Radio Caroline. And I said "what do you need?" "I need a lot of money." And I said "how much do you need?" He said "thirty thousand" and in those days that was a hell of a lot of money. So I said "alright. I'll give you the £30,000, Ronan, but I want to be co-director with you." He said "alright". So we got together and I paid him the £30,000. All of a sudden I was sitting in the room in Caroline House, making out the play sheets and people like Tony Blackburn were told they had to play so many records in an hour. Tony suffered unfortunately from not listening, and talking too much, and not playing enough records. We did a deal with the record companies, and the owners of the records, and the managers, and the agents that we would give them so many plugs per week for £100. So we were breaking our word because of Tony Blackburn. So I got rid of Tony Blackburn and the next thing is Ronan starts creating hell. We have a directors meeting in the Curzon House and they throw him out. And I took over. So at that stage I said "Ronan, if you behave yourself and not interfere with my playlist, I'll let you back". So I let him back. So that is how I went into it and how I began to control it.

RC: Major Minor Records[1] worked hand in hand with Caroline at the same time, Phil. How did Major Minor come about - just an extension of your record production?

PS:Just an extension. Dick Rowe[2] made a lot of records for me and there was Tommy Scott[3], Mike Leander[4] - we had Days Of Pearly Spencer from him - and I needed an outlet for them all. And I couldn't get them on radio, the BBC, and the other thing is Geoffrey Everitt. Do you remember him?

RC: He was the Radio Luxembourg guy (General Manager) wasn't he?

PS: Luxembourg, yes. I used to go out with him for meals but you had to go to Luxembourg and wine and dine all the producers, and I was against that. I hated paying to do that.

RC: So you started your own record company with Major Minor...

PS: And then Galaxy[5].

RC: Galaxy followed did it?

PS: Yes.

RC: Tell me Phil, if you will, about probably - well I know you had chart success with The Dubliners - but one of the songs that really is still played regularly today is Days of Pearly Spencer. Can you tell me a little about that? How that came about?

PS: Yes. He (David McWilliams[6]) was a young man who came from Northern Ireland and he was introduced to me. I liked some of the work that he let me hear that he had written. I introduced him to Dick Rowe, and Dick Rowe said the man to record him would be Mike Leander - he's dead now unfortunately.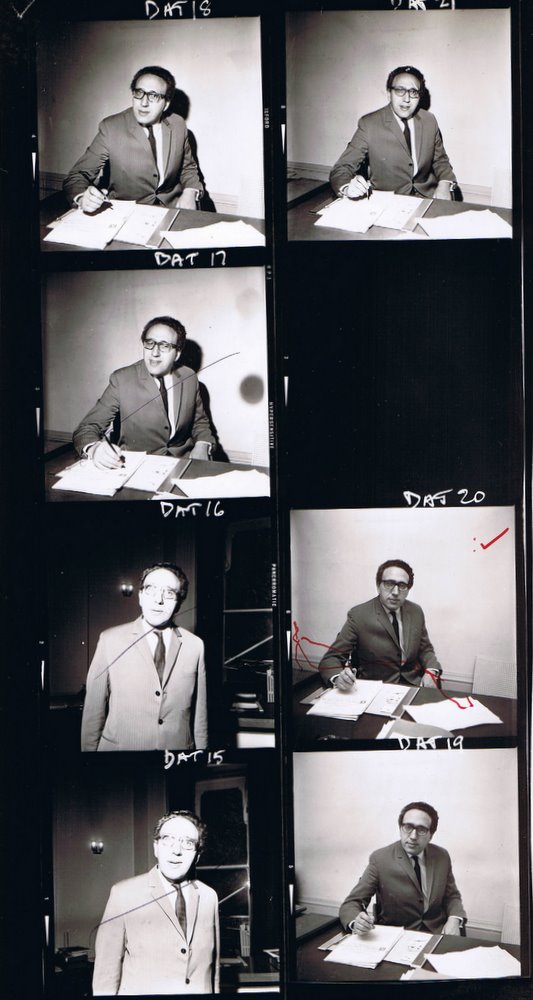 A contact sheet of photos of Philip Solomon, taken by Doug McKenzie and kindly provided by Robbie Dale.
RC: I remember the name.

PS: So I gave him to Mike and we produced this record which was wonderful and when I sold the record companies to EMI and retired from the music business, one of the men who worked for me, a big bruising Irishman who had also worked for a very strange man in the property business, I can't think of his name...

RC: Rachman[7] was it?

PS: Rachman, yes. He said "can I have him?" Jim Houlihan[8] was the name of the man. I said "yes, you can have him. What are you going to do?" "I'm going to manage him myself" but when I recently spoke to one of David McWilliams' family they said he died broke because Rachman took him over and swindled him out of all his money. That was common in those days. People didn't like paying royalties.

RC: Not a very gentlemanly time in pop.

PS: It wasn't a gentlemanly time but I found that it was a good time. You could do reasonably well and still pay your royalties out and you had no problems.

RC: Tell me Phil, if you will, about the approach to August 14th (1967) and the pressure that presumably you and Ronan, and the other station owners, were putting on politicians to try and let the stations continue.

PS: Well we tried every avenue... We were controlling it in England (immediately after the passing of the Marine Offences Act) and the Government didn't like it and I was investigated - they were going to put me in jail - so I moved the operation to Dublin. They had a man there called Charlie Haughey[9], he was the Taoiseach, and Charlie Haughey was very sympathetic (to Caroline) because anything they could do to damage the British Government, he was happy to do. So when we said we needed time, he said "run the operation from here. Every time the British Government asks us to pass a law (banning offshore radio) I will get one of my people in the Parliament to put a private members bill in and it means that the British request will go to the bottom of the pile again."

RC: And this prevented a similar anti-pirate law coming in in Ireland.

PS: That is correct, yes. So we ran it very successfully from Grafton Street in Dublin. And then I got a bit fed up with it. I sold my interest in the record companies and I retired, and went into the art business.

RC: Was Caroline making money after August 14th?

PS: I would think it was making money at that particular stage but Ronan O'Rahilly had done such a terrible deal with the people that provided the trawlers that were going out to feed it and take the men on and off the boats that it was very hard to make money. Ronan had no idea of keeping money. He wanted to spend it. When I gave him the £30,000 one of the first things he wanted to do was repaint the whole of Caroline because a mate of his was going to do the job[10]. He was a very good ideas man but rotten at controlling money.

RC: Let me linger around August 14th if I can Phil. Johnnie Walker and Robbie Dale decided to go on. Presumably you were having regular meetings with the guys.

PS: I was and I liked them very much. Robbie Dale was one of my friends. But I got browned off with it and I backed out. I said "that's it, you've got my money. I've had good value out of it because I've made a lot of hits."

RC: Magical times, as we've said. Just to go to that part of Radio Caroline from August 14th to until the end came. How did the end come?

PS: I haven't a clue. I honestly couldn't answer that. I think they needed a new bottom of the boat for one thing.

RC: There have been suggestions that bills to the tender company weren't paid. Were you aware of that?

PS: No, I was not aware of that.

RC: Were you involved with any attempts to get Caroline back on? It must have been a sad time really.

PS: No. It was a sad time but I was so busy with other things that I treated it as just a chapter in my life that had finished.

RC: How do you look back on those Caroline days? Yes, you moved on and you did art and you left the music behind but 1966, 1967, 1968 - how do you look back on those days?

PS: I think it was a magical time. People could come over with nothing and they could make fortunes out of it. Everything was available for you. The days of Carnaby Street were magical. Everything was easy to do but the record companies still, at the beginning, controlled too much. For instance all my early records that I made were all on Decca[11] and you got 5%. Now 5% wasn't very much, was it?

RC: No, so obviously worth making your own record label.

PS: That is exactly what I did.

RC: Of course, while we are talking about the record label, The Dubliners[12] were huge, weren't they?

PS: The Dubliners were very big but I would say that the biggest I had were The Bachelors[13] and I was instrumental with Dick Rowe in making the first hits with Tom Jones[14] and we went on to the very end with Lena Zavaroni[15] and a little girl called Twinkle[16].
---
NOTES
| | |
| --- | --- |
| | Major Minor was a record label started by Philip Solomon. It's first release was in late 1966 and its first hit, Seven Drunken Nights by The Dubliners, the following March. The final releases were in 1970 but, following its sale to EMI, the label was briefly reactivated in 2010/2011. |
| | Dick Rowe was a producer and the Head of A&R for Decca Records. Among his many productions were Gloria by Them (which featured a young Van Morrison) and 3 O'Clock Flamingo Street by The Bachelors, a song written by David McWilliams. See Wikipedia. |
| | Tommy Scott produced Twinkle's Terry as well as a number of Major Minor's releases including the hits of The Dubliners. |
| | Producer Mike Leander died in 1996. He arranged the strings on the Beatles' She's Leaving Home and produced numerous hits for Gary Glitter, as well as his work with David McWilliams. See Wikipedia. |
| | Philip Solomon's Galaxy label was active between 1975 and 1980. |
| | Singer-songwriter David McWilliams was extensively promoted on Radio Caroline. He died in 2002. See Wikipedia. |
| | Peter Rachman was a notoriously aggressive landlord. He died in 1962. See Wikipedia. |
| | Jimmy Houlihan died in 2010. He was a friend and associate of Ronan O'Rahilly's, as well as working for Philip Solomon. It has been reported that he had previously been employed by Rachman. Jimmy Houlihan took over the management of David McWilliams from Philip Solomon. |
| | Charles Haughey was Taoiseach of Ireland three times between 1979 and 1992. When Philip Solomon was running Radio Caroline he was Minister for Finance. See Wikipedia. |
| | Is this a reference to Ian Ross? Ross has mentioned falling out with Solomon after his re-decoration of Caroline House went over budget. |
| | Decca was a major British record label from its foundation in 1929 until being bought by Polygram in 1980. A number of Philip Solomon's acts, including Them, Twinkle and The Bachelors, were signed to Decca. |
| | The Dubliners enjoyed a long career, see Wikipedia. |
| | The Bachelors had hit singles from 1963 to 1967 and a performing career which lasted considerably longer. See Wikipedia. |
| | Tom Jones' first hit was It's Not Unusual, released on the Decca label. The record was well supported by the offshore stations and reached no.1 in the charts in March 1965. See Wikipedia. |
| | Lena Zavaroni was discovered by record producer Tommy Scott (see above) and managed by Dorothy Solomon, Philip's wife. Lena found fame after winning the TV talent shows Opportunity Knocks. See Wikipedia. |
| | Twinkle is best remembered for her hit single Terry which reached the Top 10 with the support of Radio Caroline in 1964. Philip Solomon re-released it on his Galaxy label in 1976 and again in 1978. Twinkle died in 2015. See Wikipedia. |
Our thanks to Ray Clark for providing the interview.
Back to Ray's conversation with Keith Skues.
Ray's interview with Alan Turner is over the page.