There are many reasons why people want to become disc-jockeys: some think it will bring them riches, some seek fame; some want to entertain; but others do it because they love music so much that they can't wait to share it with others. John Peel was that sort of DJ.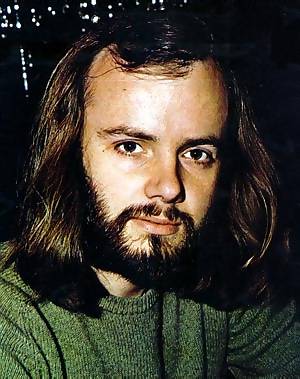 John Peel in 1972. Photo from 'Dee Jay & Radio Monthly'.
Although he later became a brilliant all-round broadcaster, John stumbled into the industry, almost by accident, because of his enthusiasm for music. He was a blues-loving Englishman, working in the Dallas Cotton Exchange while trying to decide what he wanted to do with his life. He heard a blues programme on local station WRR. John contacted the host. He had brought some blues LPs with him from home - some European releases that maybe the DJ had not heard. John was invited to bring his records onto the show. A short clip of this first ever broadcast was included in a Radio One documentary, part of the series Radio Radio, some years ago. In it John sounds understandably nervous and quite posh - but also passionate about the music. And that passion never deserted him.
John's radio debut on Dallas station WRR. Clip from the BBC documentary series Radio Radio (duration 45 seconds)
The British 'beat boom' and the success of the Beatles made it very fashionable to be an Englishman in America. John, like a number of other British broadcasters, suddenly found his talents were in demand. And the fact that he grew up near Liverpool was an added bonus. He could be related to a Beatle! Radio stations were eager to hire him. John grasped the opportunity, left the Cotton Exchange and never looked back.

In 1967 he came home to Britain. By his own account, Radio London knew that they would be closing down in a few months time and gave him a job purely on the basis of his experience in America. No audition required. John soon found himself out in the North Sea playing the Fab 40 on the nation's most popular pirate. Born John Ravenscroft, he had dropped the S to be known as John Ravencroft on the air in the States. A secretary in Big L's Curzon Street office suggested his new name. He became John Peel.
John presenting the 3-6pm show on Radio London, 1st July 1967. Recording courtesy of Karl Jones (duration 4 minutes 53 seconds)
John reading the news on Radio London, 9.30pm 11th August 1967. Recording courtesy of Stuart Russell (duration 2 minutes 42 seconds)
The new boy in any job often gets the short straw and so it was on board the Galaxy. John had to present two shows. He covered for whichever DJ was on shore leave as well as taking care of the late night show London After Midnight. John seemed perfectly happy to play the hits of the day but did also manage to slip in the odd personal choice on occasions. There is a wonderful recording of him discussing the first Velvet Underground album on Pete Drummond's Coffee Break feature. It is hard to imagine what the mainly housewife audience made of such tracks as "European Son To Delmore Schwartz" with their cup of Camp coffee!
Pete Drummond and John Peel discuss the Velvet Undergound's debut album, July 1967. This recording is an extract from a cassette originally issued by CM Leisure Sales, now available from GJB Sales, and is used with kind permission (duration 2 minutes 31 seconds)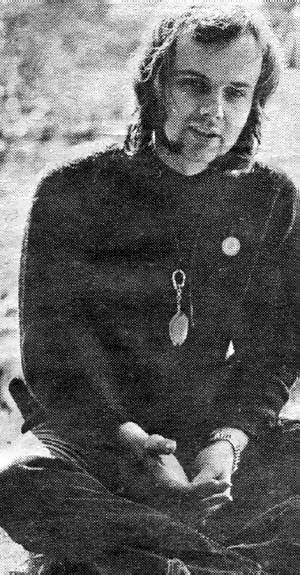 Photo from 'Disc & Music Echo'.
London After Midnight had always been slightly more relaxed in format than the daytime shows and usually reflected the taste of whoever was presenting. When John got his hands on it, it changed completely. Even its name. In May it became The Perfumed Garden. It was 1967, the "summer of love", and new bands were emerging everywhere. John had brought a substantial record collection back from the States and was keen to share the wonderful music he had found. Legend has it that the Big L bosses did not know what John was doing on their airwaves until the Beatles manager, Brian Epstein, telephoned to congratulate them. If they were not aware of the programme before, they certainly were when the mailbags arrived. Late night radio listeners are frequently more enthusiastic correspondents than their daytime counterparts. They have more time on their hands, they may be listening alone which makes the relationship with that voice on the radio much more personal and, in John, they had found a presenter they could relate to. He was not a phoney. He was himself. And his knowledge and enthusiasm for the music was so infectious that he swept the youth of northern Europe along with him. They wrote in their thousands. The Perfumed Garden was a unique and bizarre blend of Winnie the Pooh, San Francisco psychedelia, poetry, some of the more adventurous singles from the Big L playlist, John's thoughts on peace and love, the latest releases from obscure English hippies and the odd burst of the blues. Playing recordings now immediately transports the listener back to the summer of 1967. Sure, some of it sounds dated. Some might even be a bit embarrassing, but where else could you hear such an eclectic mix of fantastic music, presented by someone with such passion?
John Peel on The Perfumed Garden, 6th August 1967. Recording kindly provided by Ray Robinson (duration 3 minutes 15 seconds)
On the night before Radio London closed down, John Peel did not end his show at the usual closedown time of 2am. He carried on right through the night until the Breakfast Show at 5.30. Some years ago Mojo magazine printed his complete running order. It is here. Perennial Peel favourite Marc Bolan is well represented - as a solo artist, as half of Tyrannosaurus Rex and as a member of John's Children. Most of the best-known acts of the psychedelic era are there, as well as some of the lesser names like The Misunderstood, an American group which John had managed briefly. There is garage rock from The Seeds and The Shadows of Knight, the uncategorisable Frank Zappa and Captain Beefheart, and folkies like John Renbourn and Judy Collins. The Rolling Stones' "We Love You", complete with slamming prison cell door sound effects, was a brand new single. Peel also played six tracks from The Beatles, then at the height of their career. And, of course, he didn't forget the blues. The unknown Geoffrey Prowse must have been proud to have been in such illustrious company that night. He was a listener who was so distraught at the thought of losing his favourite programme that he had composed and recorded a piano blues on the subject - "The Perfumed Garden Blues or John Peel's Lament."
John Peel plays Geoffrey Prowse's The Perfumed Garden Blues or John Peel's Lament. Recording kindly provided by Ray Robinson (duration 3 minutes 16 seconds)
The effect that John Peel had on his audience in the sixties has now been repeated for successive generations of listeners. Never afraid to embrace new music, he has been at the forefront of championing every type of genre - while also playing much that was genre-defying. From prog to punk, grunge to garage, dub reggae to death-metal, hip-hop to house and much more besides, John embraced it all.

John was only on Radio London for a few short months. He joined the station on 8th March 1967; it closed down in August. It is only to be expected that the obituaries and tributes published elsewhere have concentrated on his long and illustrious career with the BBC. But those of us who heard him in 1967 will never forget his unique programmes. John was a great broadcaster who introduced millions of listeners to new and exciting music. And he was still doing it right up until his death. The Guardian website includes a running order from one of his last Radio One shows. There is little overlap with what he was playing in 1967. John constantly moved forward as he discovered new music - music that he couldn't wait to share with us. Our lives have been enriched as a result. He was one of a kind and will be hugely missed.