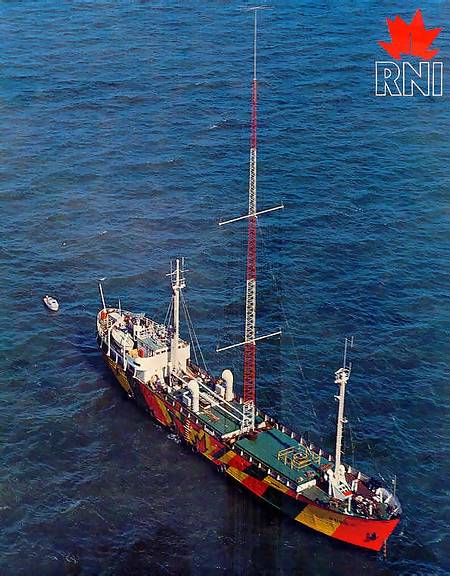 Photo of the mv Mebo II from 'The RNI-Book', published by Hit-Publications, Zurich.

With Radio Caroline's abrupt closure in March 1968, Radio Veronica was left as Europe's only offshore station. As some consolation for the deprived English fans, Veronica signed up former Caroline DJ Robbie Dale but, on the whole, Veronica was more interested in its audience in the Netherlands. British listeners had to make do with the new national pop service, BBC Radio One, and the evening programmes of Radio Luxembourg - both largely staffed by ex-pirate DJs.
There were still free radio enthusiasts. The newspapers fed little titbits of gossip: a Belgian station called Radio Marina was constantly 'about to start' - but never did; former Radio Essex boss Roy Bates was rumoured to be launching a radio station from 'Sealand', the anti-aircraft installation previously known as Roughs Tower, but he didn't; Caroline's founder Ronan O'Rahilly was reportedly planning a pirate television station to broadcast from a Super Constellation aircraft circling above the North Sea, but no signal was ever received. Among all the other stories, rumours about Radio Northsea International seemed ridiculously far-fetched: a new ship, it was reported, was being equipped with two short wave as well as medium wave and FM transmitters, to be anchored off Holland but broadcasting in English and German. It all seemed very unlikely. But it was true. There really were plans to launch this ambitious project from a psychedelically-painted former freighter.

This station, RNI, was to have a troubled and controversial life. The ship was violently attacked twice, its output was jammed by the governments of two European countries and there were numerous allegations about the source of its funding and its reasons for broadcasting. We may never know the whole truth about RNI but the station won a large and loyal audience across the continent who, half a century later, still remember its programmes with great affection.
THE BACKGROUND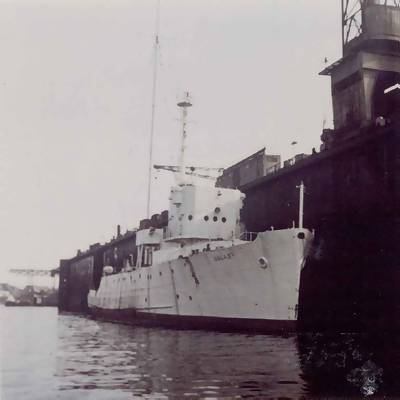 The mv Galaxy in Hamburg harbour, prior to the re-fitting work for the new station. Photo kindly provided by Hans Stieper. More of his photos can be found here.
During the summer of 1968 a Swiss advertising agency had begun work on setting up an offshore radio station. Based in Germany and headed by Emile Luthle and Norbert Schwerd, it bought the old Radio London ship, the mv Galaxy. A considerable amount of time and money were spent on repairs and two Swiss engineers, Erwin Meister and Edwin Bollier, were brought in to renovate the technical equipment. The launch date was scheduled to be 1st November 1968. Programmes would be easy-listening by day, pop by night. While this work was going on, however, the German government introduced anti-pirate radio legislation and, simultaneously, it was discovered that the Galaxy was no longer sea-worthy. The project collapsed. Despite its failure, the two Swiss engineers had become fascinated with the idea of offshore radio and began to make plans for a station of their own.

By Easter 1969 Meister and Bollier had bought a ship, a Norwegian coaster which they renamed Mebo I from the first two letters of their surnames. Work then started on converting the ship into a broadcasting base but it soon became apparent that she was too small for this job and was relegated to the role of station tender.

The freighter Silvretta was then bought from a Swiss shipping line and renamed Mebo II. She was fitted out to become the most luxurious floating radio station ever. Money was apparently plentiful, Meister and Bollier spending some four million Swiss francs on the project.

THE LAUNCH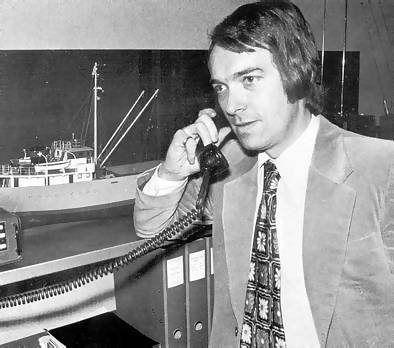 Edwin Bollier. Photo from 'The RNI-Book', published by Hit-Publications, Zurich.
By the beginning of 1970 their ship was ready and on 22nd January the anchor was dropped off the coast of Noordwijk, Holland. The following day the first VHF/FM transmissions went out on 102 MHz and on the 49 metre short wave band at 6210 kHz. For the first time, an offshore station had ambitions to broadcast to the world. With 31 and 49 metre short wave transmitters, Radio Northsea truly was going to be "International".


German-language test on FM for Radio Northsea International, 23rd January 1970. Recording courtesy of The Offshore Radio Archive (duration 56 seconds)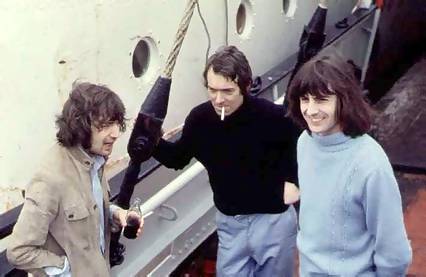 Left to right: Andy Archer, Edwin Bollier and Roger Day out on the deck. Photo kindly provided by Duncan Johnson.
From 11th February the tests were on 1610 kHz, 186 metres, medium wave, as well as short wave and FM. From the 18th live shows were presented from 6am to 1am daily by Horst Reiner, in German, and Roger Day and Johnny Scott in English. Morse code was audible in the background of the medium wave transmissions across much of the reception area.

During the week before launch, the broadcast team was supplemented by the welcome return to the air of Andy Archer, Alan West and Carl Mitchell while Johnny Scott departed.
Roger Day on his first day aboard the mv Mebo II, presenting a live test transmission for Radio Northsea International. Tape kindly provided by Albie Somerset (duration 4 minutes 12 seconds)
Johnny Scott on a test transmission for Radio Northsea International, 21st February 1970. This is an edited version of a recording shared by The Offshore Radio Archive (duration 3 minutes 54 seconds)
Alan West and Carl Mitchell experiencing a few technical difficulties during test transmissions for Radio Northsea International, 25th February 1970. Tape kindly provided by Albie Somerset (duration 5 minutes 22 seconds)

'Record Mirror' reports on the arrival of RNI. Click on the headline above to see this and a couple of other articles about RNI's launch.

On Saturday 28th February at 6pm these tests ended and regular programmes commenced for Radio Northsea International, more often referred to as "R.N.I". The opening programme was something of a shambles, with the two presenters, Roger Day and Horst Reiner, in separate studios, apparently unsure of what the other was doing, erratic audio levels and the occasional burst of 'howl-round'.
Horst Reiner and Roger Day officially open Radio Northsea International, 6pm on 28th February 1970. Tape kindly provided by Albie Somerset (duration 4 minutes 10 seconds)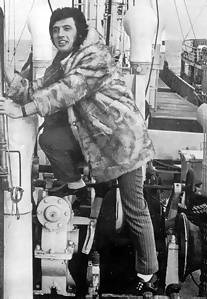 German DJ Horst Reiner. Photo from 'The RNI-Book', published by Hit-Publications, Zurich.
Although the first programme did not run entirely smoothly, once the initial technical teething problems were sorted out the station quickly established itself. With a highly professional team of presenters, now joined by new German DJ Hannibal and, on 10th March, by Mark Wesley (the former Mark West), RNI began to grow. It had been a long time since the demise of Radio Caroline and the word quickly got around. Offshore radio was back.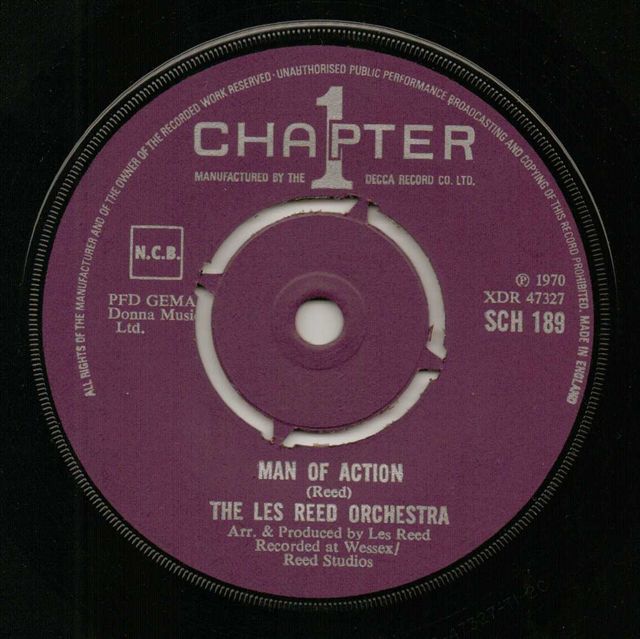 RNI's theme tune, 'Man Of Action' by the Les Reed Orchestra. Label scan kindly provided by Munro Jack.
The programmes were 5.30-7am and 8-11pm: in German; 7am-8pm and 11pm-1 or 2am: in English.

Despite being anchored off the coast of Holland, RNI's English-language programmes in 1970 were very much aimed at British listeners. The playlist closely followed the UK sales chart (see here) and, while not taking many musical risks, RNI did champion some notable releases. Without doubt it was largely responsible for the sales success of Norman Greenbaum's number one hit Spirit in the Sky. Another record featured in the early days of the station did less well. Jackie Lomax's single How The Web Was Woven failed to chart despite heavy airplay and being released on the Beatles' fashionable Apple label. The tune most associated with the station was the theme, played every hour: Man Of Action by the Les Reed Orchestra.


Although the station quickly gathered an audience, Radio Northsea International was not universally welcomed. Its medium wave transmissions caused interference to the Dutch pilot service, which in March was forced to change frequency. This was only the first of many incidents in which RNI would cause interference to other broadcasters.
On to part two.