This page contains an extract from Tom Lodge's book about Radio Caroline. It is completely revised and expanded from the earlier versions, is in a hard cover and contains more photos from Tom's time with the station, with more tales of life aboard, more insights into the music and more stories of the musicians who made the sixties such a special era. The new book is entitled The Ship that Rocked the World: How Radio Caroline Defied the Establishment, Launched the British Invasion and Made the Planet Safe for Rock and Roll and is available from Amazon and good book shops.

This is Tom's prologue: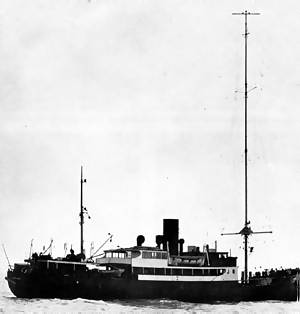 The original Radio Caroline ship, the M.V. Fredericia
The music and the fans' support made us blind to the forces that were collecting to wipe us off the map. The Royal Navy's appearance and the continual anti-Caroline TV reports from the British government were just part of the excitement. We were having fun and were willing to play the game to the end. It wasn't until a few years ago, long after my microphone fell silent, that I learned how near we had come to a violent end. I was visiting my friend, Gary Hall, in Vancouver, British Columbia. He took me downtown to a large, nondescript building. We went upstairs and through some dark corridors into a plain-looking office. Sitting at a desk was a middle-aged, stocky man with thick lens glasses. "This is Colin Hall" said Gary. We shook hands.
"Gary says that you were on Radio Caroline." said Colin.
"Yes, I was" I replied. "It was some adventure."
"What year was that?" Colin asked.
"1964 to 1967. It was the initial stage, when rock 'n' roll was an enigma to Britain."
"Yes, I know" Colin replied. "I nearly blew you guys out of the water."
"What?"
Gary spoke up. "Colin was with MI5, you know, the English version of the CIA."
"MI5? No way! Where were you stationed at the time?" I asked.
"Southern Ireland."
"Where in Southern Ireland?"
"I can't tell you that."
"When was that?"
"About October 1966."
"Yes, I was onboard then. What happened?"
Colin got up from the desk and walked away. It seemed as if he were avoiding me. I really wanted to hear this story, but was worried he would clam up. I stayed quiet but followed him attentively. Without looking at me he said, "I got a phone call from Brigadier General George Dixon. Just out of the blue." He paused and looked at me. I could see his eyes sitting behind his thick lenses. "The general came right to the point. 'Colin' he said. 'I have an assignment for you.'" He paused for a moment. "The general was from the old school, he had been to some posh English boarding school and he had that accent." Colin put on the upper class English accent, "'You know that ship off the coast that is broadcasting this rock and roll noise? Well, I want you to take a helicopter and some of the SAS boys and raid them. Stop them from broadcasting. Get the crystal out of their transmitter and whatever else it takes to get that nuisance silenced. We have instructions from high-up that this has to stop. Okay, old boy?'"
I listened intently to Colin's tale. It was quite amazing. The SAS is the Special Air Service, a secret British attack unit, a military SWAT team.
"At first I was taken aback," Colin continued, "But I had to compose myself and explained the situation to the general."
"'You see, sir, all of the SAS boys are between eighteen and twenty-two. They are ardent fans of Radio Caroline. I could not ask them to do that. Radio Caroline has been on the air long enough now that it's loved by so many people. The boys couldn't do that. I'm sorry, sir. It just wouldn't work. It's an impossible job.'"
Colin stopped, looked directly at me "I was expecting the full broadside. After all, he was a tough, old general. But to my surprise, he wasn't upset."
"'Damn it, old boy!' he said. 'But yes, I think I see your point. I believe you are right. Thank you, Colin. Bye.'"
Colin smiled. "That was it. We left you alone."
I was stunned. I finally spoke, "I'm grateful that you did. Thanks."
Since then I have often wondered how many more near misses we may have had. I guess life is just a series of near misses, otherwise I wouldn't be telling you this story now.