This page contains an extract from Tom Lodge's book about Radio Caroline. It is completely revised and expanded from the earlier versions, is in a hard cover and contains more photos from Tom's time with the station, with more tales of life aboard, more insights into the music and more stories of the musicians who made the sixties such a special era. The new book is entitled The Ship that Rocked the World: How Radio Caroline Defied the Establishment, Launched the British Invasion and Made the Planet Safe for Rock and Roll and is available from Amazon and good book shops.

This extract is taken from chapter seven, Meeting The Who: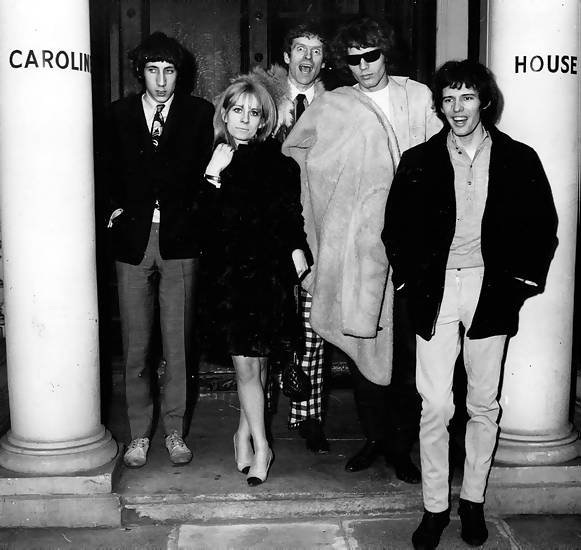 Tom Lodge and some stars at the entrance to Caroline House. The Who's Pete Townshend on the left. Click to enlarge.
On the plane to London I was seated in the back. As I waited for takeoff, I heard a lot of noise at the front of the plane. I looked up and there was a young fellow with sharp brown eyes. His hair was flying about in all directions as he danced in the entrance. It was The Who's drummer Keith Moon. I recognized him from the pictures that came with the records. Keith never stopped to speak to anyone. He placed his luggage above his seat and then went up and down the aisle drumming on everybody's seat. The passengers smiled and some joined in with the rhythm. Keith had a certain charm that relaxed people and an extraordinary sense of rhythm, which was enjoyable. There was nothing chaotic in his actions.
At first his band mates Pete Townshend, Roger Daltrey and John Entwistle sat quietly in their seats. But soon they were chatting with some passengers across the aisle. I went over to them and standing by their seats I said, "Hello, Pete, Roger and John, I'm Tom Lodge, I'm a deejay on Radio Caroline."
"Sure. I know you," said Pete. "We were listening to you while we were in Liverpool."
"I've been playing your records since I Can't Explain and Anyway Anyhow Anywhere came out."
Roger brightened up, "Good on you. That's great, we love the exposure."
"Yeah, Anyway Anyhow Anywhere is what we on Radio Caroline are all about. It just says it. It says I can go anywhere I choose, that's our very way of life."
"You know," said John. "When you guys sailed around the coast broadcasting, we knew that the music world had changed."
"And," added Pete, "That opened all the doors."
"John," I said, "on I Can't Explain, you play a mean bass line. I love the way you actually play the bass and don't just strum do, do, do, da, da, da, like most people do."
"Thanks, that's because I see the bass as a musical instrument, and not just for rhythm."
Pete chimed up, "That's because we think that rock and roll is more than just music for kids."
"Yeah," agreed Roger, "it's much more."
"You know," added Pete, "rock and roll is a great, fantastic release in this crazy world. I think it's important."
"For sure." I agreed.
Then Keith came bouncing down down the aisle and started to drum on my head. They all laughed. He sat down in his seat, took a swig of his drink and closed his eyes.