When the offshore stations began broadcasting to Britain in 1964, there weren't many experienced disc-jockeys around for them to employ. Many of the early Caroline broadcasters were resting actors and the guys on some of the smaller stations, like Radio Sutch and Radio Invicta, were enthusiasts, learning how to do the job as they went along. Radio Atlanta, started by Australian music publisher Allan Crawford, did employ a number of experienced DJs from his home country and, as news of the offshore boom began to spread, more Aussies made plans to travel to the UK to take part in this great adventure. One of them was Dennis Harold Straney.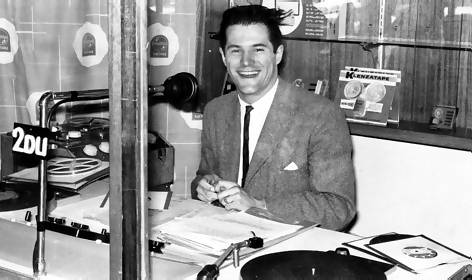 Dennis Straney in the studio of Australian radio station 2DU, Dubbo, New South Wales. Photo kindly provided by Sean Straney.

Born in Sydney, Dennis had worked on a number of Australian radio stations before packing his bags. In England he found a home on Radio City, the station based on Shivering Sands fort in the Thames estuary. He didn't use his full name on Radio City. He was simply "Dennis the Menace".

One of his Radio City colleagues was Tom Edwards: "I recall Dennis 'the menace' Straney so well. He was a 'character' and arrived at Shivering Sands complete with his collection of jingles. We all jumped to use them and made Radio City sound even better. His Australian accent and his cheeky chat on and off air made him a friend instantly. He made such an impression that I remember him vividly to this very day. Much to my shame I lost contact not only with Dennis but with so many others. We didn't have the internet then of course. Rest in peace Dennis. I am so glad I met you."

Another Australian DJ joined the station later, Ian MacRae. He writes: "Dennis was my introduction to offshore radio. I had just arrived in London from Australia with the idea of looking for work on one of the pirate stations. I was staying in a house already rented by some Aussie girls until I could find somewhere of my own. I'd bought a National transistor radio in Aden on the trip and that now hung on a door hook in the bathroom. On my third day in the house I turned it on and someone had left it on a station which identified itself as Radio City. At first I couldn't believe the signal was coming from a pirate. It sounded far more professional than I expected. Probably because the DJ I was listening to was ... you guessed it ... Dennis Straney. Dennis did a spot for a competition the station was running and gave the address for listeners to post entries to. I quickly scribbled it down on a piece of toilet paper and just turned up at the office next day. Finished up meeting with Reg Calvert and within three days I was working on the Radio City towers with Dennis. We became great mates and I always admired his professionalism. Some years later back in Sydney I was walking through a department store and heard a familiar voice on the PA. It was Dennis working as a store demonstrator. We briefly exchanged hellos but he was busy and couldn't engage in a personal conversation and sadly lost touch and never saw him again. Why he wasn't working on the radio I never understood being the great talent he was."

In mid-1966 Dennis left Radio City and joined Radio 270 off the Yorkshire coast. One of his colleagues there was Paul Burnett: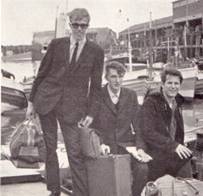 Left to right: Andy Kirk, Leon Tipler and Dennis Straney, waiting on the quay-side for the tender out to Radio 270. Photo courtesy of Hans Knot.
"Although I haven't seen him since that summer of '67 I've thought of Dennis often. What a character! We were all a bit in awe of him as he'd been a professional broadcaster in Australia and was so relaxed and confident on air. For example, I remember we had a feature on Radio 270 'The 270 Mum Of The Day' where listeners were invited to nominate their Mum for the daily prize of ... a pair of nylons!! Dennis opened one of the letters and read it out cold. The last line of which stated "...and she does all this on her own with four children and she only has one leg!" Dennis, without missing a beat, says "Well Mrs Hardcastle, what a story. Congratulations. You are truly today's Mum Of The Day and we're sending you not one but TWO nylons!!" On another occasion the ship sailed into Bridlington harbour for repairs after a particularly rough night at sea and Dennis and I went ashore. We got talking to some fans and were invited to a birthday party. One thing led to another and we completely lost track of time. We rushed back just in time to see 270 sailing out to sea! We were informed that if we weren't on air next morning we were fired. I was devastated but not Dennis. We spent that night sleeping in a bus shelter on the seafront (it was high summer) and at dawn the next day Dennis persuaded a trawler captain to drop us off on their way out. I'd have loved to see our bosses faces when they heard us on air as usual as if nothing had happened! Nothing more was said. Dennis was truly a real 'one-off' and although I hadn't seen him in over 44 years I've never forgotten him. As they say, 'what a guy'."

Another Radio 270 ship-mate was Guy Hamilton: "Dennis was a 'senior' colleague to this then 18 year old on 270 in Scarborough, and a good friend. He was a lot of laughs, on the air and off. On the air of course, his smooth deep mellifluous tones charmed the pants off certain categories of listener. A menace he wasn't, although he was infamous amongst 270 DJs for the way he explained to housewives how to use the Gard-Stik product: much more explicit, I think, than the advertiser put in the instructions! I'd been a fan of his as a teenage listener to Radio City. Meeting the great man and knowing him on Oceaan 7 was a privilege. RIP Dennis."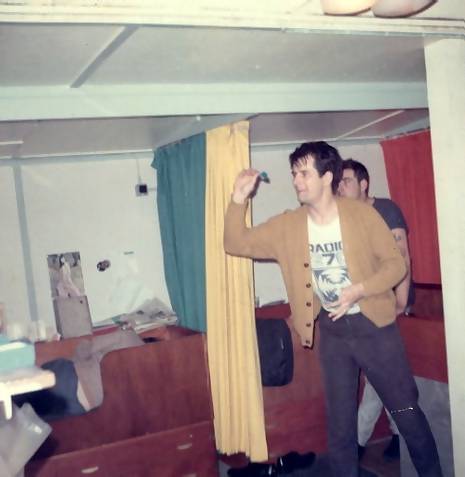 Dennis playing darts on board the Radio 270 ship, mv Oceaan 7. Photo kindly provided by Sean Straney.

In 1968 Dennis and his wife Gail returned to Australia. For a time he was heard on radio station 2UE in Sydney but, when that came to an end, Dennis was offered a job in Wollongong, a station some 70 miles away from home. It was too far to commute and he decided that he couldn's face living and working away from his family all week, only seeing them at the weekends. So he gave up his career in radio. For a time he did in-store demonstrating, as mentioned by Ian MacRae, and then moved into selling insurance, where he worked for several years.

He had never attended university and, in his early forties, Dennis decided to resume his education. He attained a B.A. and a Diploma of Education from The University of Sydney. He also completed, at the Catholic University, Sydney, a TEASOL course (teach English as a second language) and tutored foreign students.

He also started a law degree but had to abandon this when his wife Gail had a work-related crisis. Dennis loved tennis and played to a very high standard. He was playing well into his sixties and was president of the Sydney University Lawn Tennis Club.

Dennis suffered from the debilitating Parkinson's Disease for some years and died peacefully at 5am on 1st August 2010. He was 71. He is survived by his wife Gail, sons Sean, Gavin and Brendan, and grand-children Ashley, Emily, Mikayla, Teegan and Flynn.
Dennis Straney on Radio 270 from August 1966. Recording courtesy of Stuart Russell (duration 2 minutes 47 seconds)
A couple of short clips featuring Dennis Straney on Radio 270. Recordings courtesy of Martyn Webster (duration 1 minute 36 seconds)
Some of the above information was taken from the Sydney Morning Herald tribute page.
Our grateful thanks to the Straney family and to all the contributors.