Alastair Black (his real name) was born in Rosyth, Fife, on the 15th January 1943. A talented artist, he worked in various commercial art studios and, for a time, drew cartoons for the D.C. Thomson company, publishers of the legendary Dandy and Beano.

He became interested in the offshore radio stations that were starting and, when he saw that The Daily Record was running a promotion to find a broadcaster for a new Scottish pirate station, he put himself forward - and got the job. He joined the new station, Radio Scotland, in time for its launch at Hogmanay 1965.

Throughout his time on offshore radio, Alan continued to draw. Caricatures of his Radio Scotland colleagues were published in the station magazine 242 Showbeat and his cartoons were regularly featured in the short-lived weekly Radio News (see below for a couple of examples).
a short clip of Alan Black on Radio Scotland's Night Owls show from the early days of the station. Our grateful thanks to Martyn Webster for the recording (duration 33 seconds)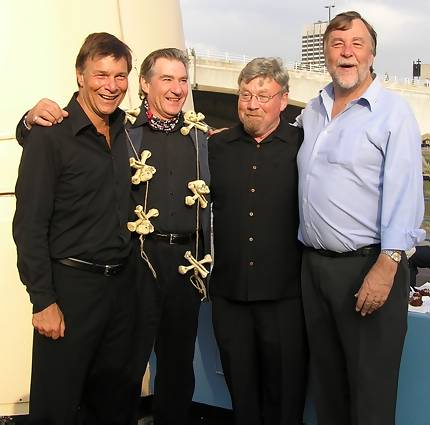 The mini-Radio Scotland reunion mentioned by Ben Healy, held in London in July 2005. Left to right: Richard Park, Alan (draped with skulls and crossbones), Ben and Bryan Vaughan. There is another picture from that gathering here.

We asked his Radio Scotland colleague Ben Healy to share his memories of working with Alan:
"Alan Black was the ultimate 'gentleman' ... kind, generous, warm, soft-spoken, gentle and unassuming - with an amazing sense of humour that was especially enjoyed by everyone who had the pleasure of listening to him.

When I joined Radio Scotland in June 1966, Alan and I became very good friends from the moment we met on the Comet - he was 23 and I was 21 - mere youngsters at the time. He had a way about him even then that endeared him to everyone around him and he drew people to him like a human magnet. I remember how sad I was when I learned that he was leaving Radio Scotland to go to Britain Radio - it was hard for me at the time because I knew I was losing my best friend from the ship as we not only worked together, we also spent most of our free time together - making personal appearances and double-dating.

Even then he loved to draw and it was no surprise to me to discover later that he had been one of the artists involved in the production of the Beatles' movie Yellow Submarine.

I also remember him as a constant source of support and motivation - gently pushing me into the limelight of interview opportunities with stars like The Kinks, The Troggs and The Searchers.

We met again in London in July 2005 - 38 years after our last time together and it was as if we had never said 'good-bye'. Our friendship was immediately rekindled and I attributed it to his ever-present charm and warmth - always understated and always genuine. I feel so fortunate to have had a second opportunity to spend time with Alan in our later years and I know that all of our fellow shipmates felt the same way about him. He was a dear and gentle man who enriched the lives of all who knew him. Those of us fortunate enough to call him 'friend' were especially blessed.

Our warmest thoughts and wishes are with his wife, Marie Pierre, and his son as we know what a loss this will be for his family. The world was a much better place for having had Alan Black in it and he left us all with sweet moments to keep and cherish in our memories of him. His love, his art and his friendship will live on in the memories of all who knew him. May we have the good fortune to meet again one day and until then, we will remember him by his love of family, friends, music and art."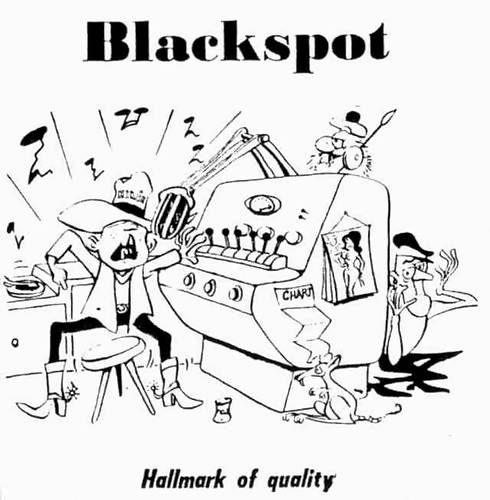 One of the 'Blackspot' cartoons that Alan drew for 'Radio News'. This one, of his own station Britain Radio, is from the issue dated 28th February 1967.
In September 1966 Alan left Radio Scotland and joined the Radio England/Britain Radio operation down south. The pop outlet, Radio England, closed soon after his arrival but Alan stayed to work on its sweet music sister station, Britain Radio. One of his colleagues on Britain Radio, and its successor Radio 355, was Dave MacKay:
"On moving from Radio City to Britain Radio in 1966, as a then very inexperienced broadcaster, it was a very daunting challenge for me - from homespun Radio City to the extremely professional and slick 'Hallmark Of Quality'. This was the time when Alan Black's calm, cool and patient professionalism came to my aid, to guide me through the then hi-tech world of Britain Radio. My turmoil was calmed and my first job on Britain, as news editor, started.

Alan's transition from SRE to Britain and then onward to both Radio 355 formats was the continuum. His cartoon work was always of great interest to the rest of us. He would throw his newly-drawn 'toons on to the mess-room table for us to work out the captions and punchlines.

The mess room itself was walled in white-painted steel and, when Alan got hold of some thick black marker pens, soon the walls were covered in cartoons of broadcasters and crew. They brought a smile to all who used the mess-room. It is sad that we will not be able to get together with Alan on this fortieth anniversary of 1967."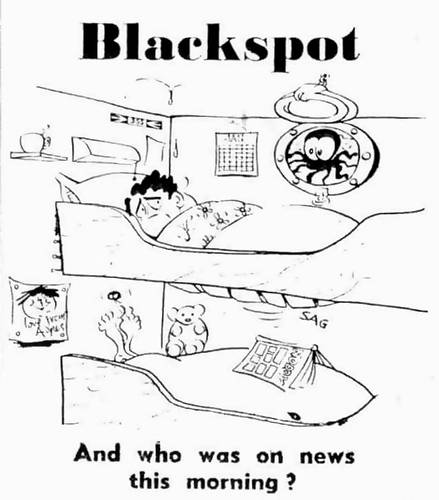 Another 'Blackspot' cartoon depicting offshore radio life, from the issue of 'Radio News' dated 21st February 1967.

Following the closure of Radio 355 in August 1967, Alan worked on The Beatles' cartoon film Yellow Submarine, as Ben has mentioned, before joining the BBC in July 1968 to present Radio 1's Midday Spin. He went on to host a number of programmes for the corporation, including Sounds Of The Seventies and In Concert.

After his death in March 2007 The Independent published an excellent obituary, which cannot be bettered for a detailed overview of Alan's life and career, but sadly it now appears to have been removed from the paper's website.

For more examples of Alan's art, see Jack Curtiss's pirate memorabilia.

Our thanks to Ben and Dave for sharing their memories of Alan.