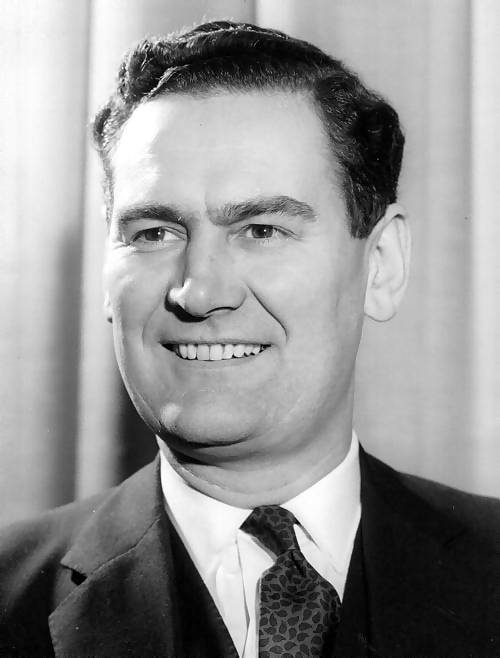 Philip Birch. A publicity shot issued by Radio London, kindly provided by Gordon Sheppard.
The Pirate Radio Hall of Fame was sad to hear of the death of Philip Birch, formerly Managing Director of Radio London, the UK's most successful offshore radio station. He was the last of the pirate bosses of the sixties and, with his passing, an era has ended.

Born in Canada of British parents, Philip joined the army when he finished his education at Beckenham Grammar School. He served in the Royal West Kent Regiment, reaching the rank of lieutenant. An imposing figure, 6 ft. 4ins. tall, he was a natural leader. After the war he went into advertising, joining the giant J. Walter Thompson agency. They posted him to the United States where he spent time in both their New York and Detroit offices. It was through working on the Ford advertising account that he met a man called Mal McIlwain. McIlwain owned a Texas car dealership and, a few years later, was one of the people behind the Radio London project.

By this time Philip had moved back to England. He was still working for JWT but, when he heard from Mal McIlwain about the plans to launch a new radio station for the UK, was keen to get involved. After discussions with the other investors, he was appointed to run the British arm of the operation. He left the agency, found some impressive, but relatively cheap, offices at 17 Curzon Street in Mayfair and set up Radlon Sales Ltd., the station's sales company.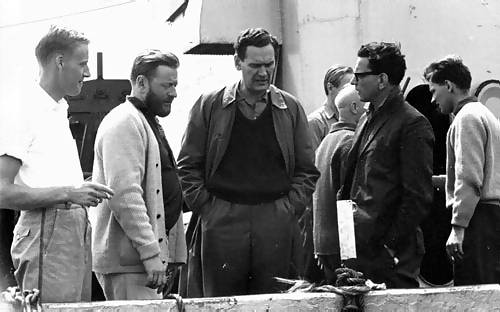 Philip Birch with Paul Kaye and Earl Richmond on board the mv.Galaxy. Photo kindly provided by Gordon Sheppard.
Radio Caroline had started broadcasting at Easter 1964, soon followed by Atlanta, then Sutch and Invicta. They had won a sizeable audience but, at that time, weren't particularly professional and played a wide range of music, not just the chart hits of the day. Radio London was going to be different. It was going to introduce slick Top 40 radio to the UK.

Don Pierson, the man behind this new venture, originally thought his station should rebroadcast programmes taped from Dallas's KLIF but neither Philip nor Programme Director Ben Toney liked that idea. They wanted to put together a sound that would combine the excitement and pizzazz of US Top 40 radio but tailored for an audience who had grown up listening to the BBC. Birch and Toney won the day and the KLIF plan was dropped. Instead a superb team of DJs was assembled to produce live shows from the ship. Philip also put together a very professional sales force who started selling advertising for the new station in advance of its launch. Radio London, soon also to be known as Big L, opened for business on 23rd December 1964. The first advert was for the Sunday newspaper The News of the World.

You can catch a brief glimpse of Philip Birch in the 1966 film Dateline Diamonds which is shown regularly on the Talking Pictures TV channel.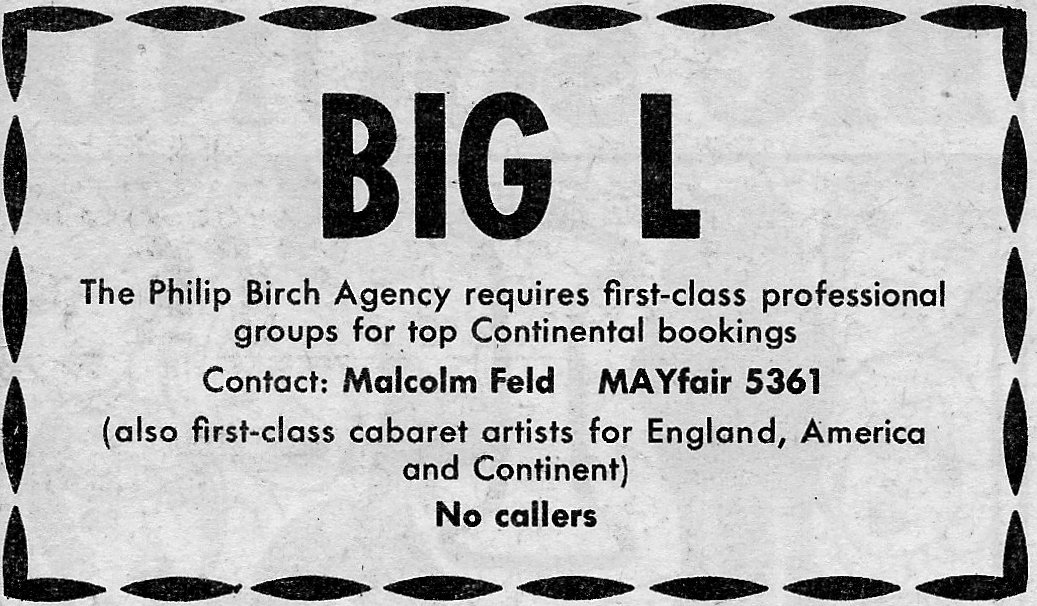 Advert for the Philip Birch Agency, courtesy of Luuk Meuwese.
Radio London was an immediate success and for a time there were plans to open a second station, Radio Manchester, to bring the format to the north of England. Unfortunately these never came to fruition. Another intended expansion was for the launch of a sweet music station, UKGM, to compete with Radio 390. Philip did a deal with Radio City to take over their base on Shivering Sands fort. Unfortunately Major Oliver Smedley, the chairman of Project Atlanta, owned a transmitter that was on Shivering Sands and, fearing he might lose it, organised a raid. A boarding party took over the fort during the night of 19/20th June 1966 and put Radio City off the air. The next day Calvert went to see Smedley and, in the ensuing fracas, the City boss was shot dead. (There is more about this dreadful incident here.) This put an abrupt end to the new station.

In 1967 Philip launched the Philip Birch Agency to represent performers, many of whom were heard on Radio London.

There are a couple of interviews with Philip available on YouTube in which he talks about Big L: this one hour audio recording and this much shorter video recorded in 1974:
It was a relatively small team that ran Big L, but a very efficient one, and it is generally agreed that Radio London was the most professionally operated of all the British offshore stations. It won a huge audience very quickly, paid off its launch costs within just ten months and made its investors a great deal of money. But it couldn't go on forever. The UK Government was keen to silence the offshore broadcasters and in August 1967 the Marine Offences Act came into effect, making it illegal for British subjects to work for, advertise on or promote a sea-based station. Philip Birch tried to find a way round the new legislation but ultimately he couldn't find a viable option. Radio London closed down at 3pm on 14th August.
Ringo Starr and Philip Birch join Ed Stewart and Paul Kaye as they close Radio London for the last time, 14th August 1967 (duration 5 minutes 47 seconds)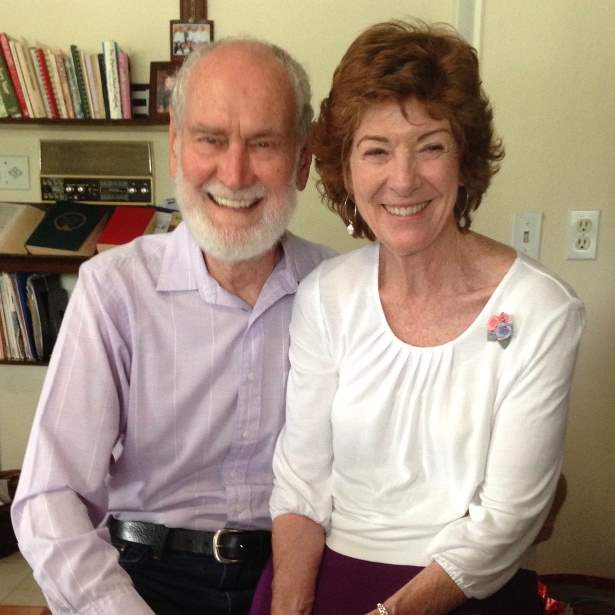 Philip Birch and his wife Shiona, a photo posted on Facebook.
In the early seventies local commercial radio was introduced in Britain. A number of people with pirate experience got involved, including Philip Birch. He became Managing Director of Manchester's Piccadilly Radio and Chairman of Air Services, one of the two big companies which sold national advertising for the local stations.

After a long and successful career, Philip retired in 1984. He and his wife moved to the United States. They lived in California where Philip dealt in real estate. He died on 7th December 2021 at 4.15pm local time, aged 94, leaving a wife, five children, eleven grandchildren and a great grandchild, with a second on the way.

Some years ago Gordon Sheppard, Radio London's Promotions Manager, told The Pirate Radio Hall of Fame: "The Americans came up with the idea and the investment but, make no mistake about it, Philip Birch was Big L. He was the real financial brain, the controlling wizard that made it all work. He put together that terrific team: Alan Keen (Sales Director and Programme Controller after Ben Toney left), Eddie Blackwell and Dennis Maitland (they were the ones who pulled in all the advertising and the cash to keep the jocks out at sea), Mike Stone handled the press and publicity, Brenda Cogdell and I created the promotions. We were all part of that great story but, in my own estimation of pirate offshore radio, Philip Birch stands taller than most. He put together that amazing team and has to have pride of place."
---
Gerry Zierler (DJ Guy Hamilton on Radios Essex and 270) worked for Air Services after his time as a pirate. He writes:

"Philip was a pirate friend, later on my radio sales company Chairman, and at Piccadilly Radio one of my clients. We kept in touch on and off for many years, so I feel doubly sad not just at the loss of a respected radio pioneer, but of a colleague too. He was an impressive figure, as everyone knows. His wartime and Thames fort pirate stories, enjoyed in private over lunch, were unforgettable, and I saw his shrewd army intelligence methods used in business on occasion - very memorably. He enjoyed life too. We shall all miss those measured tones and stately presence. Rest in peace, PTB." With thanks to The London Sound by Brian Long and The Wonderful Radio London Story by Chris Elliot.

There are also tributes to Philip on the Offshore Echos and Radio London websites.