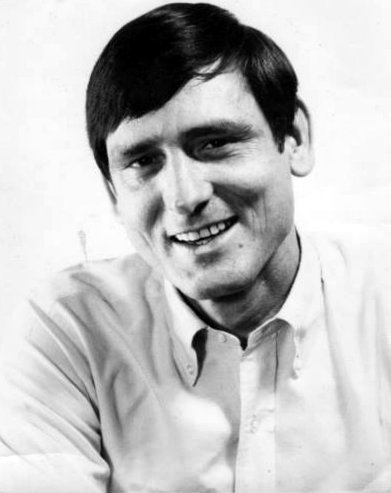 Ben Toney, a photo he shared on Facebook.
The Pirate Radio Hall of Fame was very sad to hear that Ben Toney, the man who programmed Britain's first Top 40 radio station - Radio London - has died at the age of 87.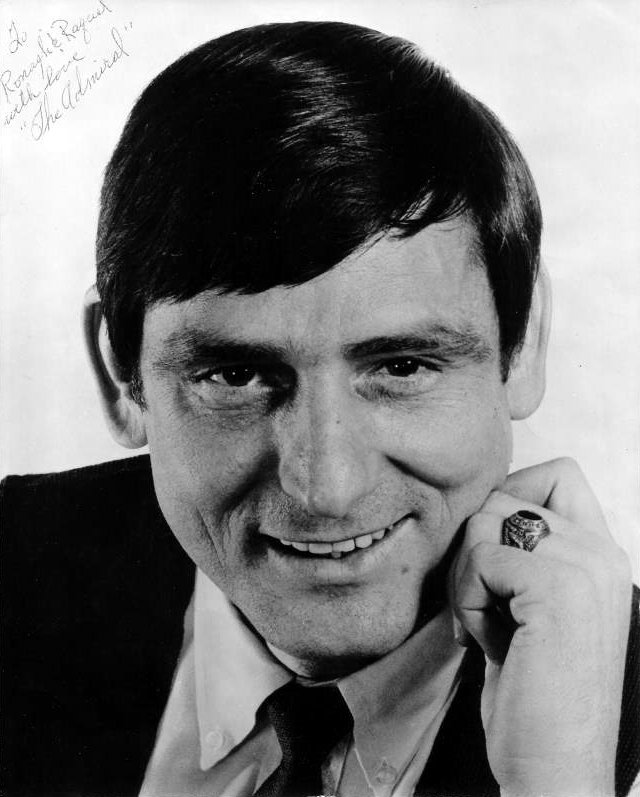 Ben Toney, a photo he shared on Facebook.
Born in Texas, Ben's family moved to California when he was young. Times were tough - it was the great depression - and his family didn't have much money but, at the age of eleven, he was given a present that would change his life: a radio. He fell in love with broadcasting.

Following his schooldays, Ben joined the navy. Still fascinated by radio he sometimes entertained his ship-mates by playing records to them over the ship's public address system. After four years in the navy, he attended the University of North Texas where he was president of the Radio Club and worked part-time on the local station KZEE in Weatherford, Texas. When he graduated he joined KZEE full-time but soon transferred to country station KCUL. In 1959 he moved to KRBC in Abilene, Texas, a Top 40 station, where he worked as an airtime salesman while waiting for a DJ position to become available. When it didn't, he was off to KJIM in Fort Worth, a station owned by actor James Stewart, but returned to KRBC when he was offered the post of Programme Director. The next stop was WTAW where he combined sales and presenting.

In August 1964 he took a phone call which would change his life. It was from Don Pierson. Don was setting up an offshore station for Britain and was looking for a Programme Director. He had asked the advice of Bill Fox owner of a station in Don's home town of Eastland, Texas. Fox had worked with Ben at KRBC and was happy to recommend him for the position. With a good knowledge of radio programming and four years naval experience, Toney was ideal for a ship-based radio station. The two men met up and Pierson offered him the job. After thinking about it for a while, and consulting his boss, Ben decided to take it.

Don Pierson's original plan was that Radio London would re-broadcast tapes of Dallas Top 40 station KLIF with the local references removed. Station Managing Director Philip Birch thought it should be more like Radio Luxembourg, with lots of short sponsored shows. Ben didn't like either of those ideas. He argued that Radio London should make its own programmes - maybe three hours in duration - with each one fronted by a personality disc-jockey. By the time Radio London launched, Don Pierson had been ousted from the company and Philip Birch had come round to Ben's way of thinking. KLIF used jingles made by the PAMS company of Dallas. Similiar jingles were ordered for Radio London.

In October 1964 the Radio London ship, mv Galaxy, left Miami. Ben was on board as it crossed the Atlantic. At that time the ship was not 100% sea-worthy and it was not an enjoyable journey. When the Galaxy docked in Madeira so that its engines could have some much-needed servicing, Ben left the ship and flew the rest of the way to London where he got busy recruiting disc-jockeys for the new station.

The initial on-air team was a mix of experience and enthusiasm: Senior DJ Tony Windsor had been a successful broadcaster in Australia; Pete Brady had been on radio in Jamaica; Paul Kaye and Earl Richmond had learnt their craft with British Forces Broadcasting; Dave Dennis had just a few months airtime behind him, having been on two earlier pirates, Radio Atlanta and Radio Invicta; and young Kenny Everett was completely new to radio. Ben sat them down to listen to recordings of American Top 40 radio he had brought with him and explained how the music rotation would work. When test transmissions began in December 1964, it quickly became apparent that the two former BFBS guys were struggling with the unfamiliar format. Dave Cash and Duncan Johnson, both of whom had commercial radio experience, were welcome additions to the team. It seems that Ben also presented a few shows himself in the early days of the station. In 2020 we unearthed a recording from January 1965 in which Tony Windsor is heard plugging Ben's show (check out the bottom audio clip on this page).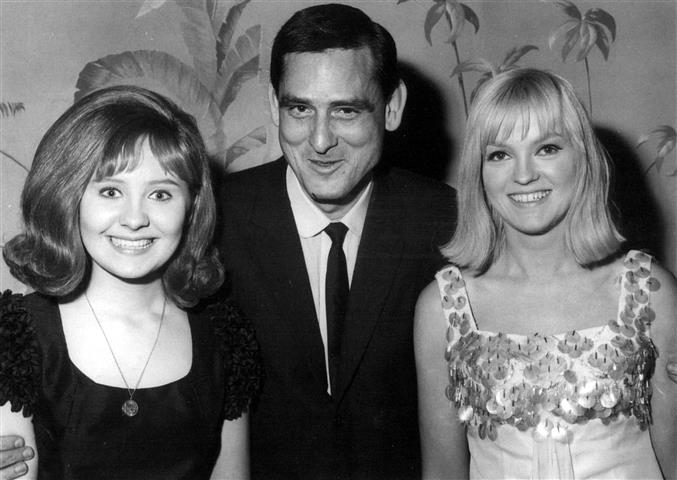 Singer Lulu, left, Ben Toney, and journalist (and later DJ) Anne Nightingale at the 1965 British Song Festival. Photo shared on Facebook by Ben.
Radio London's playlist was the Fab 40, a chart which differed significantly from the official sales Top 40. For a start, the records moved up it much faster. And once they started going down, they dropped out pretty quickly too. The records in the Top 10 got played the most (two every half-hour, which meant they came round every two and a half hours). Three of the records between 11 and 40 were played each half-hour, which meant that these more lowly-positioned tracks had a slower five hour rotation. The Fab 40 frequently contained a number of records which were unique to Big L. Whereas most of the other stations followed the sales charts, Radio London always liked to champion the music it believed in. A number of groups and singers got their first taste of fame because of it.

British listeners had never heard radio like this before! The jingles, the up-front playlist, the slick disc-jockeys and, of course, Ben's format - it was a winning combination.

Ben's secretary in the office at 17 Curzon Street was Ronagh Clarke. A relationship developed between the two of them and they married in October 1965.

While Ben was working for Radio London, he appeared in a film alongside a number of his colleagues, singer Kiki Dee and the Small Faces pop group. Dateline Diamonds was a B-movie. In those days cinemas would often screen a secondary film, usually one made on a low budget, before the main feature and Dateline Diamonds was one of these. It went on general release with Doctor In Clover, a comedy starring Leslie Phillips. Although it has not aged particularly well, Dateline Diamonds can still be seen periodically on the Talking Pictures TV channel.

Ben's contract with Radio London ran out in March 1966. By then the station was established as the most popular and profitable of the offshore broadcasters. The man who had originally hired him, Don Pierson, was now in the process of setting up a rival operation to house two outlets - Swinging Radio England and Britain Radio. Don asked Ben to advise him but, when it became apparent that his advice wasn't going to be followed, he decided to return to the States. He and Ronagh set up home in Houston, Texas.

Six months later, they were back in the UK. A record plugger friend called Don Agness, who worked for Leeds Music, introduced Ben to band leader Cyril Stapleton. He had invested in Radio 270 and wanted Ben's advice. Ben visited the ship, mv Oceaan 7, and spent some time on board. He wrote a report for Stapleton but was not interested in staying with the station as he and Ronagh had just discovered that they were expecting a baby. It was time to go home, although Ben did visit Radio 270 again the following year for some more consulting work and this time he presented a few programmes on the station too. Correspondent Philip Champion remembers hearing him on Radio 270 in May 1967. He says "I think he did 12-3pm and 11pm-midnight.".

Ben took a job with KNAL in Victoria, Texas, but he found that the radio industry in the States had changed while he had been away. FM radio was on the rise and the old AM stalwarts were in decline. From there he joined the Interstate Broadcasting Company, a new regional news network, as a salesman trying to persuade stations to take the service. Unfortunately IBC failed. Ben then took a job surveying for maritime oil deposits. It was while he was working away at sea that sadly his wife Ronagh passed away in October 1978.

He continued working but retired in February 1993 at the age of 62 to look after his sick mother. He lived in Springtown, Texas. In 2011 he wrote about his time with Big L. Extensive extracts from The Amazing Radio London Adventure can be found on the Radio London website. Ben was a regular poster on Facebook and continued to speak very fondly of his time with Radio London, and of the friends he had made there. It was the only one of his many jobs that he listed on his Facebook profile. He was obviously very proud of what he had achieved with the station - and quite rightly so. He and his colleagues had changed the face of British broadcasting.

On 6th April 2018 Ben's daughter Raquel posted on Facebook: "To all my dad's friends and family, you may be wondering why he is not online. He had a little fall a few days ago (nothing broken) and is in hospital getting some physio etc and will be there for a few, maybe 6, weeks. He just wanted me to let you know that he is doing fine and that he won't be on his computer until he gets back home." Then on 20th April: "My dad took a turn for the worse and has now been moved to a hospice. Can you please keep him in your thoughts and prayers. He has family with him and is being kept as comfortable as possible."

Ben passed away during the afternoon of 10th May 2018 at the VA Medical Centre in Dallas. His daughter Raquel and niece Cheryl were with him at the end. Raquel posted on Facebook: "The hospital staff gave him a very moving military send off and they took care of him so well all throughout his stay there .... We really appreciate all the thoughts and prayers that you sent previously. Cheryl and I read them out to him and he really loved that. R.I.P dad. I just know you are already on that pirate ship in the sky playing top 40 and singing along."
There is a three page tribute to Ben on the Radio London website.




Ben Toney with Johnny Dankworth and with Cleo Laine. Both pictures shared by Ben on Facebook.