Part Eight: The Fight For Free Radio
The technical upgrade and repairs to the mv Mi Amigo were expensive and a new investor was needed to help pay for them. In February 1966 Philip Solomon (see tribute) bought an interest in Radio Caroline. A well-known and successful show-business figure, he had made his name looking after middle-of-the-road acts such as Ruby Murray and The Bachelors, as well as more pop oriented artistes like Them and Twinkle. He was well aware of the station's influence. His singer Twinkle had enjoyed her one and only big hit Terry in 1964 thanks to airplay on Radio Caroline, the BBC having banned the track because of its subject matter - a fatal motorcycle crash. Solomon was the antithesis of Ronan O'Rahilly. The station's founder was an ideas man with very little interest in things like budgets and cash-flow. As a result, Caroline was perceived as a success but it was not generating much in the way of profit. Solomon was very much more money-minded. He tightened up systems, reduced the staff, cut costs and took control of the station playlist. He also made sure that records featuring his own artistes got plenty of exposure. Later he started a record label, Major Minor, whose releases were heavily promoted on Caroline and he also introduced a payola scheme which allowed record companies to buy slots on the station for their new releases. There had always been a certain number of paid plays (see Ken Evans interview) but, under Solomon's scheme, new releases wouldn't be played at all unless they were paid for. Records in the charts were played for free. This scheme was widely criticised at the time, especially by the rival Radio London, although its deal with Pall Mall Music meant that the Big L Fab 40 playlist was just as susceptible to outside financial influences.
Ray Teret plugging one of Phil Solomon's groups, The Bachelors, on his Ugli Bug Ball show on the afternoon of 12th July 1966. This is an edited version of a recording available from www.azanorak.com. Our thanks to Ray Robinson (duration 3 minutes 49 seconds)
A survey carried out in July 1966 by National Opinion Polls showed that the Caroline network now had the largest audience of any of the offshore stations with 8,818,000 listeners although it only just beat the single Radio London ship which had 8,140,000.
Dave Lee Travis on the Caroline Countdown show of 30th July 1966 on Caroline South. Philip Solomon's influence is evident with both Twinkle and The Bachelors on the chart (although not in this clip). Dave announces that Caroline is now the country's number one. This is an edited version of a recording available from www.azanorak.com. Our thanks to Ray Robinson (duration 3 minutes 4 seconds)
In August 1966 Caroline South began broadcasting 24 hours a day. That same month Terry Bate and Allan Slaight, two men with experience of Canadian commercial radio, joined the station to strengthen the airtime sales department. One of their first moves was to introduce the Caroline Cash Casino competition. This was an hourly spot sponsored by Findus Foods, Galaxy Chocolate, VP Wines, Libby's Foods, Nabisco Shredded Wheat and others. Clues were given to a certain person or object, the identity of which the listeners had to guess. As more clues went out, the cash prize got bigger. It was an enormous success. Within eleven weeks of the competition, one million entries had been received; in twenty-seven weeks, 4 million. Postmen in the W1 area of London complained that they were running out of mailbags; they were all piled up in Caroline House! The disc-jockeys disliked the hourly intrusions into their programmes but no one could deny that the competition was popular - both with listeners and advertisers.
Bill Hearne presenting an edition of Caroline Cash Casino from March 1967. A prize of £2,820 was won the following day by Mrs Anthony of Burghfield Common who correctly guessed the mystery object was Tommy Cooper's fez (duration 2 minutes 23 seconds)
August '66 also saw the last Beatles tour of America. The group's management arranged for a number of British journalists and broadcasters to accompany the guys around the States, including Radio Caroline North's Jerry Leighton who reported for both the radio station and pop paper Disc and Music Echo. Swinging Radio England's Ron O'Quinn and Radio London's Kenny Everett went too. Kenny sent back daily phone reports but Jerry's coverage consisted of written details, sent by telex, which were read out by the DJs on both Caroline ships. (See here for more about the tour.)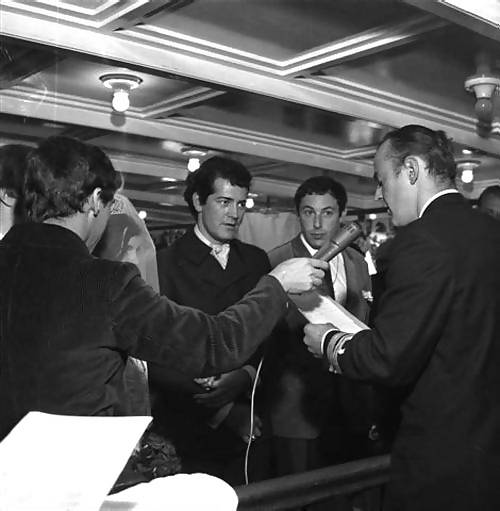 Mick Luvzit's wedding, live on air. Left to right: Graham Webb, who provided a commentary on the proceedings, Janet, Mick, best man Jerry Leighton and Captain Martin Gips. More pictures in Mick Luvzit's photo album.
A Canadian broadcaster, Mick Luvzit, joined Radio Caroline during the summer of 1966. After a brief stint on Caroline South, he transferred to the north ship. There he fell in love with Janet Terrett, the sister of former Caroline DJ Ray Teret. As the romance blossomed and they began to talk of marriage, his colleague Tony Prince suggested they should have the wedding ceremony at sea - on board the Caroline ship. This unique wedding took place on 20th September 1966, performed by the ship's Captain Martin Gips. It was broadcast live on Caroline North with a commentary by station news chief Graham Webb. Unfortunately thick fog at the airport caused transport problems for some of the guests but, slightly later than planned, the ceremony went ahead.
Mick and Jan getting married live on Radio Caroline North. Voices include Tony Prince, Graham Webb, Don Allen (very briefly), Captain Gips, Gord Cruse and the happy couple. This is an edited version of a recording available from www.azanorak.com. Our thanks to Ray Robinson (duration 8 minutes 22 seconds)
In November 1966 Radio Caroline North began putting out night-time test broadcasts on 1169 kilohertz, 256.6 metres (referred to, of course, as "259") and on 18th December transferred permanently to this new wavelength.
Don Allen on a late night "259" test broadcast on 3rd November 1966. Recording kindly provided by Kenny Tosh (duration 3 minutes 5 seconds)
RADIO CAROLINE PROGRAMME SCHEDULE, JANUARY 1967.

Caroline North
weekdays
Caroline South
weekdays

6.00am The Leighton Early Show
(7.55-8.00 Voice Of Prophecy - sponsored)
9.00 The Big Wide Wonderful World Of Daffy Don Allen
(10.45-11.00, wed. & thurs. The Oxo Show - sponsored)
12.00pm The Bob Stewart Show
3.00 Mick's 3 To 6
6.00 Requests In Action
(6.55-7.00 Revival Time - sponsored)
8.00 The World Tomorrow (sponsored)
8.30 closedown
(Thurs 8.30 Oral Roberts - sponsored
9.00 closedown)
12-2am Midnight Surf Party


6.00am Keefers' Uprising
(7.55-8.00 Voice Of Prophecy - sponsored)
9.00 The Mike Ahern Show
12.00pm The DLT Show
3.00 The Tommy Vance Show
6.00 Robbie Dale's Diary
(7.55-8.00 Revival Time - sponsored)
(Fri. 8.30-9.00 Bringing Christ To The Nation - sponsored)
9.00 The Johnnie Walker Show
12.00am The Steve Young Show
3.00 The Night Owl Prowl

Information from Offshore Radio by Gerry Bishop.


By late 1966 it had become apparent that the British Government was not going to allow offshore radio to flourish for much longer. Worried about Caroline's future, Ronan O'Rahilly arranged for workmen to take over the disused Roughs Tower anti-aircraft fort. Eighteen miles from Southend, and safely outside territorial waters, he spent some £15,000 converting it into a heliport and supply base for the Mi Amigo. When this story leaked to the press, O'Rahilly denied the fort was connected in any way to his plans for Caroline. He claimed he was converting the structure into a health farm and the hollow legs were to be used for growing mushrooms! Unfortunately, whatever his plans, they never came to fruition. While the fort was deserted, Roy Bates, the former owner of Radio Essex, moved in. He and his men claimed squatters rights and set up defences. Repeatedly O'Rahilly's team tried to retake the fort but they were fought off and were eventually forced to surrender Roughs Tower. Mr Bates went on to establish Sealand on the fort - his own independent country (see here and cuttings).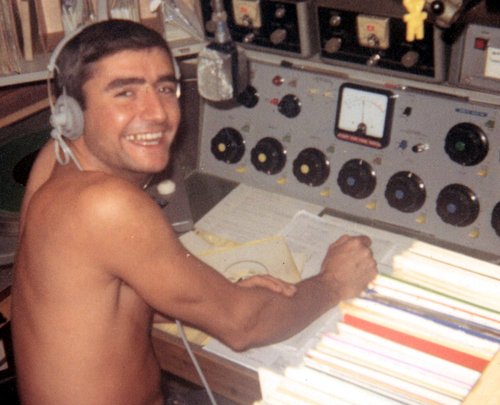 Steve Young, photo taken by Sheridon Street, an engineer on Caroline. You can see more of Sheridon's pictures on his website.
As the Marine Offences Bill made its inexorable way through Parliament, Caroline and the other offshore stations campaigned vigorously against it, on air and off. In April 1967 elections took place for the Greater London Council and both Radios Caroline South and London ran strongly worded promotions, urging listeners to find out the candidates' views on free radio and to vote accordingly. A poll was mentioned on both stations revealing that only 20% of Labour candidates were in favour of commercial radio, while 82% of the Liberals and 97% of the Conservatives supported it. Although the stations did not go as far as to shout "vote Conservative", they came fairly close. Labour had been in power in the capital since 1934 (with the London County Council until 1965, then the Greater London Council since then) but this time the Tories won.
Johnnie Walker and Steve Young, with some help from Tom Edwards, on Caroline South on the night of the GLC elections. Recording kindly provided by Ray Andrews (duration 3 minutes 7 seconds)
Some of the numerous 'fight for free radio' promotions broadcast on Radio Caroline during 1967 (duration 5 minutes 27 seconds)

Despite the campaigning - and the support of millions of listeners - the Marine Offences Act was passed into law. All the other stations announced that they would close but Ronan O'Rahilly made it very clear that, whatever happened, the two Radio Caroline ships would continue broadcasting. It was announced that there were would be a Dutch service launched to operate from the South ship and a serial was rumoured: The Private Life of Harold Wilson (the then Prime Minister). Neither materialised. Sales representatives were appointed in Paris, Toronto, New York and Amsterdam and an office was opened in Holland. Caroline House closed down. The new law only applied to British subjects so Ronan O'Rahilly and Philip Solomon, both Irish citizens, were immune and continued to operate from London.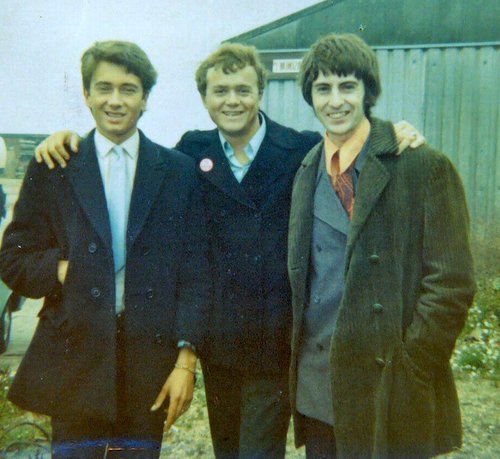 Caroline South's Tom Edwards, Keith Hampshire and Roger Day on 14th August 1967. Photo shared on Facebook by Roger.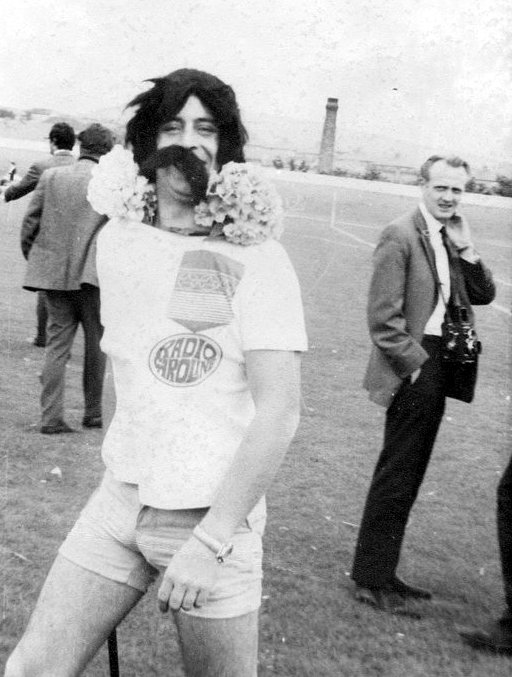 Mark Sloane, with wig and false moustache, at the football match against the GPO in August 1967. Photo shared by Mark on Facebook.
The Act took effect on mainland Britain on 15th August 1967. One by one the other stations closed down (see here). Only Radio Caroline continued. At midnight on 14th August a massive audience tuned into Caroline South as disc-jockeys Robbie Dale and Johnnie Walker challenged the government and welcomed the listeners to a new era - that of "Radio Caroline International". With the new legislation to contend with, most of their fellow disc-jockeys had decided to leave but joining the two senior presenters in their defiance were Australian newsreader Ross Brown and a radio novice who initially used the name Chris Anthony. Within days he had become Spangles Muldoon. Roger Day, who had joined the station the previous month but had to leave briefly to renew his passport, returned and former Radio Scotland man Stevi Merike also came aboard. With no offshore competition and, as yet, no BBC pop service, the audience soared.
Johnnie Walker with Robbie Dale on Caroline South, midnight 14th August 1967 (duration 5 minutes 13 seconds)
Robbie Dale introduces Caroline South's newest DJ, Spangles Muldoon. Recording kindly provided by Hans Knot (duration 3 minutes 50 seconds)
There was a major change of broadcasting staff on Radio Caroline North too. Canadian Don Allen was unaffected by the new law but most of his colleagues left on 14th August. They were replaced by new presenters such as Martin Kayne and Mark Sloane who had both been left unemployed by the closure of Radio 355. Because the act was still not law on the Isle of Man, there was nothing to stop a promotional football match taking place that month on the island between a team representing Caroline and one from St. Helens GPO!

The members of the Isle of Man Parliament, The Tynwald, had vehemently opposed the Marine Offences Bill but, on 1st September, despite their protestations, the new law was extended to cover the island by an Order in Council. Just off the coast, Radio Caroline North continued.
On the 31st August 1967, just hours before the new law took effect, some 2000 people took their last opportunity to visit Radio Caroline North on board the Isle of Man ferry Manxman. Mark Sloane and Jimmy Gordon (out on deck) and Martin Kayne (in the studio) welcomed them and the other fans who had travelled out on the regular pleasure boats such as the Ché-Sara (duration 4 minutes 53 seconds)
Don Allen at midnight on 31st August 1967 and some clips from the first post-Marine Offences Act programme on Caroline North. Both recording kindly provided by Andy Cadier (duration 3 minutes 17 seconds)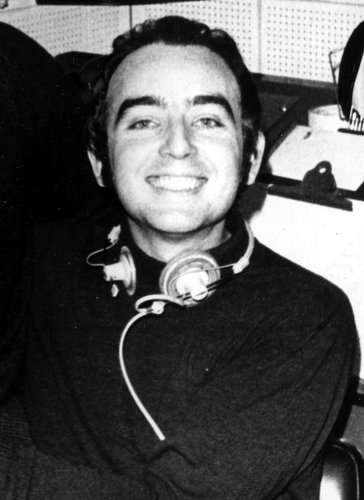 Caroline North's 'Frantic' Freddie Beare, known as Ross Brown on Caroline South. Photo by engineer Mike Wright. There are more of his pictures here.
The two Carolines carried on broadcasting and, from the end of September, faced competition from the BBC's new Radio One. Caroline appeared to be prospering and carrying a lot of commercials but what the listeners did not know was that most of these were either American radio adverts, tapes left over from old campaigns, favours for friends or simply audio recorded off the TV. Among the products promoted were Alkokill breath freshener, Aqua-Net hairspray, Aqua-Velva deodorant, The Big C Club, British Olympic Committee, Bulova watches, Cadbury's biscuits, Carnaby Card, Caroline Cars, Chiselhurst Caves, Coca-Cola, Consulate cigarettes, Crown Cup coffee, Daily Sketch, Deram Records, Derek Gardiner cameras, The Dolphin Bar, Du Maurier cigarettes, Emerald Records, Evette cosmetics, Ford, Golden Wonder, Horlicks, Irish Sweep Stakes, Jelly Tots, Kent Messenger, Kit-Kat, Kraft Corn Oil margarine, Macleans toothpaste, Major Minor Records, Milk Marketing Board, Milroy Ward cars, Old Spice deodorant, Oz magazine, Pepsi-Cola, Pernauld, Peter Stuyvesant cigarettes, Queens Bar discotheque, Rothman's cigarettes, Salem cigarettes, Schick razor blades, Seven-Up, Spangles, Sphere Books, Tipavana cigars, Twiglets, Volkswagen cars and Winston cigarettes. Some companies complained about their advertisements being aired on Caroline (see cutting). The station began to depend more and more on payola, the playing of certain records for a fee. This had always been done to a certain extent but now the programmes seriously began to suffer. The sheer number of paid-plays, especially those for Philip Solomon's Major Minor label, could sometimes dominate the programming.
Roger Day has a dreadful start to his day on 1st October 1967: he oversleeps, he is locked out of the lavatory, he is late for his show and then he has to play a five minute advert for the latest Major Minor release, as well as a single by The Dubliners! From Radio Caroline South, this tape kindly provided by Stuart Russell (duration 3 minutes 59 seconds)

Freddie Beare sitting in for Don Allen on Radio Caroline North, 11th February 1968, has two long Major Minor adverts plus two Major Minor singles (one not included here) all scheduled in the same hour. The voice on the Major Minor adverts is former Caroline DJ Tommy Vance. This recording courtesy of Albie Somerset (duration 3 minutes 20 seconds)
Whereas previously the ships had received a number of tenders every week, now the servicing (from Holland and Ireland, for the South and North ships respectively) became irregular. The DJs felt very cut off and, with no mail or newspapers, the programmes began to suffer. Less frequent tenders also meant that there was a lack of new releases reaching the ships. Even the station's biggest fans had to admit that, despite the efforts of the talented broadcasters, Radio Caroline wasn't sounding quite as good as it used to.
Johnnie Walker describing some of the difficulties the DJs are dealing with on Radio Caroline South. The clip is undated but, as he mentions Christmas is on the way, it is probably from December 1967. The recording was kindly provided by Steve England (duration 2 minutes 57 seconds)
As Caroline moved into 1968 the disc-jockeys tried to sound enthusiastic but the station's future was anything but secure.
Part nine of 'Caroline in the Sixties' over the page.

Back to the previous page.