David Charles Wish was born in Bushey, Hertfordshire, on 18th July 1942. The family lived in Edgware, Middlesex, until 1947 when he and his parents emigated to Vancouver, Canada. Dave attended school there until he was eleven when he was sent back to the UK to continue his education as a boarder at the Royal Hospital School in East Anglia. According to his e-book He Sounds Much Taller: Memoirs of A Radio Pirate, this was not a particularly happy time for Dave. He felt like an outsider in both England and Canada.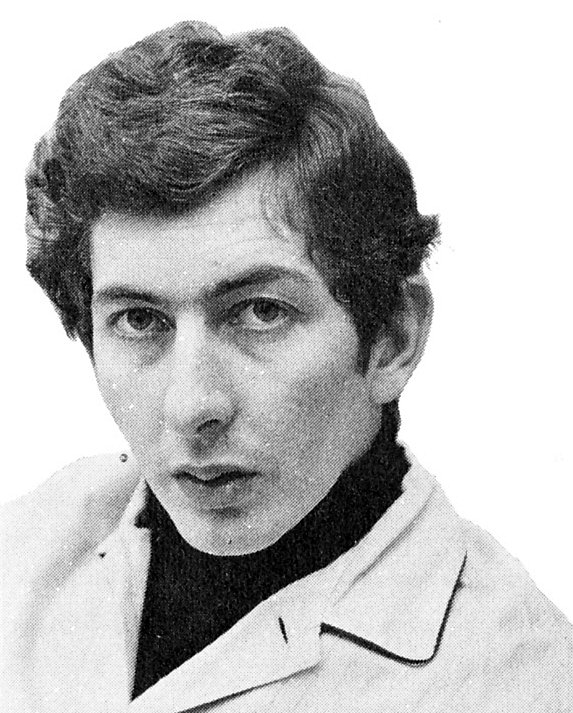 Dave Cash, as pictured in 'Who's Who in Pop Radio', published by Four Square Illustrated.
When he was sixteen, he returned to Vancouver and went to the King Edward High School with plans to attend university. However in 1962 his father died. Dave had also got his girlfriend pregnant. University was now out of the question - he had to go to work. Fascinated by radio, Dave was keen to get into broadcasting, but he also had to earn money. By 1964 he had two jobs: selling men's clothing during the day at a store called Arnold & Quigley, then hanging around any of the Vancouver radio stations which would have him, doing unpaid voluntary work in the evening. Finally the two things came together when he was commissioned to write some radio commercials for the clothing store. The actor who had been booked to voice the adverts was ill so Dave took his place. The commercials ran on the city's top pop station, CFUN, where the management was sufficiently impressed to offer him some on-air work. Dave also spent a short time doing holiday relief on CJAV, Port Alberni, and went on a road trip round the United States, visiting as many radio stations as would let him in the door.

One of Dave's friend's in Vancouver was another expat Brit called Bill Street. In July 1964 Bill moved back to Britain and, in December, sent Dave a telegram raving about how exciting the music scene was, enthusing about the pirate stations and urging Dave to join him in the UK.

On Christmas Eve 1964 Dave arrived in London and checked into a hotel on Curzon Street. He and Bill decided to visit Radio Caroline's offices in nearby Chesterfield Gardens. They started walking. The weather was dreadful and, having been soaked by a passing car driving through a puddle, Dave took shelter in a doorway. It was 17 Curzon Street.

Standing on the doorstep, trying to dry himself off, Dave heard an American voice bellowing "Gawd damn! I said gawd damn! Doesn't anybody out there understand gawd damn format? Are these disc-jockeys all morons?!" By an amazing stroke of luck Dave had arrived at the perfect place. 17 Curzon Street was the home of Radio London. The screaming American was Ben Toney, the station's Programme Director. Dave knocked on the door and introduced himself. Radio London had only been on the air for a few days. Format radio was new to Britain and, in Toney's eyes, his DJs were not handling it well. He needed someone out on the ship who knew how to do it. Dave had worked - albeit part-time - on a very successful Top 40 format station in Vancouver. He was offered a job immediately, on £15 a week. But first, like all the other Radio London jocks, he had to take a new name. He became Dave Cash.
Dave Cash behind Kenny Everett in the Radio London studio. Photo kindly provided by John Lait.
On the day after Boxing Day Dave made his first trip out to Radio London's ship, the mv Galaxy, carrying a pile of tape recordings of KLIF Dallas. Ben Toney hoped these airchecks would show the DJs how he wanted Top 40 radio to be done. One of the first people that Dave met on the ship was Kenny Everett. The two of them listened to the American tapes - and one of UK radio's most successful double acts was born. KLIF's Breakfast Show was hosted by Charlie & Harrigan. Cash and Everett were inspired by the way the duo incorporated humour into their presentation. They wondered if something similar would work on Radio London. But that was still in the future. For now Dave was engaged to help Tony Windsor train the DJs and cover on air for whichever one of them was away on shore leave.

The Kenny & Cash show launched in April 1965. Running each evening between 5 and 6pm, the show was an instant success and, despite only lasting six months, is still remembered with great affection to this day. As well as hosting the shows together, Kenny and Dave did live appearances on land and wrote a weekly column for Music Echo magazine. They even released a single Knees but maybe the less said about that, the better! Even their own radio station declined to add it to the playlist. The Kenny & Cash Show ended when Pete Brady left Radio London and Dave was transferred to the Breakfast Show. Dave's nickname was "the rabbit" and his programme became known as The Rabbit Patch.
Kenny & Cash from 2nd September 1965. Thanks to the Offshore Radio Archive for the recording (duration 3 minutes 19 seconds)
Paul Kaye with the 8am 'news in brief' and Dave on The Rabbit Patch Breakfast Show from 24th February 1966. This clip is taken from a recording available from www.azanorak.com. Our thanks to Ray Robinson (duration 4 minutes 45 seconds)
Dave left Radio London in April 1966. Three things convinced him it was time to move on: he had become ill with kidney stones caused, he believed, by lime deposits in the ship's water supply; he had fallen in love with future wife Dawn; and his agent Chris Peers had found him other work - three shows a week on Radio Luxembourg and live gigs with Mecca Ballrooms. They would pay considerably better than Radio London. He said goodbye to his listeners in the 'Big L column' in Disc & Music Echo, issue dated 30th April 1966. Later that year Dave was heard again on vinyl, introducing Geno Washington & the Ram Jam Band on their concert album Hand Clappin' Foot Stompin' Funky-Butt ... Live!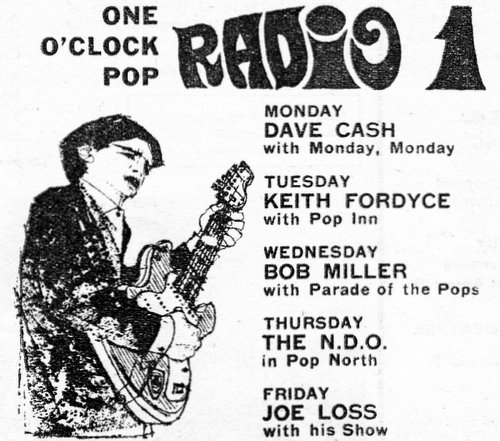 Cutting from 'Radio Times' kindly provided by George Morris.
Most of Radio Luxembourg's programmes in those days were sponsored by record companies. Dave hosted shows for Decca, Polydor and Philips but the music he played was dictated by the sponsor, which can't have been very satisfying for such a music fan. But on the plus side, he was able to set up home with Dawn and wasn't spending two weeks out of every three at sea. He didn't sever all ties with Big L. He rejoined the ship for a week in August 1966 when the station was temporarily short-staffed.

Chris Peers worked hard on Dave's behalf and, as well as the Luxembourg shows, he was heard on the BBC Light Programme as one of the presenters of 'Swingalong'. He then began hosting a lunchtime show called 'Monday, Monday'. This was a pop show but, because of the Musicians Union restrictions on how much 'needletime' the BBC could use, much of the music was performed by Ray McVay and his Band of the Day. It went out live, in front of an audience, from the BBC's Playhouse Theatre. There were live guests performing too and Dave was delighted when he persuaded his producer to book the Jimi Hendrix Experience on the basis that there were only three of them in the group!

Already established at the BBC, it was natural that Dave should be part of the initial line-up for Radio One when it launched in September 1967, although he remained a Big L fan to the end, recording a message for the station's final hour in which he hoped that Kenny & Cash might be back together one day.
Dave Cash's final words on Radio London, 14th August 1967. Recording courtesy of the Offshore Radio Archive (duration 46 seconds)
Dave Cash talking about listening to Radio London's close-down. From the BBC Greater London Radio documentary 'Pirates of the Airwaves' (duration 1 minute 14 seconds)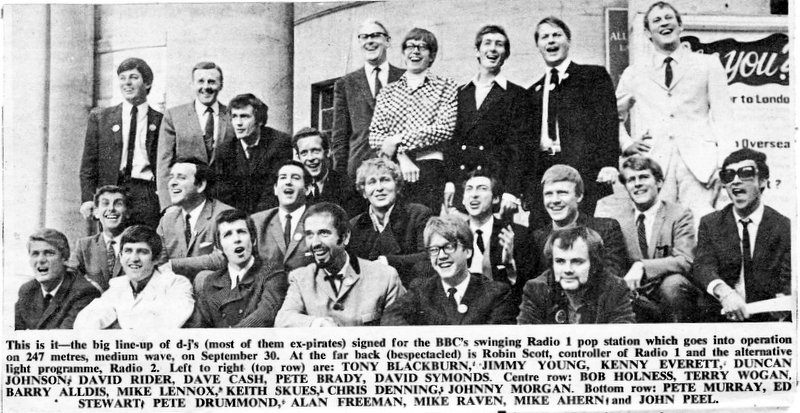 Dave Cash, third from the right in the back row, in Radio One's opening line-up. From 'New Musical Express', issue dated 9th September 1967. There are some mistakes in the caption. The DJ in the second row is Johnny Moran not Johnny Morgan; Pete Myers, next to him, is not identified and Alan Freeman is named but can't be seen! Cutting kindly provided by George Morris.
Dave continued to present 'Monday, Monday' on Radio One for a while as well as being a regular host on the review programme 'What's New'. He got his own regular afternoon show in July 1968 where his catchphrase of 'Groovy Baby' produced a minor hit record. His show was moved to a later time slot in 1969, to make way for Terry Wogan, and in April 1970 he lost the daily programme altogether. He now just had occasional 'What's New' and 'Radio 1 Club' gigs as well as a Sunday afternoon chat show, 'Cash at Four'. He left the BBC in 1971.
An extract from Groovy Baby by Microbe, a Top 30 hit in 1969 on CBS (duration 28 seconds)
Dave Cash presenting 'What's New' on BBC Radio One on 24th February 1971. Clip edited from a recording shared on the Retro Radio Facebook group by "itsallforyou" (duration 2 minutes 14 seconds)
Dave continued to be busy - with a TV show produced by HTV called 'The Dave Cash Radio Programme' and broadcasts on Radio Monte Carlo International with his old friends Tommy Vance and Kenny Everett - but it was the arrival of commercial radio in 1973 that gave his career a whole new lease of life.
Dave Cash on Radio Monte Carlo International from November 1970. Recording courtesy of Hans Knot (duration 3 minutes 17 seconds)
| | |
| --- | --- |
| | |
| A cover star for 'Script' magazine, 1973. | Capital Radio car sticker. |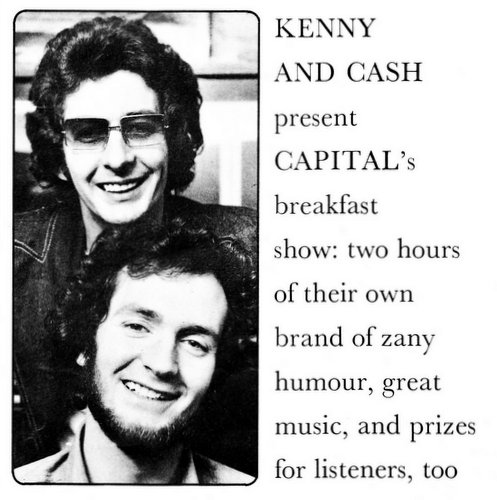 Capital Radio publicity.
Capital Radio had won the franchise to be London's "general entertainment" station. Dave was appointed to be responsible for Station Production. This role encompassed helping to recruit DJs, commissioning the jingle package and producing commercials, as well as hosting a daily show (12-2pm) plus a weekly country music programme. Capital launched in October 1973. Unfortunately Britain's first licensed commercial music station was not an instant success. Its playlist was considered too middle-of-the-road, its programmes not exciting enough and - starting at a time of national economic downturn - the advertising did not pay the bills. It was time for an urgent rethink and, after Christmas 1973, the station was relaunched playing more Top 40 records and with a brand new Breakfast Show hosted by two familiar voices: Kenny & Cash were back together!
Kenny & Cash, with help from Duncan Johnson, recreate the sound of Radio London for an April Fools Day spoof on Capital Radio. Taken from a cassette issued by the Radio Broadcast Library from Martin Lynch's collection provided by Lynne Sims (duration 3 minutes 36 seconds)

Capital Radio publicity.
The relaunch worked. Audience figures picked up and later Dave returned to lunchtimes to present the fondly-remembered 'Cash On Delivery' while Kenny continued solo on the Breakfast Show. Although busy on the station, Dave also found time to record a version of Desiderata, credited to David, and he was also the DJ heard on the radio in the movie Quadrophenia.

In 1981 commercial radio came to Bristol when Radio West opened for business. Dave was the first Programme Director. He later moved back to Capital, this time to its AM oldies service, Capital Gold. He was also heard on Invicta Radio in Kent, Country-1035, the satellite station EKR, London's Liberty-963 and, finally, BBC local radio. Based at BBC Radio Kent, his weekend shows were carried by other local BBC stations in the south-east of England. He also participated in the Pirate BBC Essex broadcasts (see photos).
Dave Cash on Pirate BBC Essex, 17th April 2004 (duration 3 minutes 23 seconds)
During the nineties Dave wrote three books, including two set in the world of radio: The Rating Game was based in a commercial station similar to Capital and All Night Long was about an offshore station.

After divorcing Dawn, Dave was married to actress Monica Evans, but later married the woman he referred to as his soulmate, Sara, known as 'Emily E-mail' when she worked on his programmes. Living happily in Hollingbourne, near Maidstone, he was honoured when Radio Kent put out a special programme to mark his fifty years of broadcasting in August 2014.
A clip from Dave Cash - 50 Years On, a tribute on BBC Radio Kent in August 2014 (duration 2 minutes 50 seconds)
Dave's last show was on Sunday 16th October 2016. The following Friday he collapsed and died following a heart attack. He was 74.

His death caused an out-pouring of grief on social media. He meant so much to so many people. To the readers of this website, it is probably his shows on Radio London which stick in the mind but to the generations that followed, Dave was always there with his warm, welcoming mid-Atlantic voice. He will be missed by millions.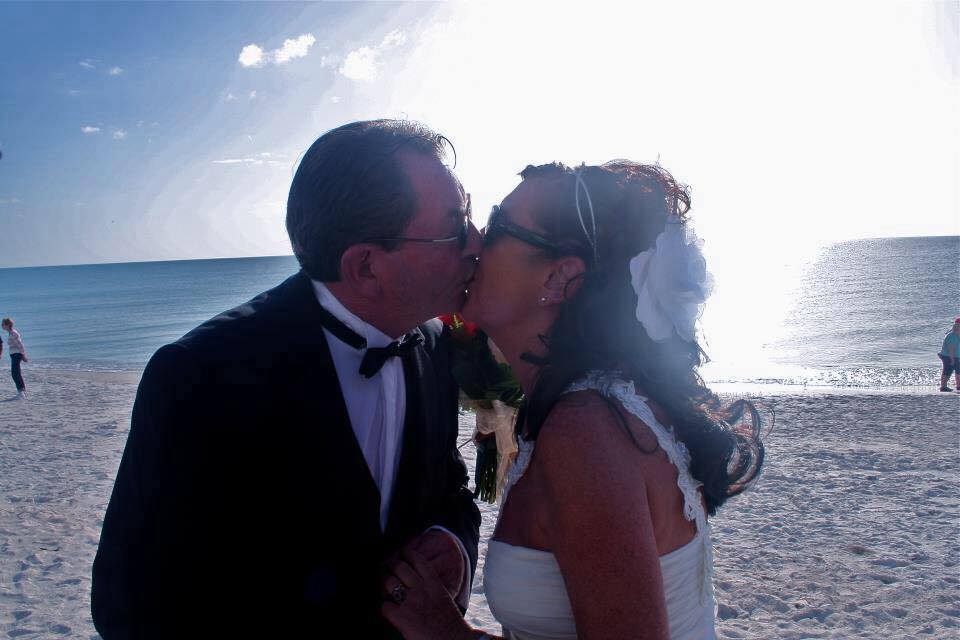 Dave Cash marrying Sara on the beach, Anna Maria Island, Florida, December 4th 2011. Photo posted on Facebook by Sara Davies Cash.
---
Many of Dave's listeners and colleagues have paid tribute on social media. Here is a selection:

Tony Blackburn tweeted a tribute to Dave. He also took the opportunity to post his views on modern radio on Facebook: "For those of us who were lucky enough to start our careers on pirate radio, it's particularly sad when another fellow pirate is no longer with us. Earlier this year we lost Ed Stewart and now Dave Cash has left us. I have always been very proud of having been a part of Radio Caroline and Big L Radio London, and very sad that the film The Boat That Rocked was ever made as it was nothing like what it was like out there, and failed to give any credit for the fact that it changed radio in Great Britain forever, something those of us who were out there are extremely proud of. The pirates changed the face of broadcasting and brought in true personality radio and those wonderful jingles for the first time. Radio will never be like it again as it was always like tuning into a family, which it was, as we were all living together out on the North Sea in all kinds of weather. We were all radio enthusiasts who loved what we were doing, and I find it sad that there are so many stations now that are nothing more than non-stop juke boxes because the DJ's are not allowed to be themselves because they are controlled by people who don't have that deep love for radio as we had and still do. Unless the current controllers let the broadcasters have a personality, where are the next Kenny Everetts and Dave Cashs going to come from? I'm very lucky working for radio stations where we are allowed to be able to talk to our audiences but so many of my friends are forced to sit there and press buttons and speak every 20 minutes to their listeners if they are lucky. Some people may like this but to me radio is communicating to your audience. So ends the lecture. xx"

Radio London Promotions Manager Gordon Sheppard: "Dave Cash (and Norman St.John) unlike nearly all the other jocks at Big L always kept in touch with me; and he was always pleased to see me when we met up. Both he and Kenny Everett (dear Kenny) worked with me at both Big L and Capital Radio. During the time I served as the promotions manager. I vividly recall our breakfasts together every morning at Capital just after they had finished their performance broadcasting the Breakfast Show. We would meet up in the Capital canteen; and there was so much laughter every day. It made it difficult for me even to start my work. Dave was a fabulous friend. Here's Gordo signing off and saying goodbye. You will be sorely missed."

Ian Damon, now known by his real name Ian Davidson: "24 hours on and I'm still in shock hearing about Dave Cash's sad passing yesterday. Dave was a real gent, a dedicated broadcaster with a lilting and calming voice and the Kenny and Cash shows on Big L Radio London (and later on Capital) will go down in radio history. Cashman and I worked at Capital Radio, first when I was in sales and voicing commercials (when he was in com prod) and later on air. In fact he introduced me for my very first Night Flight programme in Feb '75. My son Bruce found a recording of the handover. He put me at ease - especially as I was down to do over a seven hour shift and the format was, shall we say, quite laid back in those early days! My deepest condolences to his wife Sara and family. RIP mate from Ian G'Davidson, you'll be sorely missed on air."

Tony Prince: "With fondest memories of Dave Cash, the dearly departed who now becomes one of the 'late greats' of radio. A message to Dave if he's tuned in to us lot down here... Dave: say Hi to Kenny E and Stuart Henry and Chris Cary and Barry Aldiss, Dave Christian, Mick Luvzit, Daffy Don Allen, Paul Kaye and TW, Tommy Vance, Ed Stewart, David Jacobs... and all the other DJs about to be listed here by my radio-loving friends. Long may recordings of their millions of shows penetrate the internet in future days and if their sound waves truly do travel through space time forever, may the receivers know what fun we had on planet earth and what great music we created. (Let's just hope they don't listen to the news bulletins!)"

Ben Toney, the man who gave Dave his big break on Radio London, posted a personal tribute but also told this nice story: "I had arranged for an interview with the Beatles at Twickenham Studios where the Beatles were making the movie Help. They told me I would have to take pot luck and interview the one or ones off set. I took Dave with me to do the interview and, when we got there, Ringo was the only one available. Dave started his interview in the studio office, near an office gate which kept opening and closing, making a loud noise. Ringo, seeing Dave was having a problem, took us back to a tiny loo and said we could do the interview in there. I hesitated to go in and Ringo said 'Come on in Ben'. I went in and there we were nose to nose in this tiny loo. Dave was about finished with his interview when Ringo said 'I think they are calling me on the set' as he pulled the chain on this old fashioned loo. The water came down making a terrible noise. Dave said 'Ben, what are we going to do about the flush?' I told him to play it back just as recorded. I said you and Kenny will likely have a whole hour show talking about the Ringo flush. Dave said 'Yeah, just think if I had been interviewing Prince Charles we could have had a royal flush.'"
With thanks to "He Sounds Much Taller: Memoirs of A Radio Pirate" by Dave Cash
and Random Radio Jottings.

Obituaries: Daily Telegraph, Daily Express, The Times (subscription required).