When Radio London began broadcasting at the end of December 1964, the lunchtime 12 till 3 slot on the initial programme schedule was occupied by Dave Dennis. In November 1966, just before Dave decided to give up life at sea and leave Radio London, he had moved to an evening show but for nearly two years he had been a permanent fixture from 12 to 3pm. All the other DJs had changed - either left the station or moved to a different show - but Dave had been the heart of Radio London.

Born David Neil Spence, he had not excelled at his school, Leighton Park near Reading. There may be a degree of exaggeration in the story but it has been said that he was not just bottom of his class but bottom of the entire school throughout the duration of his education! His ambition was to be a farmer and, on leaving school, that's what he did. He started work on a farm.

He did not stay there though because he became fascinated with the idea of acting. Three years at the Central School of Speech and Drama followed and, on finishing the course, he began the faltering career of a newly trained actor.

The appearance of offshore radio in 1964 gave a number of young actors their chance to reach a wider audience. Simon Dee, Carl Conway and John Junkin, for instance, were hired by Radio Caroline. And Neil Spence, as he was then known, was taken on by the fledgling Radio Atlanta.
Neil Spence on the Music Of The Moment show on Radio Atlanta. There are more clips on this page (duration 43 seconds)
Sadly Atlanta did not last long. In July 1964, running short of funds, a deal was done with the rival station, Radio Caroline. Atlanta's ship, the mv Mi Amigo, became home to Radio Caroline South. Neil did not stay with the new set-up. Instead he moved to Radio Invicta. This middle-of-the-road station was based on Red Sands, an abandoned anti-aircraft fort off the Kent coast. Money was tight and resources severely limited. It was by no means luxurious and, unlike Radio Atlanta who recorded their programmes in the comfort of a London studio, Radio Invicta's shows were live, which meant Neil lived and worked out on the derelict North Sea fort.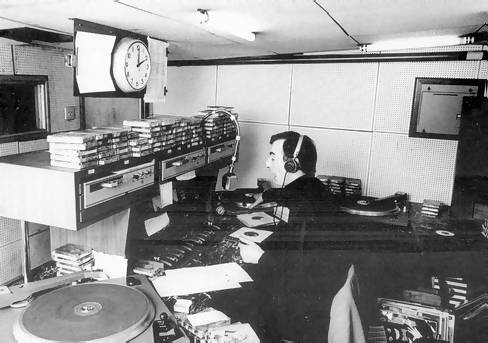 Dave Dennis in the Radio London studio. Photo by Martin Stevens taken from 'Offshore Radio', published by Iceni Enterprises.
It is not known how long Neil remained with Invicta but he was soon looking elsewhere. A friend told him that Radio London had just moved into offices opposite his and suggested Neil should contact them. He did and was told to send a demo tape to Ben Toney, Programme Director for the new station. Toney liked what he heard and Neil joined the DJ team for Radio London just ahead of its launch. But, like all his colleagues, he had to choose a new name. He became Dave Dennis.

Radio London began broadcasting just before Christmas 1964 and, despite not yet being on full-power or even having many records in its library, it made an immediate impact. And no one made a bigger impact than Dave Dennis. British radio up until then had been rather subdued. Brought up on the BBC's gentlemanly presentation style, most of the new breed of offshore broadcasters had carried on in the only way they knew. But Dave wasn't one for this polite style. He had an instantly recognisable staccato delivery. His shows were peppered with unique catch-phrases mixed with imagination and humour. He was "the Double D from 12 to 3" you were "in Dave's Den and you're very welcome" and of course "that's a lovely one there, squire". He was a broadcaster who grabbed you by the ears - and didn't let go!
Dave Dennis on his lunchtime show on Radio London from Sunday 14th March 1965. The voice at the end of the clip belongs to Paul Kaye. Clip taken from the RBL cassette 'The Off-Air Collection vol.4'. The tape is from Martin Lynch's collection and has been kindly donated by Lynne Sims (duration 4 minutes 1 second)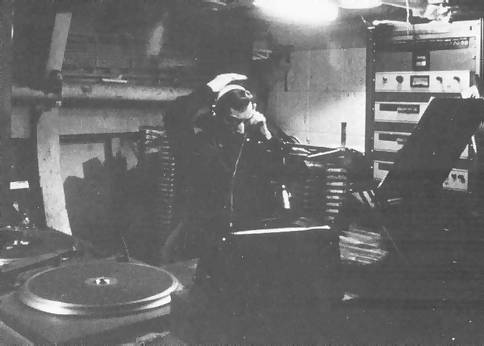 Dave Dennis in the Radio London studio. Photo from 'Offshore Echo's' magazine.
Dave's lunchtime show was an immediate success and for a time the programme had the highest ratings on the station but, after two years at Big L, he found that spending two weeks out of three at sea was causing problems. He had fallen in love and, understandably, wanted to spend more time with the object of his affections. He quit in December 1966. Although leaving the ship, his voice was still heard on air for a little while longer because a record he had made, Yes Virginia, There Is A Santa Claus, was on the station's 'Fab 40'.

Reverting to the name Neil Spence, he then had a successful radio career on land. He made trails for the BBC then became Programme Director of UBN, the United Biscuits factory radio station which gave numerous young broadcasters their first on-air experience. In 1975 he joined his old Radio London colleague Dennis Maitland at Radio Trent in Nottingham. Dennis Maitland, who had been a salesman at Big L, was now Managing Director. Neil was Programme Director. Dave Dennis on Big L from 21st February 1966. The theme tune is Pinball by The Van Doren Hawksworth Collection. This recording kindly provided by Hans Knot (duration 3 minutes 59 seconds)
From Trent he moved to The National Broadcasting School where, again, he made a major contribution to commercial radio, training a generation of broadcasters.

We believe that Neil then turned his back on broadcasting and returned to his first love - farming - although information is sketchy. We do know that he was approached on at least one occasion and asked to take part in a restricted service re-creation of Radio London but he made it very clear that he was not in the slightest bit interested. He did not attend any of the offshore reunions nor taken part in the Pirate BBC Essex broadcasts.

Out of radio and, we hope, happy on his farm, Neil became forgotten by the media world. His death, in December 2007, was not widely reported. But it should have been. For two years in the mid-sixties, as Dave Dennis, he had been a big radio star on the biggest radio station and for ten years after that, in the early days of ILR, he played an important role in the training of the broadcasters of today. By all accounts he could be a difficult man but those that knew and worked with him understood that under that prickly exterior was a warm heart and an excellent radio brain. He may have only worked in broadcasting for a short time but he left an indelible mark. Dave Dennis in "Dave's Den" from October 1966, an extract from Offshore Echo's tape More Highlights Of Big L part one, used with kind permission (duration 3 minutes 37 seconds)


---


Dave Dennis's Radio London colleague Duncan Johnson remembers a man who could be an irascible ship-mate but whose command of the English language suggests that the story of his lack of education, reported above, was very much an exaggeration. Duncan writes: "I did admire the Double D who was able to control a rather intense personality in so much as he never swore when angry. He said, and I can't guarantee this is an accurate quote 'the descriptive qualities of the English language make unnecessary the vulgarities of the ignorant'. I didn't discuss the matter further, but I never heard him resort to vulgarities. He came close one evening, though.

Mitch the steward was in the little kitchen next to the ward room where DD and me were sitting. The DD shouted to Mitch to make a pot of tea. Mitch replied (and he wasn't easily understood in the early days because of his accent and lack of English) something like 'I'm not working. Make your own tea.' DD said 'Mitch you're the steward, make some tea!' Before Mitch could say anything, I said 'You'll have to make your own as Mitch is off duty. He is just about to sit down here and get started on a new English correspondence course.' DD wasn't happy and in a very controlled manner said 'Maybe I will be able to understand him, the next time he says he can't make a pot of tea then.' With that he got up, made a pot of tea and that moment was never mentioned again.

DD never argued with me and it was several years after Big L that I discovered why. During my first couple of days on the ship, I mentioned that in my itinerant youth I worked on the docks in Vancouver. It was a quite a tough place and once I broke a bone in my hand when I hit someone. From that day I always wore heavy boots and was prepared to put the boot in to avoid damage to my hands. DD had a great fear of being kicked and was convinced that in an argument with me I would just put the boot in!

We had a few discussions over the next 18 months but never anything serious. Even after his trip to America and a visit to Cousin Brucie on WABC (I think). DD's on-air style became machine gun-like with the volume at plus 3 dB. I made a comment and he said the top man in New York says you have to push the compressor to hold the listener. I didn't bother to ask why.

It was his controlled acidic replies that I will always remember and one of the best was his reply to yet another invitation to a reunion. He refused to get involved in 'this dated, rebarbative and otiose subject.' That says it all."