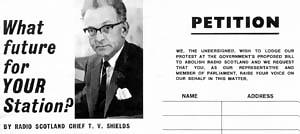 Radio Scotland's managing director, Tommy Shields, appeals for the listeners' help to keep the station on the air. Click on the headline to see the whole article.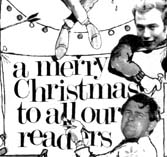 A Christmas cartoon featuring all the DJs. Click on the title to see the whole page. This was drawn by John Morgan who writes: "Just thought I'd let you know I did the cartoon for the Radio Scotland 242 Christmas card (fantastic to find it on your site!) and most of the ads in the first few editions of the 242 Magazine. I was the (one and only) Creative in Tommy Shields' ad agency, TVS Publicity, which did most of the print and design for the radio station."

Above: The judges at the Miss Radio Scotland beauty contest, including a couple of the station directors, Tommy Shields and Stanley Jackson, DJs Ed White and Drew Hamlyn with Ian "Clewsy" Clews of The Pathfinders beat group.

Right: Bob Spencer introduces the finalists.

Below: The Rolling Stones with Cathy Spence and Stuart Henry.