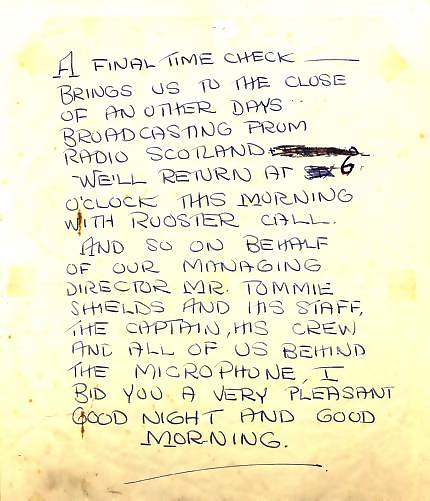 "I was a big fan of Radio Scotland and listened all through the life of the station. When they were forced off-air I went to Methil docks where the Comet had been berthed and was lucky enough to be allowed on board by Captain Fisher, who was still living on board at that time. He allowed me to take a few souvenirs, one of which is the original closedown script pinned onto the wall of the studio. You can see where someone crossed out 'Ireland' when the ship was towed back from the west coast!"
Bill also retrieved some other scripts: one for a Radio Scotland Clan Ball to be held in Belfast and the running order for the weather forecast, sponsored by Aqua Net.
Clan Ball script.
Click to magnify

Aqua Net script.
Click to magnify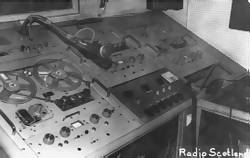 Bill has also provided this snap of the Radio Scotland studio mixing desk. For another picture of it, see Jimmy Mack's photo album.