A couple of correspondents have kindly provided newspaper cuttings giving offshore stations' programme schedules.

Wim Willems sent these clippings from Dutch newspapers of June 1965, giving details of Radio London and Caroline South, as well as the Dutch and English services of the landbased Radio Luxembourg. Dutch time is one hour ahead of the UK. This seems to have been taken into account for the Sunday schedule (left) but not for Saturday's (right).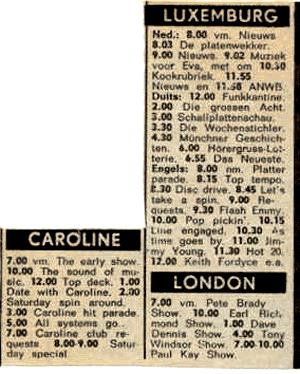 The short-lived Radio News printed a programme guide to all the stations.
These cutting are taken from the issue of Radio News dated 24th January 1967, kindly provided by George Morris. More from this edition here.
Radio 390 did not really have a show called Rendezvous With Whythm!
And then they were gone.
This is what we woke up to on 15th August 1967. A cutting from The Daily Mirror, also provided by George Morris. Caroline was still on the air of course, and continued broadcasting until the following March, but under the new Marine Offences Act it was now illegal for newspapers to print details of its programmes.