Born in Portage la Prairie, Manitoba, Canada, of Canadian Ojibwe heritage, Mick's birth name was Arthur McGurk but he was adopted at the age of five and his name changed to William James Brown. According to his Radio Caroline biography, he had a rather strict childhood and spent hours writing songs, singing and learning to play the guitar, drums, piano, electric bass and violin. He won a violin competition in Manitoba at the age of 14 and was offered free study in Vienna but Mick preferred rock music. His first appearance on radio was at station CKY in Winnipeg, singing with his own group. Mick later became a DJ at CKY, went on to CHWO, CHIC, CHUM and then CFGM before heading for Britain.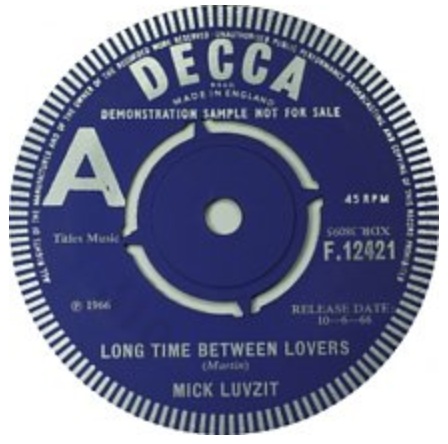 The label of a promotional copy of Mick's single.

Mick joined Radio Caroline during the summer of 1966. Like most of the new signings, he was heard on Caroline South first, presumably so that the bosses in Caroline House could hear him on air. He soon transferred to the North ship where he went on to prove immensely popular.
Mick Luvzit, "your mad dad with the groovy turntable", "your prez, the wild one", on Radio Caroline South just before 3pm on 11th July 1966. Recording kindly provided by Hans Knot (duration 2 minute 47 seconds)
Mick released a single on the Decca label that year called A Long Time Between Lovers. The B-side, Tho I Still Love You was his own composition. Sadly the record was not a hit.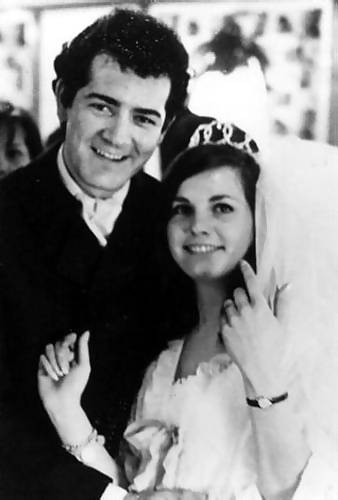 The happy couple. There are more photos of the wedding here.

While working for Caroline North, Mick met Janet Terrett, the sister of former Caroline DJ Ray Teret. They began dating and there was talk of marriage. Tony Prince suggested that Mick should have the wedding ceremony performed at sea, on the Caroline ship (see Tony's comments below). This would be both romantic and, of course, very good promotion for the station. Broadcast live on Caroline North, this unique wedding took place on 20th September 1966, performed by the ship's Captain, Martin Gips, with a live commentary from Graham Webb. Unfortunately thick fog caused transport problems for the guests and the bride's parents weren't able to make it out to the ship. As a result, Janet was given away by her brother Ray instead of her father.
Mick and Jan getting married live on Radio Caroline North. Voices include Tony Prince, sitting in for Mick on his 3-6pm show, Graham Webb, Don Allen (very briefly), Captain Gips, Gord Cruse and the happy couple. This is an edited version of a recording available from www.azanorak.com. Our thanks to Ray Robinson (duration 8 minutes 22 seconds)

Mick on his 3-6pm show on Radio Caroline North, 2nd June 1967. This is part of a recording kindly shared by Hans Hendriks on The Offshore Radio Club Forum. Out thanks to Hans (duration 3 minutes 1 second)

During the summer on 1967, Mick and Janet went on holiday to Canada. It was only a few weeks before the introduction of the Marine Offences Act and, with the legislation looming, they decided it wasn't worth coming back to the UK. However his show, Mick's 3 to 6, continued in his name, with Dave Lee Travis sitting in, until 14th August 1967. Mick and Janet settled in Canada and had a daughter, Jelisse, and although the marriage did not last, the couple remained close.

We do not have complete details of Mick's later broadcasting career but, according to references on the internet, it would appear that he was heard on several stations in the Vancouver area in the eighties and nineties, including CKST and CKLG, and early in the twenty-first century presented the morning show on Praise 106.5, over the border in Washington, USA. There is a posting on the Radio West forum which contains a very brief clip of Mick on CKLG from 23rd October 1984.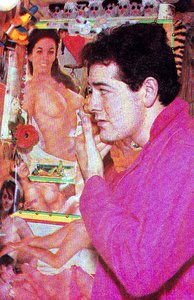 Mick Luvzit admires a pin-up on a cabin wall. Photo from 'Beatwave' magazine.
The Pirate Radio Hall of Fame was delighted to hear from Mick in February 2001. He wrote "I'm busy putting together my studio here in my home so I can do some radio shows for the UK and Ireland." A few months later, in December 2001, the first of these took place when Mick guested on Kenny Tosh's programme on CityBeat FM in Belfast. This was followed by a live show on the same station in August 2002 when Mick was visiting the UK. He was in the country for a DJ reunion organised by Chris and Mary Payne of the Radio London website. There are a large number of photos of the event on their site. Mick also took the opportunity to make a return visit to the Isle Of Man, a trip that was covered by the local press.

A couple of years later Mick decided to organise a reunion for former pirates in his home country, enlisting another ex-Radio Caroline man Steve Young to help. There are photos of this 2004 event here.

The next big UK offshore radio reunion was The Radio Academy Celebration of Sixties Offshore Radio in August 2007 but sadly Mick wasn't able to attend, having suffered a heart attack the previous week. He underwent quadruple heart bypass surgery and recovered but, unfortunately, his heart problems persisted.

He passed away on 8th December 2012, aged 70, at the Royal Columbian Hospital in New Westminster due to heart failure.
---
Mick's Radio Caroline North colleague, Tony Prince, remembers their time at sea together: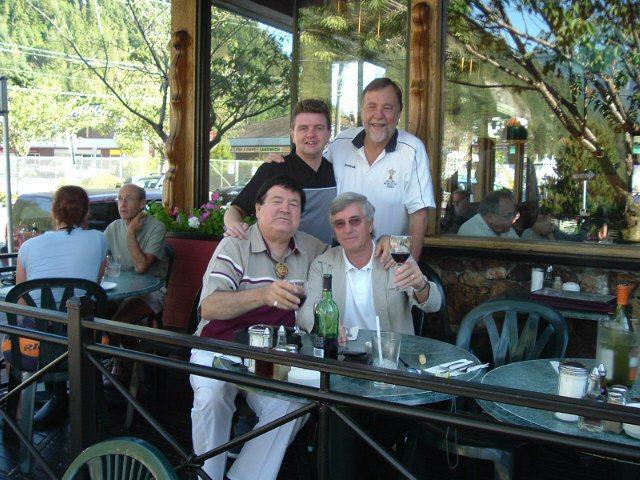 Mick Luvzit, front left next to Tony Prince, Kenny Tosh and Bryan Vaughan standing behind. Photo taken at the First North American Pirate Reunion in July 2004, kindly provided by Tony.

"Many of you may never have heard of Mick Luvzit. Mick and I were pirate DJs on board Radio Caroline North (1965-67). I had so much fun and learning from this sweet guy. One night, on the party trail in the captain's cabin, I learned that this captain could marry people on board our ship. I ran down to Mick's cabin, woke him at 2am, and suggested he marry his girlfriend Jan on board our ship. This came to pass. Mick loved Jan beyond words. I have only just learned that Mick died in Canada on December 7th. So many Radio Caroline listeners will share my sorrow. A few years ago Mick helped to arrange a pirate reunion in Vancouver which remains one of my happiest experiences. Here we are together thanking God for our lives as we embraced dear friends who shared our experiences bringing a new form of radio to the UK. Mick was very, very special, a guy who never had a bad word for anyone, a genuinely warm and gentle broadcaster. Whilst my heart sinks at the news of his passing, I know his was a life filled with excitement, love and adventure.
Rest in peace my dear friend and do give our love to 'Daffy' Don Allen and Mike Ahern.
Tony Prince (on behalf of your broadcasting colleagues: Bob Stewart, Jerry 'Soopa' Leighton, Jerry King, Dave Williams, Nick Bailey, Graham 'Spider' Webb, 'Ugli' Ray Teret, Dave Lee Travis)."
Bob Stewart posted the following on Facebook:
"Radio Caroline North DJ Mick Luvzit died Dec 7th in Abbotsford, British Columbia, Canada. His death was announced on radio CKLG where he was a former DJ. Failing health including congestive hearth failure had clouded the last few years. As an old collegue of his, I would like to say that away from his outgoing on air personality Mick was a quiet, unpretenious gentle person and, in a business full of inflated egos, he was a breath of fresh. He made the world a better place and will be sadly missed. His faith in God was strong and helped him through tough times and ill health. Pray for him. RIP Mick. May God hold you in the palm of his hand untill we meet again.
Bob."
Gord Cruse sent The Pirate Radio Hall of Fame this tribute to Mick:
"I stayed at Mick's home in Abbotsford a while back ... we had a good funny warm visit ... I was amazed at his huge collection of music ... he recorded a number of hard to find songs for me ... he made a special effort to visit his ex-wife and their daughter further up the Fraser Valley ... we took some pictures ... bought some groceries ... made a meal ... I'll always remember his antics on Caroline North and on the Isle of Man ... I'll remember his gift of music ... condolences to family and Jan and Jelisse.
Gord Cruse Caroline North '66-'67 Victoria B.C. Canada."
George Hare was the shore-based liaison man, looking after the guys on Caroline North:
"My memories of Mick go back to Caroline North and the Isle of Man and of course his historic wedding on board ship which has been so well documented. We kept in touch and the receipt of his witty emails and comments will be sadly missed. We have all lost a friend and a large part of our Pirate Radio history. My deepest sympathy to all Mick's relatives and close friends. Rest in peace Mick, your memory will always live on for us.
George."
Next we hear from Caroline North newsman Nick Bailey:
"This is indeed very sad news. I know he'd been ill for some time but he'd been in contact with me until very recently. We worked together on Caroline North between 66 and 67 and as a new boy, and humble newsreader, he made me feel very welcome. Apart from reading news in his show, he got me to do various voices as inserts into his programme. He was a great practical joker and one day tried to set fire to my news. This meant I had to read the items very quickly before they went up in flames! I last saw him at the 35th anniversary reunion in London in 2002 where we reminisced about the good times."
Caroline North engineer Bob Read writes:
"I was sad to hear of Mick Luvzit's passing. We shared time together on the North Ship in late 1966 and early 1967. He was as that time a smitten husband very much in love with 'Princess' his wife of a few months (you recall they married on the ship). He had a wonderful sense of humour, was an easy and laid back character you enjoyed talking with, and a very good radio personality.
RIP Mick. You join Daffy Don Allen in the great studio in the sky."
Janet Terrett, Mick's ex-wife, posted the following in The Pirate Radio Hall of Fame guestbook:
"Many thanks for the tribute to Mick who passed away suddenly on Saturday, December 8. Jelisse and I will miss him terribly. He had many struggles with his heart condition but always kept a very positive outlook on life. He wanted to live, but God had a plan for him. Rest peacefully till we meet again. Love, your family."
---
* Mick's Radio Caroline biography gave his birthdate as 24th February 1944 but, as news sources reported that he was 70 when he died, this suggests that the Caroline Press Office knocked a couple of years off his real age - a common occurrence.

See also the Radio London website
and Hans Knot's tribute here.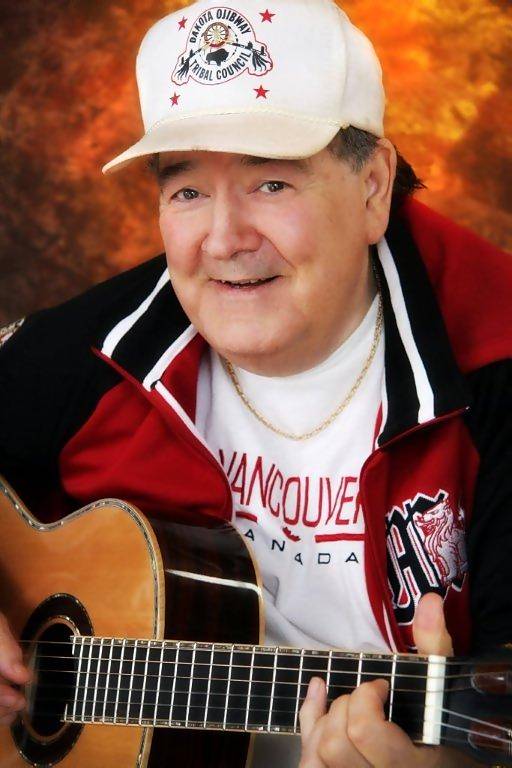 Mick Luvzit in 2010.