Mike Ahern was born in Liverpool. An outgoing lad, his first public appearance was at the age of 11 when he led the singing at a Saturday morning children's matinee at a local cinema. He attended the same primary school, St. Edmunds, Waterloo, as one Maurice Cole, later to find fame on offshore radio as Kenny Everett. Mike used to tell the tale of how, on one occasion, young Maurice chucked a brick over a wall unaware that Mike was standing on the other side - with unfortunate consequences.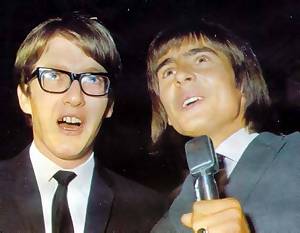 Mike, left, with Davy Jones of The Monkees. Photo from 'Beatwave' magazine.
When he left school, Mike's first job was serving in a menswear shop but he did not last long in retail. A succession of jobs followed but when a colleague opened a club, called 'The Teen Beat' Mike discovered his true calling. He was the compère. He went on to introduce bands and records at various other Liverpool clubs, including the legendary Cavern. When the Radio Caroline ship dropped anchor in Ramsey Bay and started broadcasting to the north of England, Mike applied for a position. He told his story to Rob Chapman (see Soundscapes): "I got involved with Caroline North by writing them a letter, to Caroline House in London, and they wrote back and said 'forget it'. Actually I was surprised to get a reply and when they wrote back, saying 'forget it' I rang up (Programme Director) Chris Moore. I didn't know who Chris Moore was then and said 'listen, if you don't give me a job, you going to miss the best disc-jockey in northern England'. So Moore said 'if you're so good you'd better come down to Chesterfield Gardens (Caroline House) and do a tape'. I'd never been to London except as a small boy and I got totally lost. In the end I found Chesterfield Gardens, went down to the basement and all I did - because I had listened to Tom Lodge and Jerry Leighton - was sound exactly the way they did. You know, Radio Caroline 199. Just copied them. After I did this tape they said 'thank you very much, we'll let you know.' Three weeks went by, and four weeks, and I called. It was a big deal to call London because I just had the phone at my mother's house. They said 'haven't you got any letter from us?' I said that I hadn't received a word. Chris Moore said to me to come down to London as they wanted to see me. So I went back to London again and had another chat in that office with those big black chairs - it was (station boss) Ronan O'Rahilly's office with the big picture of the Fredericia on the wall. Anyway, I was very nervous and after a little talk they said 'thank you, it was good to see you' Again it was nothing for a couple of weeks and I called again and said 'listen and ...' and Chris Moore said 'oh, Mike, I'm so glad you called, can you please be at Liverpool Airport? You'll start on the ship next Monday, which is the changeover day.' Anyway, I met this guy at the airport, a big Irish guy called Jimmy, who was Ronan's agent there. That was the start."

Mike joined Radio Caroline North in November 1964. His official biography, issued by the Caroline press office, mentioned that he had previously worked as a grape-picker in France for two years and spoke fluent French, Greek, Spanish, German and Italian. Sadly this was an invention of the press officer Frances van Staden and, at that time, Mike had never been to France or picked a grape! However he knew how to play records and he quickly became one of the station's most popular presenters, taking over the 9am-noon slot.
Mike Ahern on his morning show on Radio Caroline North, 15th June 1965. Recording courtesy of The Offshore Radio Archive (duration 3 minutes 38 seconds)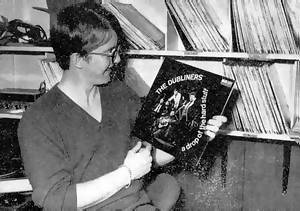 Mike with an album by the much-played Dubliners. Photo by Richard Burn, from 'Radio Caroline', published by The Landmark Press.
Mike Ahern on his morning show on Radio Caroline North, 8th August 1965. This is an edited version of a recording available from www.azanorak.com. Our thanks to Jim Nantz and Ray Robinson for permission to use it (duration 5 minutes 49 seconds)
At that time regional accents were rarely heard on British radio and Mike's listeners were delighted to hear 'one of their own' broadcasting to them. During 1965 Caroline North went from strength to strength. It was immensely popular. It was an excellent station and deserved to do well but it had the added advantage that there were no other offshore broadcasters in their area. Caroline South, on the other hand, had some serious competition and lost many of its listeners to the louder, slicker, more professional Radio London. At the end of 1965, Ronan O'Rahilly, owner of the North ship, bought out his partner, Allan Crawford, and took control of the South ship too. He immediately asked Tom Lodge, senior DJ up north, to move south and put together a new team to win the audience back. In April 1966 Mike was asked to join him on the mv Mi Amigo.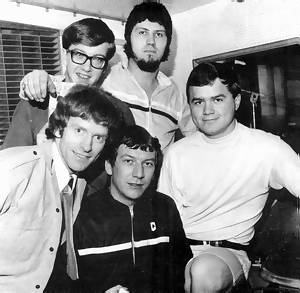 Some of the new team on Caroline South. Clockwise from bottom left: Tom Lodge, Mike, Dave Lee Travis, Keith Hampshire and, at the front, Robbie Dale. Photo by Laurie Honeyball of Essex County Newspapers, reprinted in 'Offshore Radio' published by Iceni Enterprises.
Once again Mike took over the mid-morning slot and, once again, he proved very popular, especially with housewives. For many, this was Radio Caroline South's finest era as a talented team of DJs fought to win listeners back from Radio London.
Mike Ahern on the children's requests segment of his morning show on Radio Caroline South, 23rd December 1966. This is an edited version of a recording shared by The Offshore Radio Archive (duration 4 minutes 49 seconds)

Mike Ahern on his morning show on Radio Caroline South from April 1967. Recording kindly provided by Stuart Russell (duration 3 minutes 1 seconds)

Mike, a bit lost for words, saying goodbye at the end of his last show on Radio Caroline South. Apologies for the electrical interference. Recording kindly provided by Alan Hardy (duration 1 minute 42 seconds)
Mike left Caroline just ahead of the Marine Offences Act and applied for a job on the new Radio One. As someone who had been a star on both ships, he was known across the country and would have seemed an obvious choice for the new national station. He was invited to join - but only in a try-out slot as joint presenter for Top Gear. He was heard on just one show, on 8th October 1967, and sadly that was the end of his Radio One career. With no other pop radio stations in the country, Mike had to look elsewhere and moved to Australia.

He initially got an overnight slot on 2UW in Sydney but it was when he moved to 4BC in Brisbane that his career took off. During his time with 4BC, he came back to London to present some shows for his Brisbane listeners at the time of the Queen's silver jubilee. 4BC hired a studio at Capital Radio in London where he bumped into the lad who had chucked that brick at him all those years before, Kenny Everett!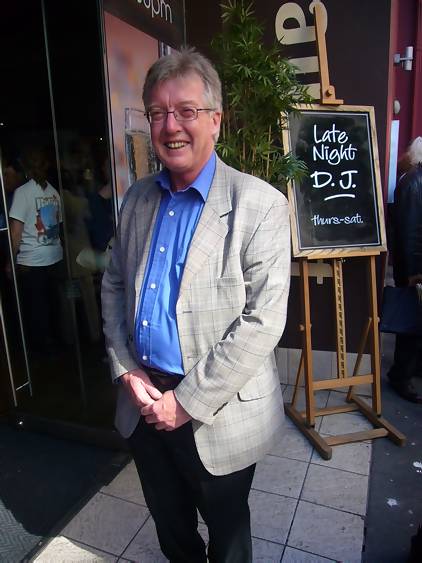 Mike at the Radio Academy's 2007 Celebration of Offshore Radio at Sugar Reef in London where he was a member of one of the panels. Photo by Clive Smith.
While in Australia Mike was also heard on 6PM Perth, 3UZ Melbourne, 2KO Newcastle and 7HT Hobart. He married and raised a family in Australia but, following a divorce, moved back to the UK in 1988. He worked for a number of commercial stations in Britain, including Radio Aire, Essex Radio, Piccadilly Radio, Country-1035 and Capital Gold but unfortunately he never quite achieved the level of success he had enjoyed in the sixties. His last regular presenting gig was as part of the launch team for North Norfolk Radio. He was heard on the various Pirate BBC Essex broadcasts and his very last programmes were on that station over Easter 2009. (There is a video clip of him with Johnnie Walker here.) Friends who saw Mike at Harwich that weekend remarked that he seemed to have less energy than usual - although that certainly wasn't noticeable on air where he was as fired up as ever. But off air he was flagging. What no one knew was that he was seriously ill. In August he was admitted to the Norfolk and Norwich University Hospital to undergo an operation to have a cancerous lung removed. Following the operation, he returned home but had to go back into hospital in early October. He died peacefully in his sleep at 6.30am on Monday 5th October 2009. He was 67.
Mike Ahern's last broadcast. The closing moments of his Easter Monday 2009 show on Pirate BBC Essex (duration 5 minutes 54 seconds)
Mike had been a massive national radio star in the sixties - one of the giants of offshore radio. Perhaps, if the founders of Radio One had been a bit braver, he could have gone on to a long career in the UK, maybe in the slot that became Jimmy Young's. Instead he had to go elsewhere and British audiences were deprived of "your DJ, Mike A" for too long. By the time he returned to Britain, twenty years had passed and the world had changed. Although he had a number of good jobs, he was never again to achieve the level of success he had enjoyed in the sixties. He was a great disc-jockey with an instantly recognisable voice and style. He gave pleasure to millions of listeners. They would not forget him.
---
Mike's Caroline colleague, Mark Sloane, remembers the fun they had together:
"Mike Ahern and I became friends from the moment we met on Radio Caroline South in 1966. What fun we had together both on and off the air. He was a guy larger then life. The stories are too many to tell but, for example, he came out of the gaming rooms of the Playboy casino in 1967 crying 'oh my house, my poor wife, how will I be able to buy food for the children?'. He would sit next to a stranger on the underground train in London and start swatting at imaginary insects on his clothing crying 'oh my God Mark the bastards are back again'. He and I kept our friendship over all these years. He has stayed at our house numerous times and has been on holiday with us.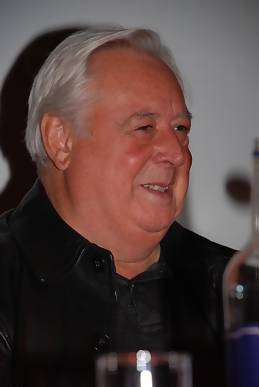 Mark Sloane at the Radio Academy's 2007 Celebration of Offshore Radio. Photo by Martin van der Ven.

We started having fun on Caroline South when he and I did a programme at around 7.00pm with me pretending to be Ada the cleaning lady on the ship (falsetto voice). This fictional character was really Lady Penelope Ponsonby Smythe Plus Four who allegedly had connections in high places. This vehicle allowed us send up anything that took our fancy. We introduced numerous characters: Hamish McDougall, Mr. O'Rafferty, the Admiral of the Fleet and the head of the Maidenhead Mafia!

After the Marine Offences Act and Radio 1, he went to Australia where we kept in touch by regular tapes. We met on his trips back to the UK.

One year in the seventies he was staying with me and my first wife in Weybridge. I came home from work at 5.00 to find the curtains drawn in the living room, but the French doors were open, so I rushed in to see what was going on. He jumped up from the table shouting 'mother of Jesus' as a glass crashed to the floor. They were playing Ouija and thought I was a ghost.

A very intelligent man, his phone-in on Capital was very entertaining and he always managed to get the best out of people. I felt it was a shame he wasn't considered by the BBC for the Jeremy Vine show.

Last year I had lunch with him in his home town of Holt and took along my 88 year old Mum. The way they were rabbitting on you would have thought Mike was the same age as my mum, as they discussed the big bands of the 1920s and 30s.

I last saw him a couple of weeks ago in hospital where he still had his sense of humour. He was trying to bribe anyone who walked past his bed to buy some chocolate, which was strictly against the consultants rules. They were having difficulty measuring his blood sugar, I wonder why. At our last meeting as I went to leave he got out of bed and shakily stood up and said 'Mark - come here, give us a hug'.

Mike leaves two fine sons, both of whom I believe are about to have children, which would have made him a grandfather if he had survived.

Meester Ahern you will be sorely missed, rest in peace.

Patrick Hammerton aka Mark Sloane."
---
We hear next from another Caroline colleague, Mick Luvzit: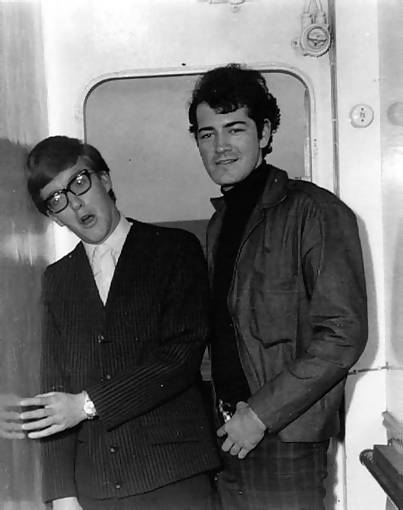 Mike Ahern and Mick Luvzit.
"I have fond memories of Mike Ahern .... He was a lot of laughs. I first met him, I believe, in July of 1966 when Ronan asked me to go to do a show on the South ship, as he wanted me to stay there. I had a lot of fun but preferred the separate cabins and larger ship (up north) as I'm very claustrophobic ... plus I had met my future wife Janet Terrett there and missed being with her.

I always enjoyed Mike's cheery smile. Although I knew he also had a bit of a temper, I never got to be on that end of the stick, so to speak. We chatted about radio back in Canada regarding CHUM and CFGM in Toronto and CKY in Winipeg, plus who I enjoyed on the air in the States, such as Wolfman Jack, Houndog, Jack Armstrong and, especially, Cousin Brucie, plus sooooo many more. In those days the jocks had creative freedom such as we had on Caroline. Anyway Mike had a quick wit on air and did a brilliant job of dissing or you might say 'taking the Micky' out of Jack Spector. I used to listen to tapes of him havin' a blast doing it.

He was a great jock and will be truly missed but I'm sure he's enjoying his time now with Wolfman and the other jocks in that big radio station in the sky, not forgetting my old friend Don Allen and Jim Murphy off Caroline North.

All the best to him family, friends and many many fans.
Peace & luv,
Mick Luvzit & 'Granny Luvzit'
RADIO CAROLINE NORTH."
---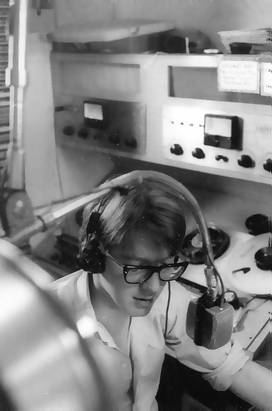 Mike in the Radio Caroline South studio. Photo taken and kindly provided by Carl Thomson.
Correspondent Nick Sayer used to listen to Mike on radio station 4BC, Brisbane, Australia:
"I heard with sadness of the passing of Mike Ahern this week. I was at high school when Mike came to radio station 4BC in Brisbane, Australia during the late 60s. He arrived like a tornado and breathed life into the otherwise monotonous radio format we had grown used to. I remember his chant of allegiance that he demanded from his listeners during just about all his shows 'Repeat after me ..... I will have no other leader ... after my leader ... Mike Ahern'.

Another of his highlights was the machine gun sound he used play over the top of a new song he didn't like. And there was this space-age distorted synthesized sound he used to refer to as 'the satellite hotline'. The memories come flooding back. Oh, yeah, he didn't much like bubblegum music - the only thing we disagreed about.

When he eventually left the station us listeners were sucked back into that monotonous vacuum. He was sorely missed.

RIP Mike, you have a big place in my life. I'll have a beer for you later.

Nick Sayer,
Brisbane, Australia."
---
Correspondent John Thomas used to listen to Mike on Caroline North:
"After hearing the sad news recently of the death of Mike Ahern, I thought the attached copy of a letter I received from Mike may be of interest to you and other offshore radio fans.

Although it is from 1987 many years after the main offshore radio era, there is a bit of a story attached to this item.

During the 1980s I lived in the Isle of Man and as well as being a wonderful place to live the added bonus was I could listen to a host of Irish Pirates - Nova, Sunshine, Q102 - on FM as well as medium wave. In addition I found Don Allen was then working on another station in Mullingar, Radio West. I spoke to Don by phone shortly before I went on holiday to Australia and looking through radio listings in a newspaper in Brisbane I found Mike Ahern was on the breakfast show. Sure enough, it was the same Mike Ahern and by chance someone who phoned Mike that morning on a competition started the conversation by saying... 'My wife remembers you from Radio Caroline in the 1960s...'

Before I left Brisbane, I left a letter at the hotel which they kindly posted to the radio station. In the letter I mentioned my recent conversation in late 1986 with Don. When I returned home I was delighted to find the very nice letter Mike had written to me. I photocopied the letter and sent a copy to Don and I explained I had heard Mike on the radio in Brisbane. Mike also wrote to Don, and he read out my letter and Mike's letter on the air on Radio West.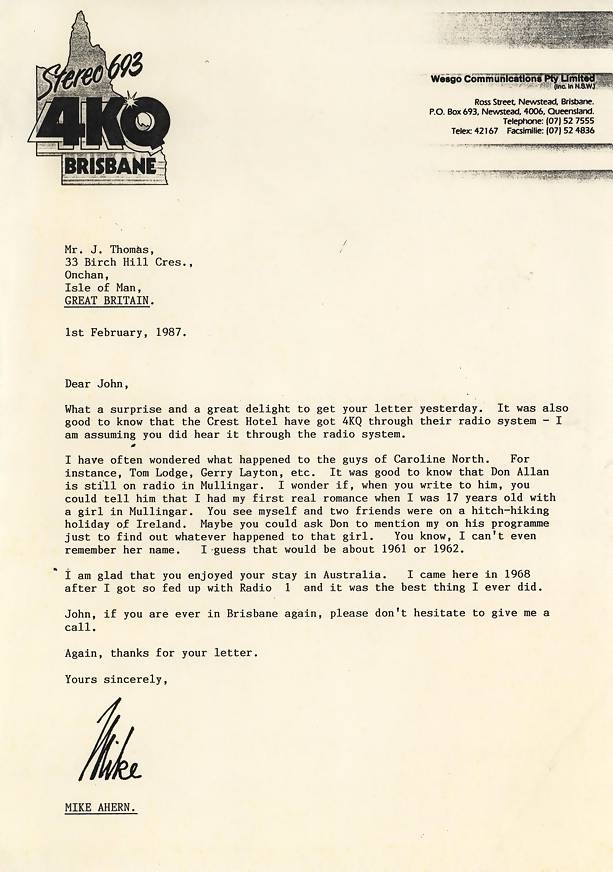 John's letter from Mike Ahern. Click to magnify.
Unfortunately, replying to letters was not Don's strong point, and I don't think Mike ever got a reply from Don, but I did feel sort of pleased with myself that I had quite by chance got these two old colleagues in touch with each other however briefly.

Some years later, in 1993 two years before Don died I did manage to meet him in Tullamore when Don was on Radio 3 Tullamore. It was due to Don that I got to know a very good friend of mine Kenny Tosh. Some more years later Kenny had Mike Ahern as a guest on his programme on Citybeat in Belfast and I was able to talk by telephone to Mike and make mention of the letter Mike wrote to me all those years ago.

To bring the story up to date, I did meet Mike at the Sugar Reef function in 2007 in London and I did make mention of the letter once again and had a brief and very pleasant conversation with him.

Little did I know at that time Mike was not a well man and it was a shock to learn last month of his passing. Now he has joined Don and many other great broadcasters in that great radio station in the sky.

I have been fortunate as an ordinary listener to offshore radio to actually meet many of my heroes from those great days of radio, and I am grateful of being able to say thank you to them for the entertainment they provided us with.

May Mike rest in peace.

With best wishes
John"
---