In December 1964 Radio Invicta boss Tom Pepper drowned when the station tender sank. Invicta continued broadcasting for a short time but closed down in February 1965. Meanwhile two of the directors of Invicta, Charlie Evans and John Thompson, found other backers and a few weeks later launched a new station from the same war-time anti-aircraft fort off the coast of Kent. It was King Radio, also referred to on air as "K-I-N-G" or "K-I-N-G, London".

Some of the Invicta presenters, including Bruce Holland, Eddie Jerold and John Ross-Barnard, stayed with the new venture, as did the fort administrator Ed Hinkins. They were joined by some new announcers including programme controller Mike Raven, late of Radio Atlanta, Roger Gomez and Jeff Tice.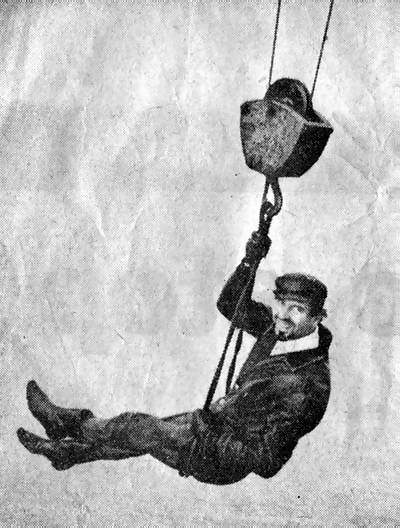 Mike Raven swings onto Red Sands. Photo from a 1966 edition of the News Of The World, donated by Wendy Haberl.

One of the first voices heard on King, during their test transmissions, was "Jay Thompson". This was the on-air name used by director John Thompson. King Radio was based on Red Sands fort but, for some unknown reason, these test programmes referred to the station as broadcasting from The Nore, another fort which had been demolished some years previously.
Jay Thompson on a test transmission from February or March 1965. This recording kindly donated by Harm Koenders of The Offshore Radio Archive (duration 1 minute 49 seconds).
Thompson had been planning an offshore station for many years and had previously been involved in a project known as both GBLN and The Voice of Slough. He did not stay with King long but an old colleague from the Voice of Slough, Roger Gomez, continued to broadcast with the new station.
Roger Gomez on King Radio's Lunchbox programme. This recording kindly provided by Stuart Russell (duration 2 minutes 20 seconds).
The programmes made frequent references to Polydor Records ("a Polydor hi-fi presentation") and the letter, below right, confirms that the record company was closely involved.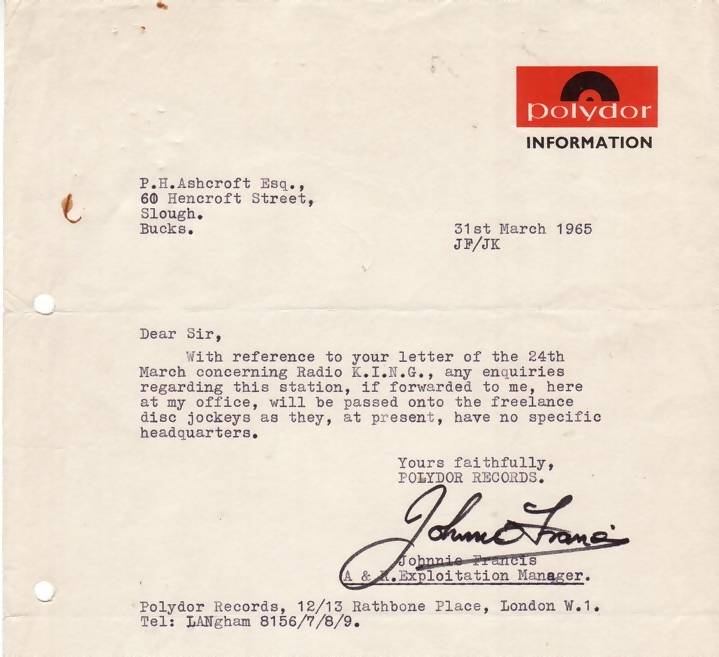 Click to enlarge this letter from Polydor Records, the home of such King favourites as James Last and Bert Kaempfert. Thanks to Hans Knot.
One of the later presenters on King was John Aston, then known as "John Stewart". He kept some King Radio stationery as a souvenir which he kindly shared with The Pirate Radio Hall of Fame, see below left.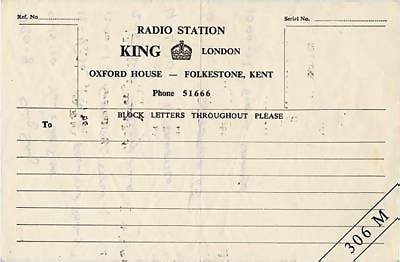 Click to enlarge this blank King Radio message form kindly provided by John Aston. King broadcast on a wavelength of 236 metres but this form still showed the old Invicta wavelength of 306 metres.
Like its predecessor, King mainly provided a diet of soft pop and easy-listening music (see schedule also provided by John Aston). Programmes included Lucky Numbers (a new name for Invicta's popular Pot Luck show), South Of The Border (latin music), Music From The Shows and Stateside '65. Many of these later found a home on King's successor, Radio 390. The Breakfast Show was presented by Mike and Mandy Raven while Mike also hosted a nightly R&B Show. This too survived the arrival of Radio 390. In fact many of the King broadcasters stayed to launch Radio 390, including Sheldon Jay, Mark Hammerton, Paul Beresford (known as Paul Levy on King), Brian Cullingford (Bruce Ford on King), John Ross-Barnard, John Stewart and Stephen West as well as Mike & Mandy.
A studio recording of Bruce Holland on King Radio. This tape kindly provided by Wendy Haberl, Bruce's sister (duration 2 minutes 25 seconds).
KING RADIO PROGRAMME SCHEDULE 1965
weekday schedule

7.00am "Rise and Shine"
8.00 "Mike and Mandy Breakfast Show"
9.00 "Country Style"
9.30 "South of the Border"
10.00 "Mail Beat"
11.00 "Music from the Shows"
11.30 "Our Kinda Folk"
12.00pm "Lunch Box"
2.00 "Melody Hour"
3.00 "Memory Lane"
3.30 "Lucky Numbers"
4.30 "Stateside '65"
5.00 "Up and Coming"
6.00 "Raven Around"
7.00 closedown
Information from Offshore Radio by Gerry Bishop, published by Iceni Enterprises.

King Radio letterhead, courtesy of John Aston.
John Ross-Barnard presenting Melody Hour on King. This recording kindly provided by Stuart Russell (duration 3 minutes 20 seconds).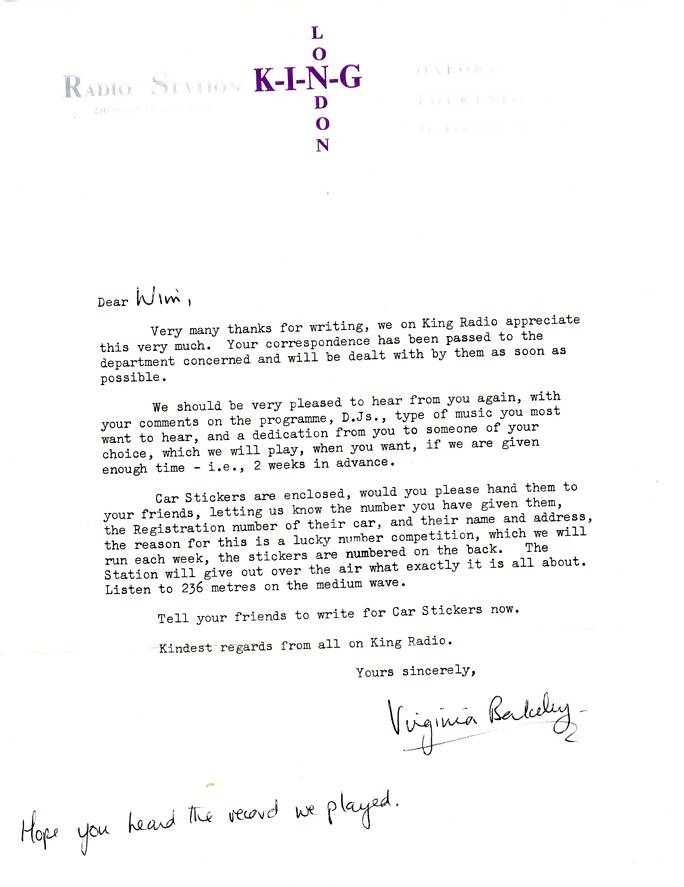 Click to enlarge this letter from Hans Knot's archive.
Unfortunately King Radio was no more successful than its predecessor. Like Invicta, its signal was too weak to attract enough listeners to interest advertisers and it was soon in financial difficulties. One of the King backers, David Lye, sought advice from one Ted Allbeury. An advertising executive turned PR man, Allbeury proposed that King should be replaced by a much higher powered station, aimed at the same housewife audience but presented with greater professionalism. A company was formed, finances were raised and most of the old King directors were bought out. Facilities were improved, a powerful transmitter and aerial mast were purchased, better studios constructed and in September 1965 King made way for the new station, Radio 390. The signal was much stronger and the programmes could be heard across the whole of south-east Britain. 390 immediately won a large and loyal audience. King was quickly forgotten. It had reigned for just seven months.
For a few days after the station's closedown this announcement was transmitted repeatedly on the old King frequency, encouraging listeners to retune to Radio 390. Recording kindly provided by Alan Hardy (duration 12 seconds).

Thanks to John Aston for this King Radio car sticker

and thanks to Hans Knot for this slightly different sticker.
To hear some fascinating studio quality recordings of King Radio, check out The Mark Hammerton Collection.