In the months that followed Radio Caroline bringing offshore radio to Britain, a rush began to occupy the anti-aircraft forts in the Thames estuary. These had been built by the armed forces during the Second World War and long since abandoned to the elements. At the end of May 1964 Radio Sutch took over Shivering Sands fort and shortly afterwards Radio Invicta claimed the neighbouring Red Sands fort, some five and a half miles off Whitstable, Kent. These forts offered relatively stable homes and it was obviously much cheaper to use an existing structure than buy a ship.

Thanks to Wendy Haberl for this Radio Invicta car sticker.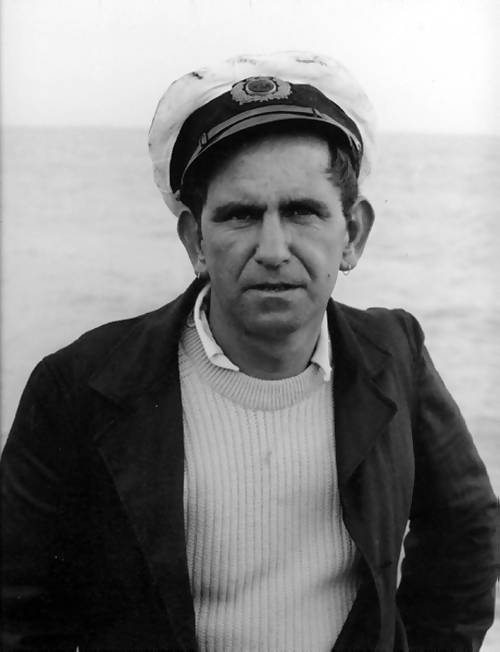 Tom Pepper. Photo supplied by his son, David Featherbe.

Radio Invicta was owned and operated by local fisherman Tom Pepper (real name Harry Featherbee), publican Charlie Evans and a journalist with some experience of radio in Canada, John Thompson. A couple of years earlier Thompson had been involved in planning an offshore radio project called The Voice of Slough/GBLN but it had never made it onto the air. Unlike Radios Caroline and Atlanta, Invicta did not have substantial backing and its resouces were limited. (Some of Tom Pepper's photographs of Radio Invicta are here.)

Radio Invicta began test broadcasts of easy-listening music and pop around 3rd June 1964 with a power of less than a kilowatt. A number of different frequencies were tried before settling on 985 kilohertz, 304.6 metres, referred to on air as "306 metres". Regular programmes began around 17th July.
A short extract from an early test transmission for Radio Invicta on 1259 kHz, followed by a later station identification for the station on its established frequency. Audio clips from Offshore Radio In Europe 1958-1978 CD set (duration 1 minute 5 seconds)
Conditions were initially very basic. The turntables did not have a pre-fade facility for accurate cueing of the records, there were no tape recorders and the aerial was not properly insulated from the fort, causing appalling distortion of the signal.

Some early test transmissions caused problems for radio amateurs when the broadcast's second harmonic was heard in the amateur band. Although unintentional, this proved to be an excellent way of recruiting engineers as it caught the attention of Phil Perkins and Eric Davies, both radio amateurs. They joined the new venture and improved the output. Radio Invicta was a small operation. Engineers were expected to be disc jockeys too. Phil was known on air as Tony Silver and Eric became both Ed Laney and "six foot three inch Swedish giant Eric Peterson" despite not being a giant or Swedish. It was hoped that staff using more than one on-air identity might give the impression that Invicta was a bigger operation than it really was.

The signal wasn't as powerful as Radio Caroline or Atlanta's but Invicta was stronger than Radio Sutch and covered the counties on either side of the Thames estuary as well of parts of south London.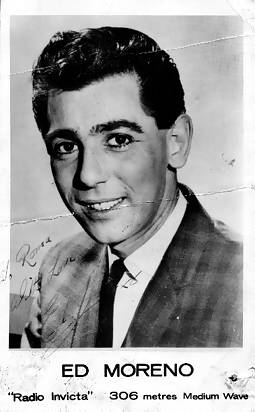 Publicity photo of Senior DJ and Programme Controller, Ed Moreno, kindly provided by Natalie Dwyer.
The discs played were mainly of pop and light music but the library was small and the DJs' choice somewhat restricted. One of the more interesting programmes was Pot Luck a request show with a difference: the listeners did not know what they were requesting! To disguise the fact that Invicta only had a limited selection of records, Programme Controller Ed Moreno came up with the idea of asking the audience to write in with their lucky numbers instead of asking for particular songs. In that way the DJ could play anything he liked from the library and claim it matched the chosen numbers.
An unidentied DJ on Radio Invicta's Pot Luck programme getting confused by the address of a listener from Saffron Walden in Essex (duration 4 minutes 18 seconds)
Another unidentified DJ on Radio Invicta with the Information Desk feature, broadcast each weekday at 12.55pm. Recording from the CD 'The Things You've Never Heard Before Volume 1', compiled by Hans Knot and kindly provided by Martyn Webster (duration 4 minutes 18 seconds)
There were very few advertisements although spots for Houchin Electronics (owned by an Invicta investor), Nestledown Mattresses and other local Kent businesses were aired. It was radio on a shoe-string and there were a number of occasions when a lifeboat had to be summoned because of problems on the fort, either accidents or lack of essential supplies. Keith Skues's book Pop Went The Pirates reports that Radio Invicta put out more SOS calls during its short time of operation than most of the other stations put together.

A number of different programme schedules were tried and for a time the station broadcast through the night (midnight - 6pm), the first station in the country to do this, but that experiment was short-lived.
TYPICAL RADIO INVICTA PROGRAMME SCHEDULE

5.00am "Early Morning Spin"
7.00 "Breakfast Show"
9.00 "Top Sticks"
10.00 "Mail Call"
11.00 "Strictly For Highbrows"
11.30 "Pot Luck"
12.55pm "Information Desk" (mon-fri)
1.00 "Lunch Box"
2.00 "Date With Romance" (mon-fri)
"A Seat In The Stalls" (sat-sun)
3.00 "Memory Lane"
4.00 "Afternoon Session"
4.30 "Kiddies Corner"
5.00 "Music For The Evening"
6.00 closedown



Information from Offshore Radio by Gerry Bishop, published by Iceni Enterprises.


One of Tom Pepper's boats in Folkestone harbour, 1964. Photo kindly provided by Nick Wythe.
Being a pirate was quite hard work as early DJ Johnny Lark remembered when he contacted The Pirate Radio Hall of Fame in 2009: "When you think of the modern day equipment presenters & DJs have today, it is quite amazing the actual quality we produced at Radio Invicta .... On one occasion when Ed Moreno was due to follow me after my four hour stint he was urgently taken off by lifeboat due to not being able to obtain his medical supplies because of bad weather (as you know, he was a diabetic). I had to continue for another four hours. LP tracks came in very useful when 'nature called' as you can imagine."

Gradually the technical side of Invicta improved but behind the scenes all was not well. Tom Pepper began to argue with his partners and attempted to take over the company. He began to run the station on his own, to the distress of Evans and Thompson. A feud developed between them.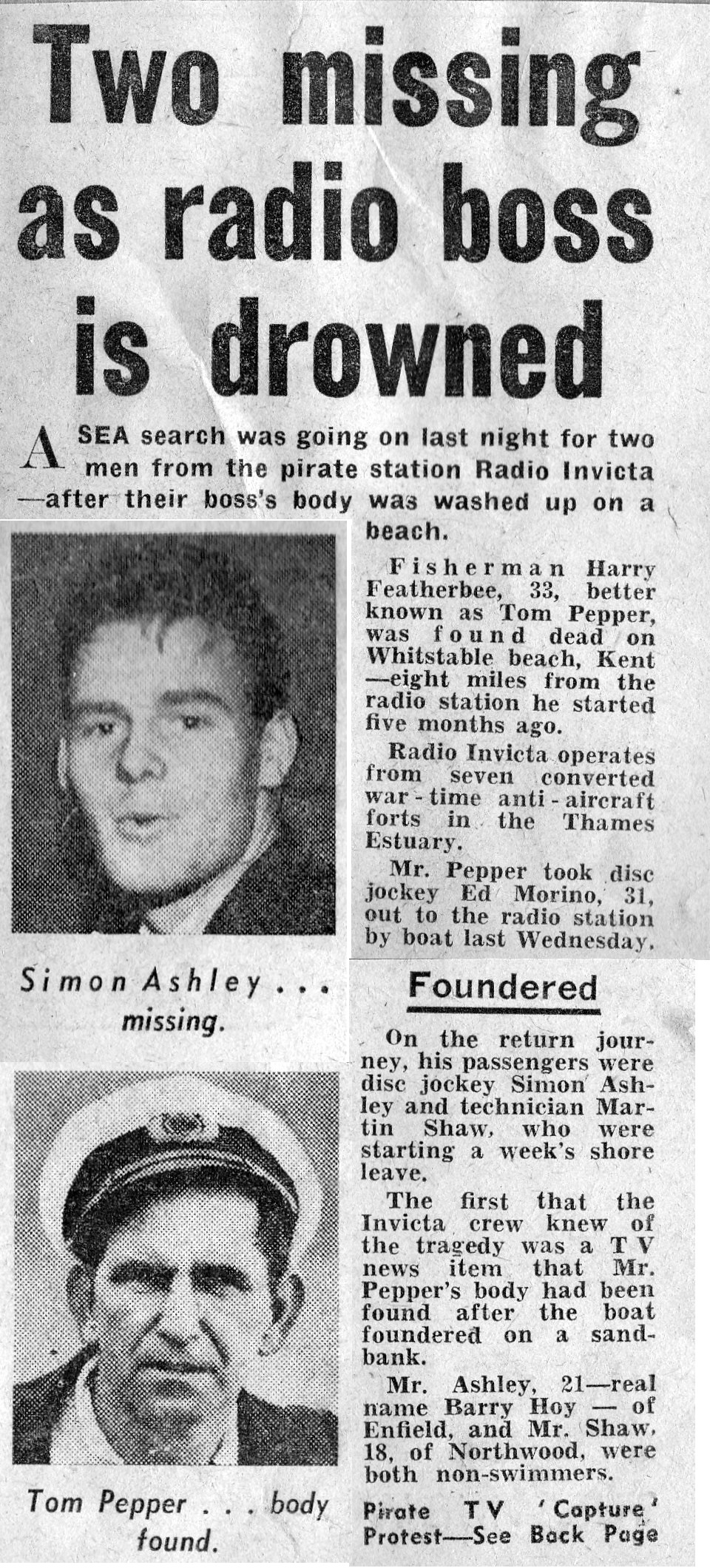 Daily Mirror, 18th December 1964, kindly provided by Mike Lewis. Other press cuttings on the same subject here.

In December 1964 Tom Pepper managed to convince Sunday paper The News of The World to run a trial advertisement on Radio Invicta. He wanted the senior DJ, Ed Moreno, to voice it. Moreno was on leave at the time but the boss persuaded him to return to the fort. On 16th December the two men went out to Red Sands, along with some food supplies, on Pepper's 36ft. launch The David. After the tender had unloaded, two other members of the Invicta team got on board so that they could go home for a Christmas break. On the trip back to shore, the tender hit a sudden squall and began to take in water. As the malfunctioning pump packed up, Pepper tied himself to a life-raft in the vain hope of reaching shore. He never made it. His body was later washed up near Reeves Beach, Whitstable. His two passengers, disc-jockey Simon Ashley and engineer Martin Shaw, were both lost overboard. They were never found although it has been reported that some time later an unidentifiable body was washed ashore in Spain with some Invicta tapes in its pockets. Broadcasting from the North Sea could be a dangerous business. Foul play, although suspected, was never proved. At the inquest into Pepper's death the coroner recorded an open verdict.
Ed Moreno's tribute to Tom Pepper, broadcast while the search for Simon and Martin's bodies was still continuing. The tape was kindly provided by Natalie Dwyer and Roma Roach (duration 3 minutes 58 seconds)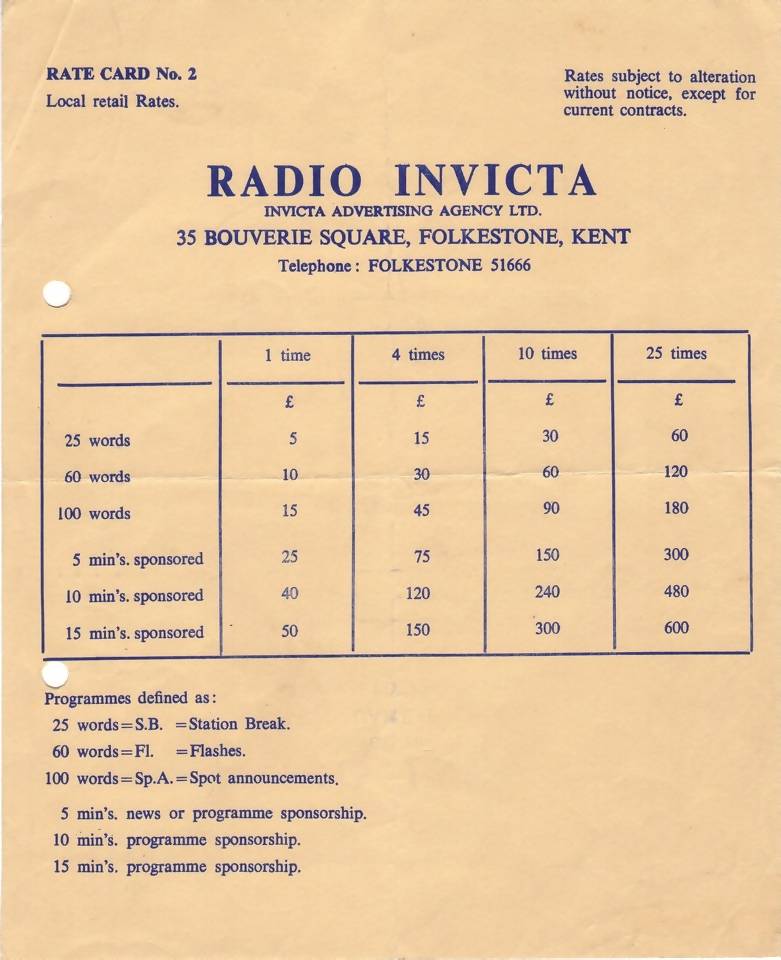 Thanks to Hans Knot for this Radio Invicta rate card. Click to enlarge.
Eddie Jerold ending a Mail Call programme and Tony Silver starting Top Sticks on Radio Invicta from December 1964. Recording kindly provided by Harm Koenders of The Offshore Radio Archive (duration 1 minute 45 seconds)
Following Tom Pepper's death, Radio Invicta continued broadcasting under the control of his widow. A couple of the DJs who joined during this period have written about the experience: John Ross-Barnard contributed a fascinating chapter to Keith Skues's book Pop Went The Pirates and Bob Graham's memories are here.
Another new member of the Invicta team, Bruce Holland. This is from a studio recording of a Radio Invicta Noon Show from early 1965 kindly provided by Bruce's sister Wendy Haberl (duration 4 minutes 46 seconds)
In February 1965 Radio Invicta closed down. Charlie Evans and John Thompson joined forces with other local businessmen to start a new, bigger station to replace it. For details, see 'The Brief Reign of King Radio'. Sadly King wasn't a success either - but the station which followed it on Red Sands, Radio 390, certainly was.