Simon Dee was the first voice to be heard on Radio Caroline, the UK's first offshore radio station. He was the first "pirate" to join the BBC, going on to become one of the first era-defining radio and television stars of the sixties.

An inaccurate biography (Simon wasn't born in Canada) from an early Caroline Club booklet. Caroline's press office was also responsible for the incorrect story that Simon's real name was Carl Henty-Dodd. Scan courtesy of Colin Nicol.

Simon was born Cyril Nicholas Henty-Dodd. His family had a long-standing tradition that all the male Henty-Dodds were given the first name Cyril but known by their second name, so to family and friends he was Nicholas or Nicky.

On leaving school he joined the RAF. His first experience of radio presenting occurred while serving in Baghdad where he had a trial for forces radio. Leaving the RAF in 1958, a succession of short-lived jobs followed but during the early sixties he developed a yearning to be an actor. He studied the then fashionable 'method' technique, meeting in the process a man called Michael Joseph and a young Irishman called Ronan O'Rahilly. Together with a couple of associates, the three of them formed a theatre workshop called Studio 61.

Later, when Ronan O'Rahilly started putting together the team for Radio Caroline, it was natural that he should ask his friend to become involved - especially one with so much natural warmth and charm. Neither Nicholas or Nicky Henty-Dodd seemed suitable as a name for a disc-jockey, so he became Simon Dee - taking his infant son's Christian name and the first letter of the latter part of his surname.

The newly named Simon Dee was on board the mv Fredericia, the original Radio Caroline ship, as she left Greenore harbour in Ireland and sailed to her new anchorage off the coast of south-east England in March 1964. It has been reported that he was first heard on air via a pre-recorded announcement just after midnight in the first seconds of Easter Saturday but the announcement for which he is best known came twelve hours later when, at 12 noon on Saturday 28th March he read the station identification and opened "your all day music station" for business.
Simon Dee's opening announcement on Radio Caroline, noon 28th March 1964 (duration 14 seconds)
Before the launch, hundreds of hours of pre-recorded programmes had been stockpiled and the output during the early weeks of Radio Caroline mainly consisted of Simon, live on the ship, inserting timechecks into these taped shows or presenting them himself. There is an interview from 1964 on YouTube, filmed on board the ship, in which he seems completely exhausted (see below).

Listening back to recordings of the early Radio Caroline, it is hard to believe that it caused such a stir. To modern ears it sounds middle-of-the-road and somewhat amateurish in presentation - but at the time it was revolutionary. Listeners in 1964 were used to the scripted and formal tones of the BBC. Hearing someone talking in a relaxed and spontaneous manner about the music he was playing was a rare treat. And the fact that Caroline was playing records all day, as compared to the severely limited musical output of the BBC's Light Programme, ensured that the station, and Simon, rapidly won a massive audience.
Simon Dee from the very earliest days of Radio Caroline. This is an edited version of a recording available from www.azanorak.com. Our thanks to Jim Nantz and Ray Robinson for permission to use it (duration 1 minute 8 seconds)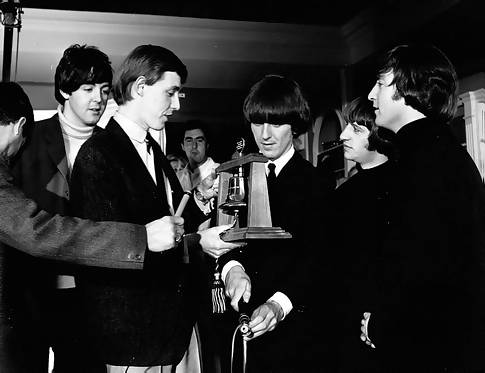 Simon Dee presenting a Caroline Bell award to The Beatles on the set of their second film 'Help'. Colin Nicol to the left of the photo is holding the microphone. Photo courtesy of Robbie Dale.
From the start of Caroline, O'Rahilly and his backers had anticipated some form of official interference. It arrived one sunny afternoon while Simon was on the air. His listening audience was amazed to hear him report, in an unscheduled news bulletin, how the customs vessel Venturous was nearby and asking permission to board the radio ship. Presumably the crew of the Venturous were also somewhat surprised to hear details of these private discussions being made so public. They changed their minds, turned tail and sailed away.
Simon Dee with a special "news report" on Radio Caroline, 6th May 1964 (duration 56 seconds)
In July 1964 Radio Caroline entered into a partnership with the rival Radio Atlanta. The original Caroline ship became Radio Caroline North, and the Atlanta vessel, the mv Mi Amigo, became Caroline South. Simon decided to change ships and stay in the south which meant he was now working for Allan Crawford, founder of Atlanta. This was not a happy working relationship. Crawford had started his station to promote the cover versions of hit records that he produced. Simon did not want to play the covers - he wanted to play the original versions - and, as Keith Martin has related, Simon was suspended for a time for throwing a batch of Crawford-produced discs over the side of the ship.
Simon Dee closing down Radio Caroline South for the night (duration 57 seconds)
Simon may have been a bit of a rebel but he was also a genuine music fan and it was only fitting that he should introduce the first live music session on offshore radio in May 1965 when the Jimmy Smith Trio performed live on Radio Caroline South:
The first ever live music session on a British pirate station. Simon Dee introduces the Jimmy Smith Trio. The group had to play out on the deck because Jimmy's Hammond organ was too big to get down the companionway into the studio. Tape kindly provided by the late Dick Morecraft (duration 2 minutes 54 seconds)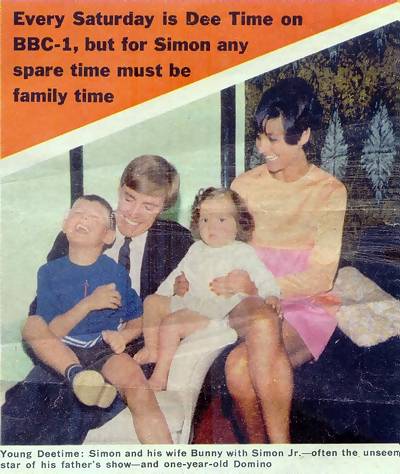 Cutting from 'Radio Times' of 19th October 1967, kindly provided by George Morris.
Simon made his first television appearance in 1964, while still working for Caroline. He featured on the legendary Ready Steady Go and, the following February, on Thank Your Lucky Stars. He left Caroline in May 1965, soon after the Jimmy Smith session, to go freelance. He was quickly signed up to present Midday Spin on the BBC Light Programme and a series for EMI on Radio Luxembourg. In the spring of 1966 he became the face of Smiths Crisps on their television commercials and later that year introduced his first Top Of The Pops.
Simon Dee ending a show on the BBC Light Programme. Recording kindly provided by Nigel Fell (duration 29 seconds)
Although already a well-known and well-loved personality, it wasn't until the launch of his BBC television chat show, Dee Time, in April 1967 that he became a national star. Initially transmitted on Tuesday and Thursday evenings, it moved to a prime Saturday night slot in September that year. Up until then television interviewers had been polite and respectful to their guests. Just as, some years later, Jonathan Ross would re-invent the chat show for a new era, Simon re-defined the format for the sixties. It was a time when youthful revolution was in the air; a time when respect for the old ways was on the decline. Simon captured that youthful spirit of rebellion. He did not always treat his guests with deference. He was cheeky. And charming. The show was a huge success but behind the scenes things did not always run smoothly. Simon had strong views about the programme and some of the more established television bosses did not take kindly to this. He was seen as being "high maintenance" and "too big for his boots".

When a new commercial station, London Weekend Television, offered Simon a show, he thought that the BBC would fight to keep him. They did not. He had made too many enemies there. Dee Time came to an abrupt end in December 1969. His new programme, The Simon Dee Show, launched on LWT late on Sunday nights the following month. It was a flop. The reasons for the programme's failure have long been debated, with numerous theories being put forward, but, whoever's fault it was, it was pretty much the end of Simon's career.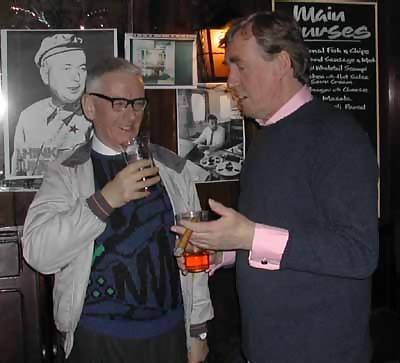 Caroline South engineer George Saunders chatting with Simon at the station's fortieth birthday party, with a copy of that controversial Harold Wilson poster behind them.
He was back in the news briefly, alongside his old boss, soon afterwards when Ronan O'Rahilly became involved with the General Election of 1970. Simon joined in. At the time it seemed a bit of innocent fun, parading round London on an open topped double-decker bus distributing posters of Prime Minister Harold Wilson in the guise of Chairman Mao, but years later, with the release of official papers under the '30 year rule', it was revealed that Simon was nearly prosecuted under the Representation Of The Peoples Act.

Simon was heard on Radio Caroline again, in 1974, to mark the station's tenth birthday. He agreed to be interviewed by engineer Peter Chicago:
Part one of Peter Chicago's interview with Simon Dee on Radio Caroline, Easter 1974. The voice at the start of the tape belongs to Bob Noakes (duration 6 minutes 19 seconds)

Part two of Peter Chicago's interview with Simon Dee (duration 8 minutes 31 seconds)
Simon appeared in the movie Doctor in Trouble (his second film role, having made a cameo appearance in The Italian Job a few years earlier), he hosted Sounds of the 60s on BBC Radio 2 for a while in the eighties but, to all intents and purposes, his broadcasting career was over. He ended up on the dole and even served time in prison for non-payment of his rates.
Some extracts from BBC Radio 2's Sounds Of The Sixties presented by Simon Dee on Boxing Day 1987. Tape kindly provided by Graham Bunce (duration 3 minutes 3 seconds)
In 2003 he made a new one-off edition of Dee Time for Channel Four and the network ran a documentary about his career but it did not lead to any more work.

In 2009 he was diagnosed with untreatable bone cancer and, within just a matter of weeks, he died. He was 74, had been married three times and was survived by his four children and four grandchildren.

A charming and talented man, it is undoubtedly sad that Simon's career didn't sustain for more than a few years but those of us who heard him on Caroline and watched him avidly on Dee Time will always remember him fondly. For many the opening sequence of his television show with Simon and a "dolly bird" racing around town in a sports car as announcer Len Martin proclaimed "here's S-i-i-i-i-imon Dee" will always epitomise the swinging sixties. His was a short career but a very memorable one which, as his own catch-phrase put it, "can't be bad".
---
Along with much of the media, we initially reported the date of Simon's death as 30th August. This is incorrect and has now been amended. Our apologies to Simon's family for this error.

In February 1966 Simon told the story of his Caroline career in a series of articles for Titbits magazine.
See: part one, part two and part three.

Newspaper obituaries: Daily Telegraph, The Guardian, The Independent and The Times.

For more on Simon's life and career, see the book Whatever Happened To Simon Dee? by Richard Wiseman.