Edward Stewart Mainwaring was born in Exmouth, Devon, on 23rd April 1941. He did his first radio broadcast at the age of nine when he and his brothers sang for the BBC's North American service.

While attending St Edward's School in Oxford he excelled at music and sport. He sang in choirs and played double bass in youth orchestras and a jazz trio. When a friend suggested there was work to be had for a musician in Hong Kong, he packed his bass and flew east. Unfortunately when he arrived, he discovered that the expected gig had been cancelled. He found it hard to make a living from his music alone and looked for other ways to supplement his income.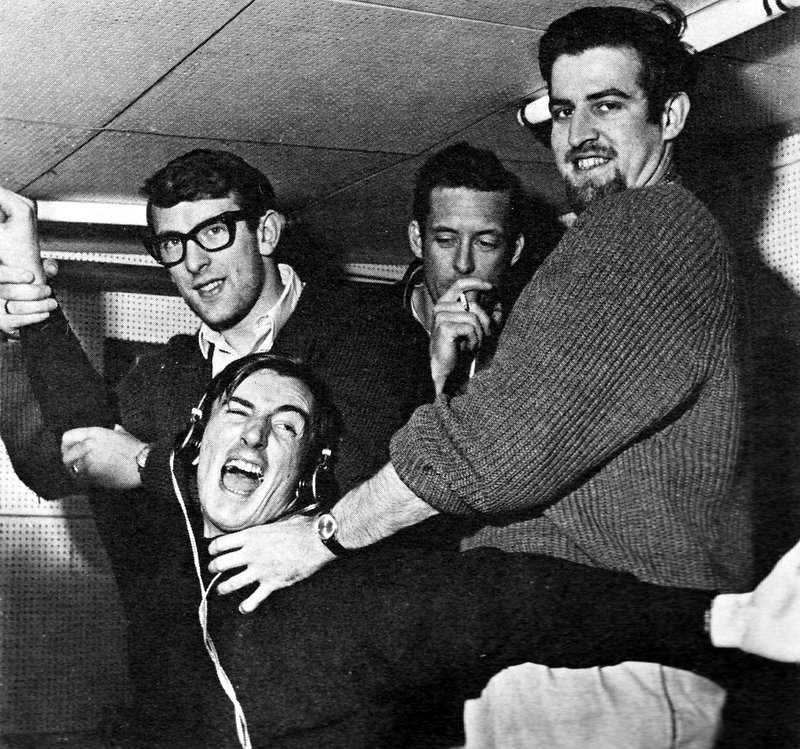 A bearded Ed Stewart with left, to right, John Edward, Dave Dennis and Duncan Johnson on Radio London. Photo from 'Who's Who In Pop Radio', published by New English Library.
Mentioning his previous BBC experience (possibly without saying how long ago it had been!) Ed found work with Radio Hong Kong, initially as a film reviewer and rugby commentator, then as a news reader and eventually as a disc-jockey. He also did some television presenting. After four years in the colony, he decided to come home, arriving back in the UK in early 1965 having received a free flight as payment for doing a commercial voice-over for an airline. He found a job with the Central Office of Information but, with the offshore stations now well-established, it was natural that Ed should start knocking on their doors. Radio Caroline turned him down as there wasn't a vacancy at the time but Radio London needed someone to cover for their regular presenters' summer holidays. He got a temporary job and, as with all the Big L DJs at that time, a new name. Eddie Mainwaring became Ed Stewart. His first show was on 5th July 1965.

As well as a new on-air name, he also acquired a nickname, courtesy of his colleague Dave Cash. Ed had a party trick. Given half a chance, he would pull up his shirt and roll his stomach. This inspired Dave to refer to him as "Stewpot". The nickname was to stick for the rest of Ed's life. (There is a video of Ed and others on the air here. Approximately 7 minutes into the video you can see the famous stomach in action.) A crossed-line telephone conversation also inspired him to acquire a mythical co-host, Myrtle.
Ed Stewart on his 3-6pm show, 7th December 1965. This is an edited version of a recording shared on The Offshore Radio Club Forum by Hans Hendriks. Our thanks to him (duration 1 minutes 32 seconds)

Through that summer Ed covered for his colleagues' holidays, presenting a number of different shows on the station, and he became very popular with the listeners. The temporary job was made permanent and in October he was given a regular slot, 3-6pm. A generation of kids remember coming home from school, turning on the radio and hearing Ed on Radio London - and especially his daily 'Schools Spot' which began in January 1966.
Ed Stewart and the 'Schools Spot' on his 3-6pm show, 25th May 1966. You wouldn't hear an advert for an alcoholic drink during a feature aimed at school children now. Audio kindly provided by Stuart Russell (duration 5 minutes 46 seconds)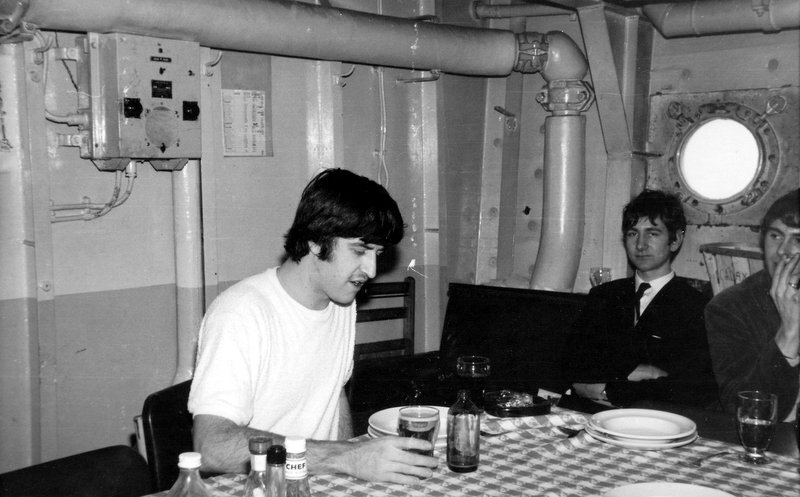 Ed Stewart enjoying a beer on Radio London. Photo published by the Free Radio Association and kindly provided by George Morris.

When Tony Windsor left Radio London in early 1967, Ed was appointed Senior DJ. Although he was now in charge, Ed wasn't above getting up to mischief. During his show on 1st April 1967 Radio London appeared to be getting drowned out by a new station testing on an adjacent frequency. In fact it was a very clever April Fool's Day prank which landed the perpetrators, Ed and Keith Skues, in trouble with the management. There is more about "Radio East Anglia", as the spoof station was called, here.

Radio London DJs spent two weeks on the ship, one week ashore, and during that week on land Ed lived in a flat in London which he shared with fellow DJ Mike Lennox. He was also close to ship-mates Duncan Johnson and Willy Walker. The four were to remain life-long friends.
Ed Stewart presented The Fab 40 on Radio London regularly. Here he is on 19th February 1967, an extract from Offshore Echo's tape Highlights Of Big L part two, used with kind permission (duration 2 minutes 8 seconds)
A programme handover between Keith Skues and Ed Stewart from 8th April 1967. Recording courtesy of Charles and the late Andy Wright, kindly forwarded by Brian Nichols of the Felixstowe and Offshore Radio Facebook page (duration 2 minutes 20 seconds)
In August 1967 the Government's legislation against the offshore stations came into effect and Radio London closed down. As the Senior DJ, Ed co-hosted the final programme with news director Paul Kaye. Along with a number of his ship-mates, Ed was taken on by the BBC as part of the launch line-up for Radio One.
Ed Stewart finishing his last show on Radio London, just before 1.30pm on 14th August 1967. Recording kindly provided by Albie Somerset (duration 56 seconds)
Ed Stewart says goodbye towards the end of Radio London's final hour, 14th August 1967. More of this programme can be found in The Radio London Story (duration 41 seconds)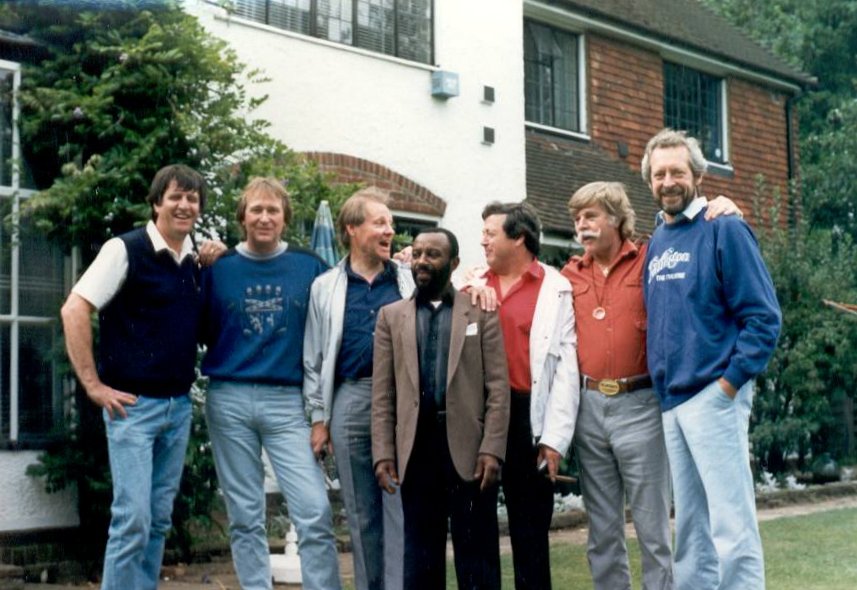 A group of Radio London colleagues getting back together for a reunion at Ed Stewart's home. Left to right: Ed, Mike Lennox, Ian Damon, Mitch the ship's steward, Tony Brandon, Willy Walker and Duncan Johnson who kindly provided the photograph.
At the BBC Ed initially hosted Happening Sunday in the old Easybeat slot (Sundays 10am-noon) on Radio One and the What's New review programme but in February 1968 he took over the show for which he is probably best known. For the next twelve years Ed hosted Junior Choice, which went out on both Radios One and Two. A big Everton fan, Ed also presented Sunday Sport on Radio One.

He appeared frequently on television, on such shows as Exit! It's the Way-Out Show, Stewpot and Ed And Zed!, joining the roster of DJs who hosted Top Of The Pops in 1971 and, from 1973 to 1979, he fronted the long-running children's TV show Crackerjack.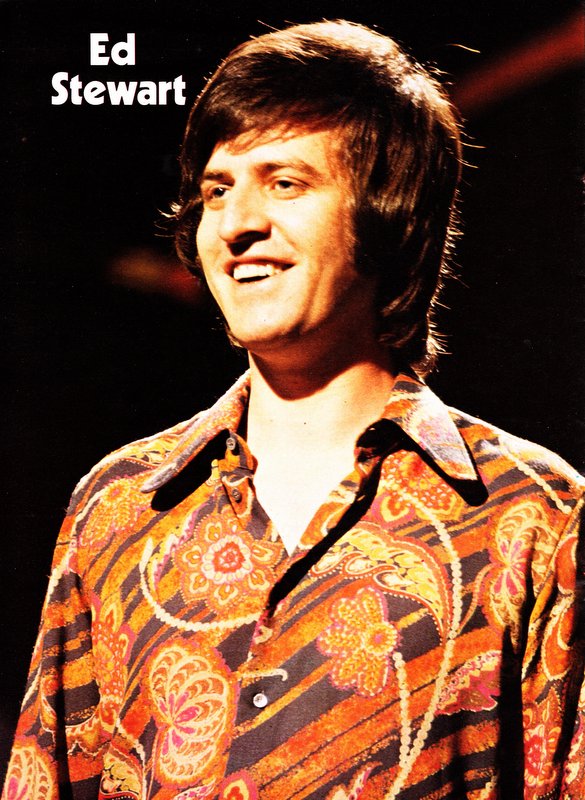 Ed Stewart. Photo from 'Deejay & Radio Monthly'.
In 1980 he switched from Radio One to Radio Two but, when his contact wasn't renewed in 1983, left to work in commercial radio, joining Crawley's Radio Mercury. He was back at Radio 2 in 1991 and, the following year, returned to his old weekday afternoon slot. In 1999 Radio Two had a programme shuffle and Ed was moved to Sunday evenings. He left Radio Two in 2006, the year after publishing his autobiography Out of the Stewpot.

Now retired from full-time broadcasting, Ed was able to spend more time playing golf but the BBC invited him back on a number of occasions to recreate his old show, Junior Choice. His final programme was on Christmas Day 2015.

In early January 2016 Ed suffered a stroke. He passed away a few days later, on 9th January, in a Bournemouth hospital. He was 74. He had enjoyed a long, successful broadcasting career and will be fondly remembered by millions of fans. Some will recall seeing him on Crackerjack, others hearing him playing children's favourites on Junior Choice but, to those of us of a certain age who loved his shows on Radio London, the name Ed Stewart will forever be associated with Myrtle's "hello dear" and the memory will always make us smile.
| | |
| --- | --- |
| | |
| Ed Stewart at Duncan Johnson's 75th birthday party. Left to right: Ed (in an Everton shirt), old friend 'Softly', Big L engineer Dave Hawkins, Duncan and his former Capital Radio colleague Greg Edwards. Photo posted on Facebook by Liza Donoghue. | Details of Ed's funeral. |