Richard Anthony Crispian Francis Prew Hope-Weston was born in Oxford but ran away to sea when he was 16 years old. He had been brought up on the rather staid British broadcasting of the fifties and, like a number of his contemporaries, he fell in love with the brash sound of American commercial radio the moment he heard it. In his case, it was while working as a cabin boy in the merchant navy.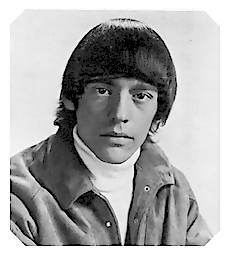 Publicity photo of Tommy from his time on KHJ from the now defunct bossradioforever.com.

Abbreviating his name to "Rick West", he tried to find work on American radio, taking whatever shifts he could, even if it meant working for free. He studied his craft and was constantly learning from his colleagues. He taught himself the deliberate delivery of the professional broadcaster where every word counts. A job on KOL Seattle necessitated another name change. He was offered a show - but only if he called himself Tommy Vance. The programme had originally been intended for another presenter who had pulled out of the deal at the last moment. Unfortunately this change of heart took place after the jingles had been recorded. The other presenter was called Tommy Vance. The jingles and pre-launch publicity could not go to waste so Rick West became Tommy Vance. From there he moved to the legendary KHJ Los Angeles, the home of the boss jocks.
Tommy Vance on KHJ Los Angeles, 23rd November 1965, towards the end of his time with the station. This recording courtesy of www.azanorak.com with thanks to Ray Robinson (duration 4 minutes 49 seconds)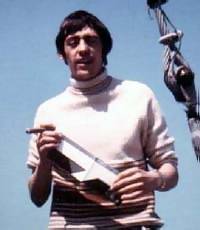 Tommy on Caroline South. Photo ©Keith Hampshire.

KHJ was one of the most successful and influential Top 40 stations of the era and California in 1965 was a great place to be. Unfortunately America was then involved in a war in Vietnam and, when Tommy got his draft papers for the US Army, he decided it was time to head back to the UK. British musician Ian Whitcomb lent him the fare and just before Christmas Tommy knocked on the door of Caroline House in London. No programme controller was going to pass up on the opportunity to employ a KHJ boss jock and Caroline's Bill Hearne was no exception. On 3rd January 1966 Tommy presented his first show on Caroline South (after guesting on Colin Nicol's programme the previous day).
Tommy Vance on one of his earliest shows for Radio Caroline South in January 1966. The recording is from Martin Lynch's collection and has been kindly donated by Lynne Sims (duration 1 minute 24 seconds)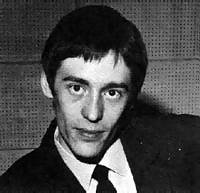 Tommy during his time with Radio Luxembourg. Photo from 'Who's Who In Pop Radio'.

Tommy had acquired something of a mid-Atlantic accent while living in America. He had also acquired a wife. She was not best pleased with the idea that her husband was going to be on a ship two weeks out of three. It would mean she would be stuck in an unfamiliar city on her own. So Tommy left Caroline after a few months and moved to Radio Luxembourg.

The marriage did not last so, when Caroline's Ronan O'Rahilly suggested Tommy should return to the ship, there was nothing to stop him. In December 1966 he rejoined Radio Caroline South.
Tommy Vance on the 3-6pm show, 12th February 1967. This clip is part of a longer recording shared by The Offshore Radio Archive (duration 4 minutes 24 seconds)
Tommy Vance presenting Lucky Birthday Bonanza on Radio Caroline in 1967. The recording is taken from the CD The Legend Lives On produced by Hans Knot and released by Stichting Media Communicatie (duration 32 seconds)
During the summer of 1967 it became apparent that the government was going to legislate against the offshore stations. The pirates desperately tried to find loop-holes in the new law so that they could remain on the air. Tommy heard a rumour that Philip Birch, boss of Radio London, was negotiating to move his station to France. If this was going to happen, Tommy wanted to be a part of it. In July 1967 he transferred to Radio London. Unfortunately Big L failed to find a base on the continent. Rather than break the new law, it chose to close down on 14th August so Tommy's stay with the station was brief.
Tommy Vance on the Radio London Breakfast Show, 7th August 1967, just seven days before closedown. This tape kindly donated by Albie Somerset (duration 4 minutes 55 seconds)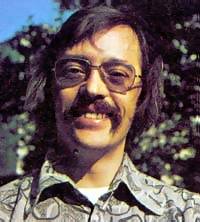 Promotional photo of Tommy at the time of the launch of Capital Radio in 1973. Photo ©Capital Radio.

Tommy was one of the initial team of disc-jockeys signed up for the BBC's new Radio One and co-hosted Top Gear with John Peel. When the programme was given to Peel to present solo, Tommy continued to host the occasional show for the station but his very distinctive voice was also heard on offshore radio on the numerous commercials running on Radio Caroline for Major Minor Records. He appeared on various television programmes and was the voice of dozens of advertisements. Together with his good friends Dave Cash and Kenny Everett he presented shows for Radio Monte Carlo International and all three of them were part of the launch team for London's Capital Radio in 1973. Tommy presented the morning programme with Joan Shenton on the station's first schedule but during his time with Capital he also hosted commercial radio's first reggae show and, at a time when punk was being vilified by the press, he carried out the first in-depth interview with Johnny Rotten of the Sex Pistols.
One of the interminable adverts for Major Minor Records that Tommy Vance voiced for Radio Caroline International, an extract from Offshore Echo's tape Offshore Classics vol.11, used with kind permission (duration 5 minutes 15 seconds!)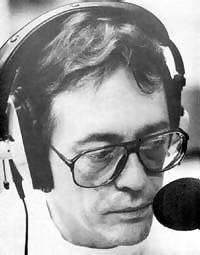 Promotional photo of Tommy from BBC Greater London Radio, 1991. Photo ©BBC.

Never one to sit still, Tommy and a couple of partners opened one of London's top commercial recording studios, Silk Sound, later joined by The Bridge. His voice was much in demand for advertising work and he presented a long running rock show on Radio One as well as a daily music and chat programme for BFBS. For many years he was also the voice of Radio One's Top Forty. When the BBC launched Greater London Radio in 1988, Tommy hosted the afternoon drive time show - a heady mixture of 'rock and rolling news'. He was also part of the launch team for Virgin Radio and presented rock videos on VH1.

Tommy liked to give the impression that he was just a hack voice-over man, cynically selling whatever was on the script. (He dismissively referred to himself as a "larynx on legs".) In truth, he did have an amazing voice and the ability to sell almost anything but he was much more than that. He loved his music, he enjoyed his broadcasting and he had a passion for life. When he moved to Spain, it was with the intention of a gentle semi-retirement. But it was not long before he was back on the air playing music for the tourists and ex-pats on the Costa del Sol's Spectrum FM. He just could not sit back and take it easy. It was not in his nature. He came back to Britain and threw himself into work again, doing commercials, appearing on television and returning to Virgin to present a weekly show on their DAB and internet offshoot, Virgin Classic Rock.

He died on 6th March 2005 following a stroke.

Fans of his shows on VH1, Radio One and Virgin will remember Tommy as the ultimate rock jock. He certainly did love his rock but his taste in music was much wider than that. Roots reggae was a particular passion. He was a skilled interviewer as listeners to his GLR and BFBS shows can testify. His voice was in demand for commercials over four decades. Tommy could do it all. He was the consummate broadcasting professional with an incomparable knowledge and a glorious voice. The radio world is a poorer place for his passing.
See also the tribute on the Radio London website
and the interview on Offshore Echos.