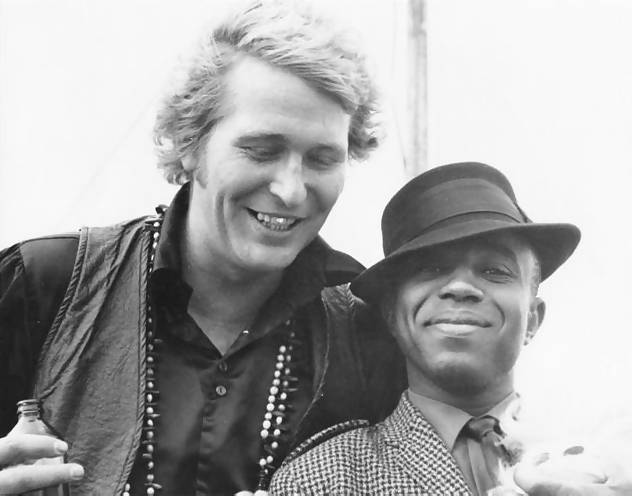 Mike Lennox, left, with Radio London ship's steward Mitch Philistin. Thanks to Mitch for the photo.
As the Covid-19 pandemic swept across the world in 2020, there were few families who weren't touched, directly or indirectly, by the deadly virus. And the offshore radio family was affected too with the sad loss of former Radio London disc-jockey "Marshall" Mike Lennox.

Born Michael John Graham in Grace Hospital, Winnipeg, Canada on 27th April 1940, Mike studied business administration at Sam Houston State University in Huntsville, Texas. In an effort to overcome his shyness he also took a drama course, part of which involved hosting a radio programme. He enjoyed the experience so much that he decided this was his future. On his return to Canada he got a job in broadcasting. In fact he worked at a few stations. Steve Young tells us he thinks that one of them was a station which at the time used the call letters CHEC in Lethbridge, Alberta.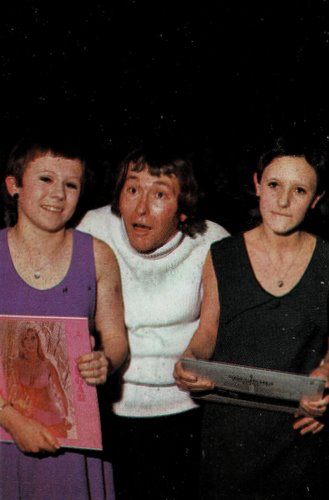 Mike Lennox and fans. Photo from 'Beatwave'.
After two years on the radio in Canada, he moved to a station in Bermuda where he befriended a fellow Canadian, Gerald Clements, later to be better known as Duncan Johnson. It is not known if they came to Britain together but we do know that in late 1964 both worked together on a film in the UK called The Bedford Incident which starred Richard Widmark, Sidney Poitier, James MacArthur (of 'Hawaii Five-O' fame) and Martin Balsam. Duncan was employed as an anonymous extra but Mike put his college drama training to good use in a credited role. He played a naval officer, Lieutenant Krindlemeyer.

In February 1965 Duncan joined Radio London while Mike carried on with his acting. In April filming began for Dr. Who and the Daleks, in which Mike played a member of the alien Thal race. With filming finished, he needed a job and Duncan put in a good word for him at Radio London. In November 1965 he joined the station. At that time all Radio London disc-jockeys had to use a fake name on air so Michael Graham became known as Mike Lennox. He fitted in perfectly and, when Dave Cash left in April 1966, Mike took over the Breakfast Show. Although very popular, he didn't think he was ideally suited for the programme. In Brian Long's book The London Sound he is quoted as saying, rather modestly: "I was never any good at that. It just wasn't me. I'm not a bright, happy bouncing person first thing in the morning usually and I am not a funny person."

Although he didn't stay on that particular show, Mike remained an integral part of the Radio London team for the rest of its existence, although he did leave the ship for a while to work for the station on land. He also made another film. He played a disc-jockey in the Swinging London romp Smashing Time which starred Rita Tushingham and Lynn Redgrave.
Mike Lennox on the Radio London 'Fab 40' show from 17th April 1966. This recording kindly provided by Hans Knot (duration 5 minutes 53 seconds)
Mike Lennox on the 12-3pm show on Radio London from 27th December 1966. This clip is taken from a longer recording shared on the Internet Radiocafé, now known as the Radiotrefpunt (radio meeting point) forum by Paul de Haan. Our thanks to him (duration 3 minutes 6 seconds)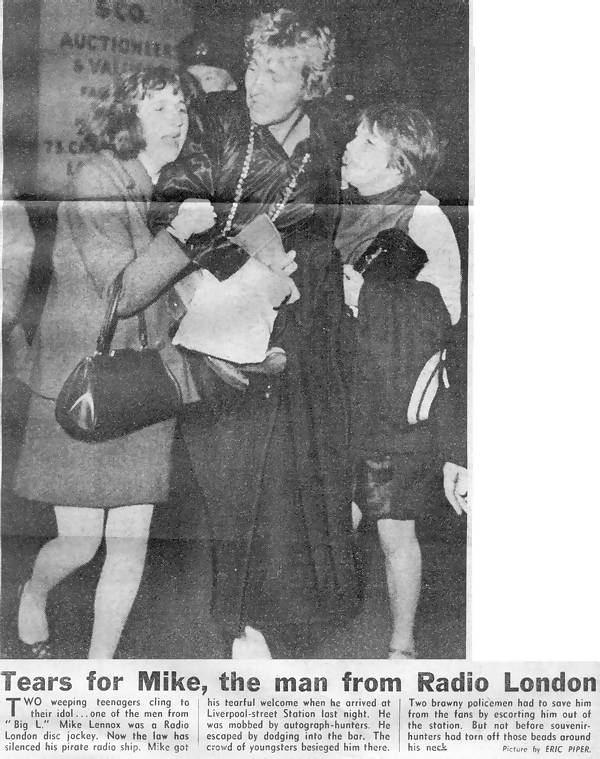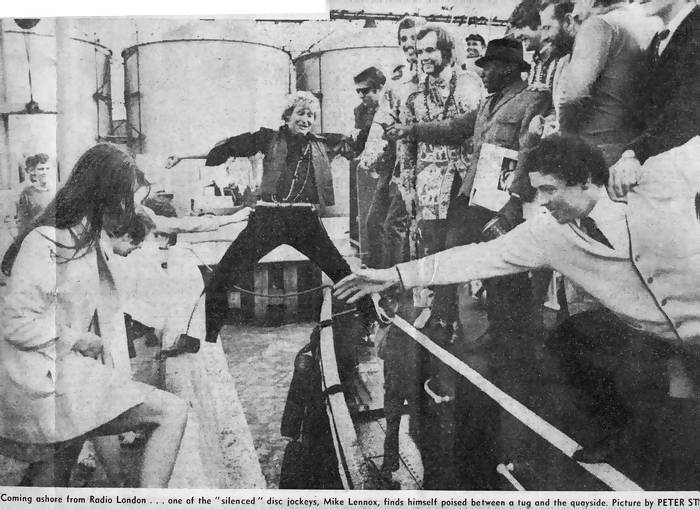 Two photos of Mike Lennox in the 'Daily Mirror' taken on the day of Radio London's closure.
In August 1967 the Marine Offences Act forced Radio London to close down. A number of the DJs were taken on by the BBC for the new Radios One and Two. Mike and Duncan both auditioned. With his deep voice and intimate delivery, Duncan hoped he would get a late night slot while Mike with his rapid-fire Top 40 style wanted a daytime pop show. Unfortunately the BBC executives saw it differently. Duncan got a weekly spot on the pop station Radio One's lunchtime Midday Spin while Mike landed Friday's Late Night Extra at 10pm on the more middle-of-the-road Radio Two. His show was uninvitingly billed in Radio Times as "On the beat with music and news; Off the record with pop; On the spot with people and places ... with the Northern Dance Orchestra." Neither DJ lasted long at the Corporation. Mike left the BBC in February 1968.

Around the same time he released a single, Images Of You, but it was not a hit.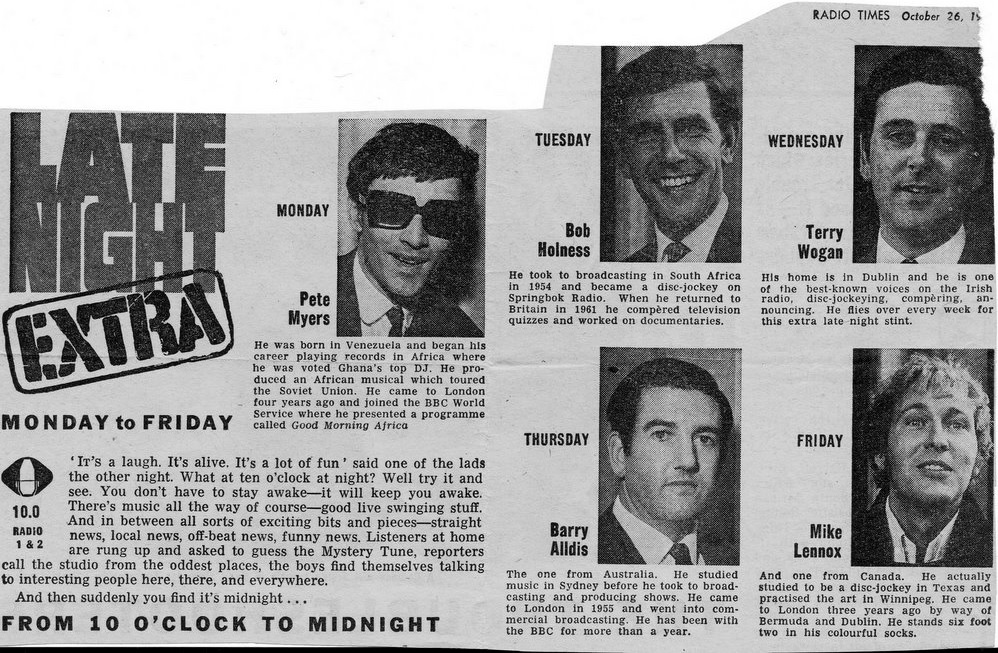 Mike Lennox in the 'Radio Times', 26th October 1967.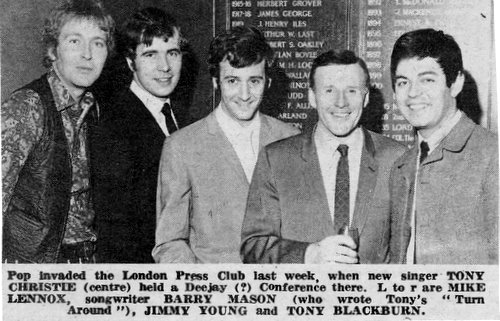 Mike Lennox in 'Disc & Music Echo'.
His movie career continued with a part in the comedy film The Best House in London alongside David Hemmings, George Sanders, Warren Mitchell, John Bird and Bill Fraser. He also worked on another David Hemmings film Alfred the Great before entering the music business when he joined Phonogram Records as an A&R man.

In 1972 Mike moved back to Canada. Initially he worked with his father and brother, rearing horses, then became a stockbroker. Following that he moved into real estate. Steve Young remembers: "I last saw Mike about 3-4 years ago. We had coffee together in Vancouver. It was then he told me about his plans for some kind of real estate development on the Pacific Coast side of Mexico, a few miles from the city of Merida (a lovely spot not far from the site of the city of Chichén Itzá and its awesome Mayan pyramid). As he spoke to me about the venture, I had the distinct feeling that this was Mike's final 'kick at the can' before retiring to the sweet life."

Mike died of complications relating to Covid-19 in Mexico in September 2020.

Although his time in the media spotlight was brief, he played a major part in the success of Radio London. Despite having not been heard on the UK airwaves for many years, both he and his programmes are still remembered with enormous affection by the station's fans. He will be missed. * Pop Went The Pirates gives Mike's birth year as 1942 but Mike's son Lucas Graham has confirmed to us that his father was born in 1940. With grateful thanks to Steve Young, Pop Went The Pirates and The London Sound, and to George Morris for the press cuttings.

There are other tributes to Mike on the Radio London and Offshore Echos websites.

Mike's son Lucas Graham hopes to make a documentary about his late father. He has posted this trailer, made to raise financing for the film, on YouTube: