Part Two: Kenny & Cash, and the rescue of John C. Winn
In early 1965 Radio London reached an agreement with the Wijsmuller company to take care of all the crewing and tendering requirements. As this firm already looked after Caroline South, it was not long before an arrangement was arrived at by which the two stations shared the same tenders - and the cost.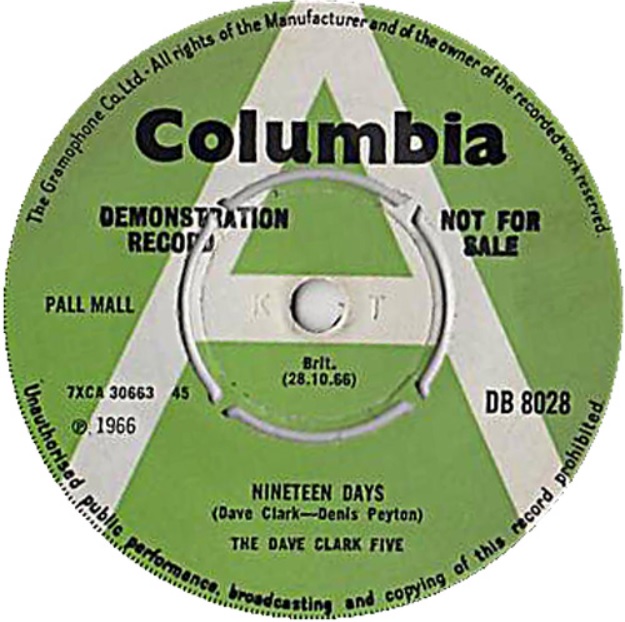 A rare Pall Music A-side. This Dave Clark Five release reached number 5 on the Fab 40 but failed to make the UK sales chart. Scan courtesy of www.45cat.com. Click to enlarge.
In March 1965 Radio London did a deal with music publisher Harold Shampan. Together they formed Pall Mall Music Ltd. The publishing royalties on the sale of a single were split 50-50 between the publishers of the A and B-side of the disc so owning the rights to the B-side of a hit could be financially rewarding, even if it was seldom played. Pall Mall Music signed up numerous B-sides - and a few A-sides - over the next couple of years. These deals had a considerable influence on Radio London's Fab 40 as extensive airplay was given to the A-sides. (This sort of cross-promotion was not unique to Radio London. The long-established Radio Luxembourg also had publishing interests.) For example the Fab 40 of 30th October 1966, a typical week, contained five Pall Mall-related releases. Another was a Big L "climber", a new release picked for future success. None of them was a genuine hit. In fact the vast majority of the Pall Mall releases failed to enter the sales chart but some did, including offshore favourites like Amen Corner - Gin House Blues, Jeff Beck - Hi Ho Silver Lining, Graham Bonney - Super Girl, Jimi Hendrix Experience - Hey Joe, Zoot Money's Big Roll Band - Big Time Operator, New Vaudeville Band - Winchester Cathedral and The Alan Price Set - The House That Jack Built.

Radio London was operating on one third power for its first few months on air but, from 20th March, the full 50 kilowatts was available and it made a huge difference. The signal really pumped out. By then the DJs had got to grips with format radio and were sounding on top form. It very quickly became apparent that Radio London was quite simply the slickest and hippest of all the stations. It was also now the loudest.
Tony Windsor on the Fab 40 show from 25th April 1965. The song by The Chantelles was one of that week's Pall Mall Music tracks. The clip is taken from a recording available from www.azanorak.com. Our thanks to Ray Robinson (duration 2 minutes 51 seconds)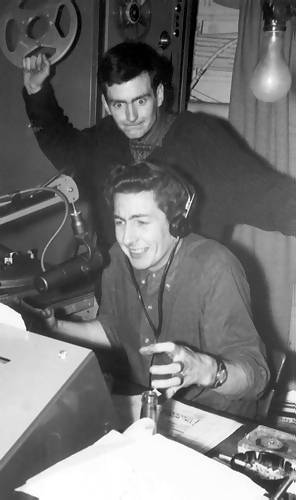 Kenny & Cash. Photo courtesy of John Lait. More of his pictures here.

Before Radio London launched, the team of new DJs had been played tapes of KLIF Dallas so that they could familiarise themselves with the Top 40 format. Among these tapes was a recording of a popular KLIF double-headed show fronted by Charlie and Harrigan. Dave Cash and Kenny Everett were impressed by the programme and suggested they might do something similar on Big L. The Kenny & Cash Show launched in April 1965 and was an immediate success. Combining an inventive irreverance, Goon-style humour, lots of Beatle tracks and clever scheduling - it went out at 5pm, just after kids had got back home from school - it is still fondly remembered. In fact it is hard to believe it only ran for six months. The programme came to an end in October when Dave Cash moved to the Breakfast Show to replace the departing Pete Brady.
Kenny & Cash from a special Beatles programme tied in with the release of the Help movie. We don't have a precise date for this recording but the film was released in the UK on 29th July 1965 so it is probably from around that time. This clip is taken from audio available from www.azanorak.com. Our thanks to Ray Robinson (duration 4 minutes 31 seconds)

Kenny & Cash on 2nd September 1965, soon after they had appeared at a Big L promotional event at London's Marquee Club. This recording courtesy of The Offshore Radio Archive (duration 4 minutes 12 seconds)
Just after Easter 1965, on Tuesday 20th April, the Wijsmuller tug Offshore I was carrying out its regular duties, servicing Radio Caroline South and Radio London. Caroline's ship, the mv Mi Amigo, was the first port of call. Disc-jockeys returning from their shore leave were dropped off and the tender continued on its way to the Radio London's vessel.
First Lieutenant John Winn, USAF. Photograph from 'Radio Caroline', published by Landmark Press.
Meanwhile overhead an American pilot was flying a Voodoo fighter aircraft. Based in France he was on a training mission when he was forced to eject at near supersonic speed. The ejection fractured his shoulder and damaged his knee. Dazed, light-headed and on the verge of losing consciousness, he guided his parachute towards the small ships he could see way down below him. The North Sea in April can be pretty inhospitable but, fortunately for First Lieutenant John C. Winn, the tender was in the right place at the right time. Radio London DJs Pete Brady and Dave Dennis were on their way back to the Galaxy. They saw the parachuting airman descend into the water. The tender changed course to pick him up. Some newspapers reported that Pete jumped into the sea to help him on board - which was not strictly true - but the two DJs did assist in getting him onto the tender. The exhausted pilot was then taken to the radio ship to dry off. He was given warm clothes and a drink. And, of course, the station did not hesitate in relaying full details of the drama to their listeners.
Tony Windsor reporting the news at 4.30pm that day. Recording kindly provided by Hans Knot (duration 1 minute 8 seconds)
Having swapped crew at the Galaxy, the Offshore I then returned to the Mi Amigo. The Radio London DJs going on leave (Dave Cash, Kenny Everett and Earl Richmond) were joined by their Caroline counterparts (Garry Kemp, Doug Kerr and Keith Martin) and the tender headed back for land with the injured pilot.

An ambulance was waiting on the quayside and John Winn was rushed to the hospital at USAF Bentwaters in Suffolk, a very lucky man.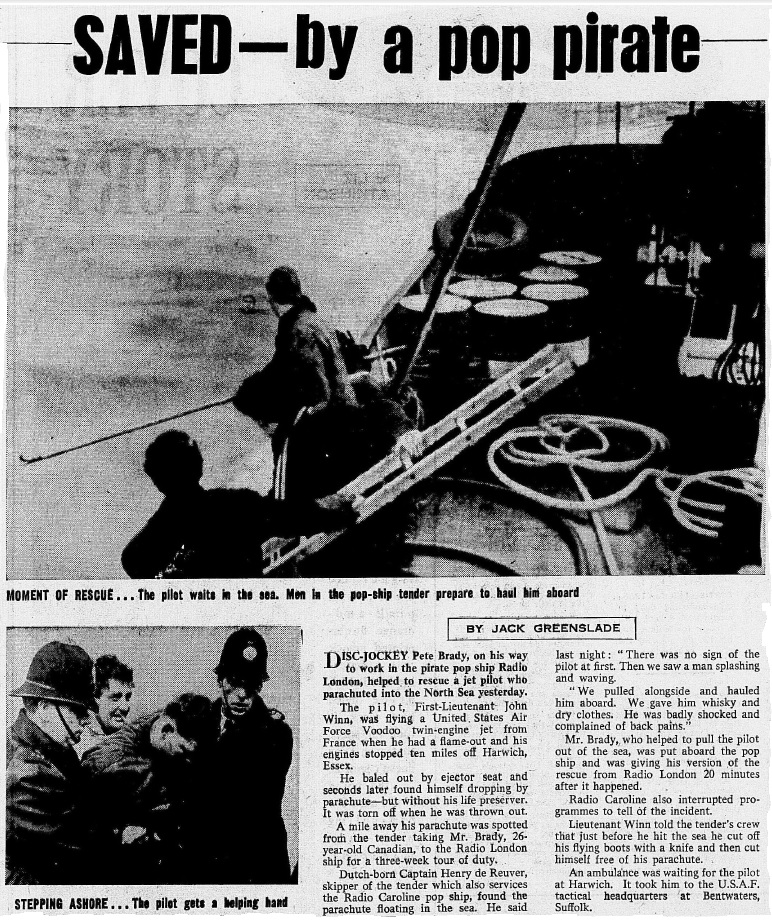 'The Daily Mail' reports on the rescue.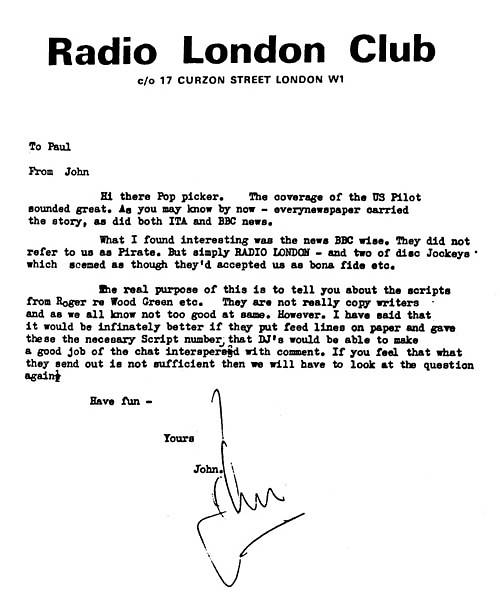 A Radio London memo sent out to the ship. Click to magnify. From Hans Knot's 'Historie van Radio London', published by Freewave Media Magazine.

Radio London was not the only radio station to get in on the excitement that day. An air-sea rescue helicopter was launched to pick up the pilot and headed out to sea. Someone must have heard that he was on board a pirate station but got its name wrong because the helicopter landed a man on Radio City's fort. This caused some alarm to the occupants. Once everything had been explained though they too could not wait to inform their audience.
A breathless Alexander Dee, with help from engineer Ian West, report on why an air-sea rescue helicopter has just landed a man on the roof of their fort. Recording kindly provided by Hans Knot (duration 4 minutes 18 seconds)
The rescue of the pilot received a lot of publicity on land, which was particularly helpful to Radio London which had only been on the air for a few months and only been broadcasting on full power for a matter of weeks (see another cutting here). What delighted the writer of this memo, right, was that the station was not described on the BBC news as a "pop pirate". It seemed that, in a very short time, Radio London had already become an accepted part of the established media. It is thought that the author of the memo was John Dienn, alias DJ Earl Richmond, writing to his colleague Paul Kaye.

Following the rescue, Radio London received a letter of thanks from the Governor of Texas, John Winn's home state, and Programme Director Ben Toney was made an Admiral in the Texas navy!

A couple of years later John C recorded a message of thanks that was broadcast on Radio London.
John C. Winn telling the story of how he came to land in the North Sea and thanking those responsible for saving his life. Tape kindly donated by Hans Stieper. Hans says he thinks this was recorded as part of the "fight for free radio" campaign that was in full swing during 1967 (duration 1 minute 59 seconds)
John Winn died on 4th August 1995, aged 57. See here.
RADIO LONDON PROGRAMME SCHEDULE, July 1965.


MON-SAT
6.00am Pete Brady
9.00 Tony Windsor
12.00pm Dave Dennis
3.00 Dave Cash
5.00 Kenny & Cash
6.00 Kenny Everett
(8.00-8.30 "The World Tomorrow" - sponsored)
9.00 closedown

SUN
as Mon-Sat except:
7.30-8.00am "The Herald of Truth" (sponsored)
9.00-9.15 "The Voice of Prophecy" (sponsored)
11.00-12.00pm "The Colgate-Palmolive Request Hour" (sponsored)
2.30 "Radio London Brides" (sponsored)
3.00-6.00 "Radio London Fab 40"



Information from 'The London Sound'.


"The Double D", Dave Dennis.
Photo from 'Beat Wave' magazine.

Earl Richmond sitting-in for Dave Cash on Radio London during the afternoon of 21st August 1965. The voice on the ice cream commercial belongs to Paul Kaye. This clip is taken from a longer recording posted on The Offshore Radio Club Forum by Harm Koenders. Our thanks to him (duration 3 minutes 39 seconds)