Radio Scotland's first broadcast was at 11:50pm on Hogmanay, 31st December 1965, on 1241 kilohertz, 242 metres. The station transmitted from the Comet, a sixty year old engine-less former Irish lightship, weighing 500 tons, which had been built on the Clyde. After refitting for her new role in the Channel Islands (see here), she had been towed to a position four miles off Dunbar, in the Firth of Forth. Because of delays during the journey north, the ship didn't arrive at the anchorage until early on 30th December, giving the engineers only a few hours to set up the equipment. It was a frantic race against time but the station just made it on air before midnight, albeit at reduced power and with no opportunity to run tests. The first voice on the new station belonged to DJ Paul Young, a former presenter of Scottish Television's Roundup programme who welcomed the listeners. He introduced the managing director of the station's sales company, Tommy Shields, who went on to detail their plans. Radio Scotland was on the air and open for business.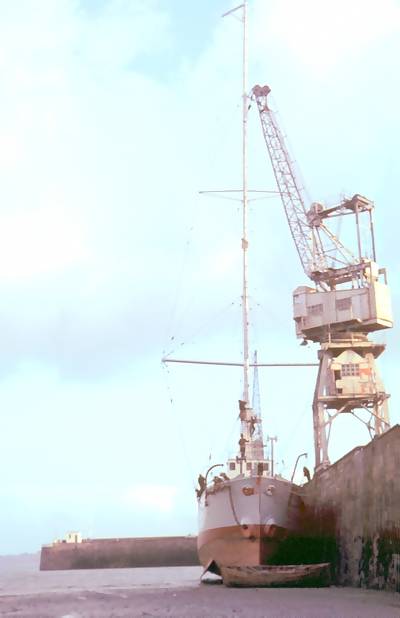 Installing the Comet's aerial mast in Guernsey. Photo kindly provided by Tony Rock. More of his photos here.

Mr Shields in the opening minutes of Radio Scotland, just before midnight on 31st December 1965 (duration 54 seconds)
Some clips from Radio Scotland's first programme: David Kinnaird chatting to fellow presenters Paul Young, Stuart Henry, Charlie Whyte, Pete Bowman, Larry Marshall and Bob Spencer. Recording courtesy of The Offshore Radio Archive (duration 5 minutes 51 seconds)
Larry Marshall was part of The One O'Clock Gang. This show had previously enjoyed a long run on Scottish Television. Before starting Radio Scotland, Tommy Shields had been Head of Publicity at STV and recognised the programme's appeal so he signed up some of the TV stars for a radio version. Bob Spencer had previously worked for Radio City; Stuart Henry had been an actor; Pete Bowman was a ballroom disc-jockey. Charlie Whyte was a broadcasting novice, as were two other members of the initial team of DJs, Alan Black and Jack McLaughlin.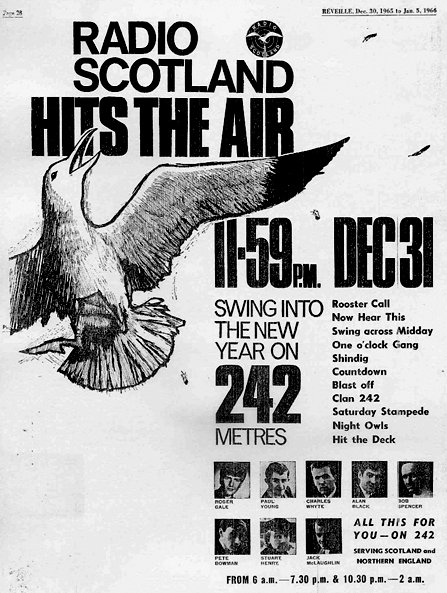 Press advert for the launch of Radio Scotland. Scan courtesy of rogergale.com.
Following a recent staff purge on Radio Caroline South, a number of experienced offshore radio personnel were suddenly available and Radio Scotland took advantage. Its first Programme Director was ex-Caroline man Roger Gale. Making the same journey north a few months later were two of his former colleagues, Bryan Vaughan and Mel Howard. The first advertisement on Radio Scotland, as with Radio London, was for The News Of The World newspaper. The broadcasting hours were 6am to 2am, although initially the station closed for a few hours during the early evening because of foreign interference.
Stuart Henry on his first ever programme from Radio Scotland's first full day on the air, 1st January 1966. Recording courtesy of the Offshore Radio Archive (duration 4 minutes 40 seconds)
Roger Gale on a short clip from an early Radio Scotland programme The Top 50 of 1965 and from a news bulletin on 2nd January 1966. Tape courtesy of Martyn Webster (duration 1 minute 3 seconds)
Pete Bowman on the Blast Off show from 3rd January 1966. Recording courtesy of the Offshore Radio Archive (duration 3 minutes 50 seconds)
Charlie Whyte from the late night Northern Lights programme of 4th January 1966. Tape courtesy of Ray Andrews (duration 1 minute 55 seconds)
With the foreign interference very noticeable, Jack McLaughlin closes the station down for a few hours at 7.34pm on 27th January 1966. Recording courtesy of Ian Biggar (duration 44 seconds)
RADIO SCOTLAND'S FIRST PROGRAMME SCHEDULE.


Cathy Spence.
Photo from 'Beat Wave' magazine.



6.00am "Rooster Call"
9.00 "Now Hear This"
11.00 "Elevenses" with David Kinnaird
12.00pm "Swing Across Midday"
1.00 "One O'Clock Gang Show"
1.30 "Shindig"
2.30 "Laze Around"
4.30 "Countdown"
7.00 "Look Ahead"
7.05 "The World Tomorrow" (sponsored)
7.35 closedown until
10.30 "Blast Off"
12.00am "Northern Lights"
2.00 closedown

Information from 'Offshore Radio', published by Iceni Enterprises.


Jack McLaughlin.
Photo from 'Beat Wave' magazine.

The company behind Radio Scotland was City & County Commercial Radio (Scotland) Ltd.. Joining Mr Shields in this new venture were James Donald, a Dundee theatre manager, Sir Andrew Murray, a former Lord Provost of Edinburgh, London financier Stanley Jackson and Glasgow casino operator Alan Carr.

For the first couple of weeks on air the station was only able to broadcast with about eight kilowatts power but on 15th January a valve arrived from New Jersey which enabled the two 10 kilowatt transmitters to be linked together to give a potential maximum of 20 kilowatts.

During Radio Scotland's first few months of operation it was dogged by bad luck and technical difficulties. Trouble with the aerial was followed by generator problems. Also the frequency had to be changed from 1241 to 1259 kilohertz because of night-time interference, although the station continued to announce its wavelength as "242 metres".
An engineering test transmission for Radio Scotland on the new frequency of 1259kHz, 9th April 1966 (duration 1 minute 55 seconds)
Jack McLaughlin has written a fictionalised account of his time with Radio Scotland (Pirate Jock is reviewed here). In it he recalls his first impressions of the Comet: "If there had been a Trade Description Act in 1965, the Boss would definitely have been in breach of it. The Comet, which he had lovingly described as somewhere between a luxury yacht and the QE2, was nearer in looks to the Govan Ferry. It was a rusting hulk with only the barest of accommodation - no carpets, no hot water, and worst of all on this freezing night, no heating .... The most important space on the boat was the tiny studio which was about eight feet square and could take two at a squeeze. On a desk to the right were the turntables which were gimbal mounted to compensate for movement in rough seas. In front of the swivel chair in the centre was the mike and operating desk on top of which was the cartridge machine .... Back onto the deck now to find a tiny loo and shower - basic would be the best word to describe it .... Up to the front now, down a short stairway and into a long corridor. To the right was a large square room, where the three anchor chains crunched noisily through, which was to become the recreation room. The promised television set had yet to arrive. There were a couple of bunks lining the corridor at the end of which were three cabins. They were pretty basic - lower and upper bunk, small wash hand basin, locker and table and as yet no carpet on the floor. It wasn't quite the floating palace we had been led to believe."
| | |
| --- | --- |
| Autographed photo of Managing Director Tommy Shields. Picture by Studio A, provided by George Morris. | The Comet. A commercially available postcard, kindly supplied by George Morris. |
Some of the early DJs did not stay long. Stuart Henry suffered severely from sea-sickness and it was soon realised that he would have to record his shows on land. Charlie Whyte did not fit in with his colleagues. Jack McLaughlin remembers: "He was one of the first names signed up by Tommy Shields - a bus driver from Glasgow. I think Tommy signed him up because he had a very large record collection! A lot of the pre-opening publicity revolved round Charlie and unfortunately it went to his head. On the boat, he refused to help in the mundane tasks such as cleaning the fire etc. and, in 'Big Brother' fashion, he was voted off the ship by the rest of the jocks after about six weeks!" Roger Gale was soon to move on too, to help with the launch of Radio 270.

On 10th February Radio Scotland had to close down because of heavy seas. The ship was taking in more water than the pumps could handle and an SOS was broadcast. A boat was sent out from Dunbar with a spare bilge pump and the emergency passed. Two weeks later there was another drama. The station had to broadcast for immediate medical assistance on the international distress frequency and a lifeboat was launched to take off a crew-member who had been taken ill.
Alan Black on Radio Scotland from the afternoon of 17th March 1966. Tape kindly provided by John Lilley (duration 2 minutes 41 seconds)
Radio Scotland's career did not always run smoothly. It was attacked by Hugh Jenkins MP over concerns about its finances; by Brian O'Malley MP when it ran some recruitment adverts for the armed forces; and occasionally by its listeners for its unadventurous programming but in most of the area it covered there was no offshore competition and the programmes won a loyal audience. The fact that it was Scottish, at a time when almost all the media came from south of the border, also brought it widespread support. Most of the output consisted of pop or easy listening although the Ceilidh programme of traditional music (initially presented by Paul Young, then taken over - and sent up - by Jack McLaughlin) was hugely popular.



Click on the picture above to see the plans of the Radio Scotland ship, the Comet, kindly provided by former disc-jockey

Ben Healy

. Ben has also donated some fascinating

press cuttings

dating from his time with the station.




This is the front cover of a booklet about Radio Scotland. Click on it to see all sixteen pages. With grateful thanks to Richard Crichton.
Like many of the stations down south, Radio Scotland had its own fan club - the 242 Clan - run by Cathy Spence. Uniquely, from April 1966, it also had its own monthly magazine (first issue here). The magazine's name changed throughout its short life. Issue one was simply called 242 and described as "Radio Scotland's Showbeat Monthly". By issue 7, in October 1966, the title had become 242 Showbeat with the description "Radio Scotland's monthly". By issue 9, December 1966, it was called 242 Showbeat Monthly.
Both sides of a reception report card, donated by Hans Knot.
One serious problem facing the station was that although its signal could be heard all over the east of Scotland (and much of Scandinavia), it was unable to penetrate the much more built-up and heavily populated central belt. So that its programmes could be heard in Glasgow, it was decided to move the ship to a different anchorage but, because it didn't have an engine, the Comet had to be towed round the coast to this new position.
Bob Spencer on the Uptown Scene programme on Radio Scotland while the ship is under tow. Recording kindly donated by Kenny Tosh (duration 2 minutes 43 seconds)
The new anchorage was off Troon in the Firth of Clyde. The signal was now much better for listeners in the west.
Tony Meehan on the Night Owls programme on Radio Scotland, 22nd November 1966. This is an edited version of a recording shared on the Internet Radiocafé, now known as the Radiotrefpunt (radio meeting point) forum by Jan-Fré. Our thanks to him (duration 3 minutes 42 seconds)

Radio Scotland's programme schedule as published in 'Radio News' dated 24th January 1967, courtesy of Mike Lewis. Click to enlarge.
Eddie White on the Night Owls programme from Radio Scotland, 4th February 1967. Recording kindly provided by Manfred Steinkrauss (duration 2 minutes 55 seconds)
Although the move of the ship to Troon had been welcomed by listeners in the central belt and made sound financial sense, it turned out that this was not the perfect spot from which to broadcast. In December the station was shocked to receive a summons under the Wireless Telegraphy Act. Although six and a half miles from the coast, the Comet was now anchored in a bay and, under the terms of a 1964 Order in Council, was broadcasting from inside UK territorial waters.
Mr Tommy Shields on his Fireside Chat on Sunday 12th March, talking about the imminent court appearance and the need to move the ship back east. This clip is taken from a documentary about Radio Scotland made by the Forth hospital radio network in 1968 (duration 1 minute 27 seconds)
On 13th March 1967 Tommy Shields, the managing director, and City & County Commercial Radio (Scotland) Ltd, were in Ayr court accused of broadcasting illegally. At 10.30am Radio Scotland closed down and, minutes later on land, the company pleaded guilty to the charges, although Mr Shields pleaded not guilty to those against him personally. The prosecution accepted these pleas and the company was fined £80.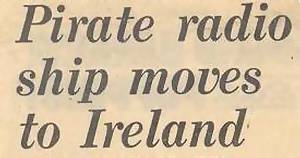 Click on the headline above to see press coverage of the station's brief stay off Northern Ireland.
The ship obviously had to be moved but, until that could be done, Radio Scotland had to remain silent. All the time it stayed off the air, it was losing money. A proposed £5,000 four day tow to a new anchorage in the Firth of Forth was cancelled at the last minute because of a gale warning and, two weeks later, the ship was still sitting, mute, off the Troon coast. Because of the continuing bad weather, the directors decided not to go round the north coast of Scotland but to anchor off Northern Ireland instead. The tug Cruiser towed the Comet to her new anchorage, 5 miles off Ballywalter, County Down. Eventually, on 9th April at 12.31 pm, after 28 days silence, Radio Scotland and Ireland (as the station was now called) returned to the air. However its troubles were by no means over. The radio signal now covered Ireland and northern England but could not be heard well enough in Scotland. The station briefly changed its name again, to Radio 242.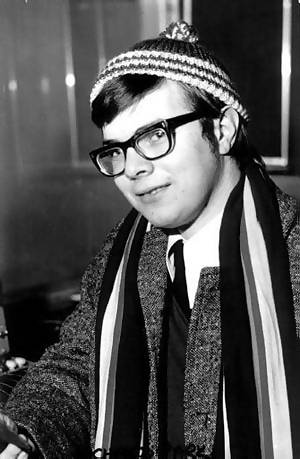 Promotional photo of Richard Park kindly provided by Bob Stevenson. For more of his photos, see here.
The ship drops anchor off the Northern Irish coast. Apologies for the poor reception (duration 1 minutes 53 seconds)
Ben Healy on a Saturday afternoon (duration 1 minute 49 seconds)
Ben Healy ending Destination Midnight, some Mel Howard on the Night Owls show and closing the station down for the night (duration 3 minutes 10 seconds)
More Ben Healy and a tiny clip of Richard Park (duration 1 minute 18 seconds). These recordings kindly donated by Kenny Tosh
After complaints of causing interference to lighthouse communications, the station stopped broadcasting off Ireland and, at the end of April, the Comet was on the move again, this time towed by the tug Campaigner (see details of Radio Scotland's voyages here). Again bad weather caused problems but on 7th May the boat arrived at her destination, back off the east coast. The station returned to the air the next day. It had been an expensive few weeks. £15,000 in advertising revenue had been lost because of the enforced silence - and there was the high cost of moving the ship too. Economies had to be made. At the end of May the staff were shocked to hear of the sacking of the co-ordination controller, the Zimbabwean Brian Holden. He had been responsible for producing the programmes recorded on land, including a number of advertising-sponsored shows. Immediately a number of others, including senior DJ Bob Spencer and DJ turned Sales & Promotions Manager Eddie White, resigned in protest. Money was so tight that Mr Shields had to go on the air to appeal for donations. He asked the listeners to send in ten shillings (50p) each, for which prizes, lucky number draws, etc. would be offered. It is thought that only 650 people responded.
| | | |
| --- | --- | --- |
| | Three DJ publicity photos, supplied by George Morris. Left Tony Meehan, above Bob Spencer, right Drew Hamlyn. | |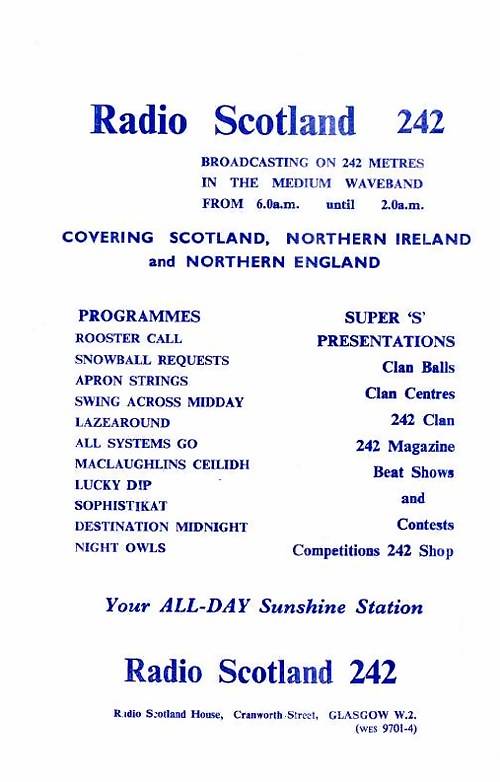 Radio Scotland advertising flyer kindly provided by Bob Stevenson.
Bryan Vaughan ends his final Rooster Call on Radio Scotland, 23rd May 1967. John Kerr on the following programme, The Sixpenny Snowball Request Show, is joined by Mel Howard as they say their goodbyes to Bryan. Recording kindly provided by Manfred Steinkrauss (duration 6 minutes 1 second)
Jimmy Mack on a Hit The Decks Show from 1967 (duration 2 minutes 23 seconds). Some of Jimmy's photos of Radio Scotland are here.
Richard Park on a 1967 Backtrack oldies show (duration 1 minute 52 seconds). Both clips kindly donated by Kenny Tosh.
Brian Webb on an All System Go show on Radio Scotland from July 1967. Recording kindly provided by Manfred Steinkrauss (duration 4 minutes 50 seconds)
Some clips of Tony Allan on the Sixpenny Snowball Requests programme on Radio Scotland from 7th August 1967, including a plug for the final Radio Scotland Clan Ball. Recording kindly provided by Scott Sullivan (duration 4 minutes 52 seconds)
Mr Tommy Shields on his Fireside Chat on Sunday 6th August, announcing that Radio Scotland is to close in eight days time. This clip is taken from a documentary about Radio Scotland made by the Forth hospital radio network in 1968 (duration 1 minute 22 seconds)
Cathy Spence on the last ever 242 Clan programme from Radio Scotland, 12th August 1967. Recording kindly provided by Ray Andrews (duration 2 minutes 58 seconds)
Jack McLaughlin's Ceilidh from 12th August 1967. Jack had left Radio Scotland earlier to work down south but returned to the ship towards the end of the station's life. Tape kindly provided by Martyn Webster (duration 1 minute 17 seconds)
Radio Scotland had previously said that it would continue broadcasting after the passing of the Marine Offences Act but the management realised that this wasn't feasible. On Monday 14th August 1967, just before midnight and the introduction of the new law, Radio Scotland closed down.



Click on the headline above to see an article from 'The Scotsman' on 12th August 1967, two days before closedown.




Click on the headline above to read how the closedown was reported.

RADIO SCOTLAND'S LAST DAY ON AIR.


6.00am "Rooster Call" - Tony Allan
9.00 "Sixpenny Snowball Requests" - Mark West
11.00 "Apron Strings" - Ben Healy
12.00pm "Swing Across Midday" - Jack McLaughlin
2.00 "Laze Around" - Mel Howard
4.00 "All Systems Go" - Ben Healy
6.00 "McLaughlin's Ceilidh"
7.05 "The World Tomorrow" (sponsored)
7.35 "Sixpenny Snowball Requests" - John Kerr
9.00 Tony Allan and Mark West
9.50 "Destination Midnight" - Ben Healy
10.50 Tony Allan
10.55 Tommy Shields
12.00am closedown

Information courtesy of Ian Biggar. Photo of Ben Healy from Bob Stevenson.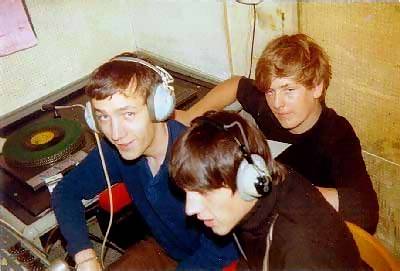 Tony Allan and Mark West in the studio of Radio Scotland with a crew-member. Photo by Bob Donnelly, reproduced by kind permission of Alan Beech. There are more of Bob's photos of Radio Scotland on www.rossrevenge.co.uk.
The last evening's programmes were mainly pre-recorded with just two presenters (Tony Allan and Mark West) left on the ship to play out the tapes. The final show was hosted by Tommy Shields. He revealed that the station had made £100,000 loss but said that if it had been allowed to keep going until the end of the year, he thought it could have broken even and maybe made a small profit. While his pre-recorded voice was saying goodbye, Mr Shields and those DJs who weren't still on the ship were at a closedown ball in Glasgow's Locarno ballroom. 2,000 fans turned up to mourn the station's passing. In 1966 National Opinion Polls had estimated the audience as 2,195,000 and, although Radio Scotland could not be claimed to have been an entirely successful venture, a lot of people were going to miss the station that "swings to you on 242".

About six months after Radio Scotland's closure, Tommy Shields died, aged 49. It was suggested that he had never got over the loss of his radio station.
Some clips from the last day of Radio Scotland, featuring Tony Allan, Mark West, Ben Healy, Jack McLaughlin and Mel Howard. This is an edited version of a recording shared on the Internet Radiocafé, now known as the Radiotrefpunt (radio meeting point) forum by Scotty. Our thanks to him (duration 9 minutes 5 seconds)
Tony Allan and Mark West dropping a few names and having some fun on the last day of Radio Scotland. Kindly donated by Kenny Tosh (duration 2 minutes 12 seconds)
Ben Healy on the last ever Destination Midnight programme from Radio Scotland. Tape kindly provided by Martyn Webster (duration 3 minutes 5 seconds)
Tony Allan says his goodbyes and introduces Tommy Shields on the last day of Radio Scotland (duration 42 seconds)
The station Managing Director Tommy Shields closes Radio Scotland. Recording kindly provided by David Burke (duration 4 minutes)
| | |
| --- | --- |
| Two photos from the final Radio Scotland Clan Ball at the Glasgow Locarno. The top one shows Cathy Spence, Dr Arnold Cowan, Mr and Mrs Shields and Jack McLaughlin. The bottom one shows local pop star Chris McLure on stage. Both pictures by Donald Milne. | The Comet being towed in after the closedown. Photo by Charles Elliott. All three pictures are from a copy of 'Showbeat Monthly' kindly provided by George Morris. |