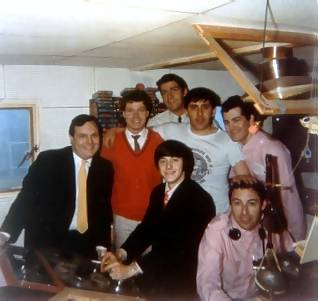 "Caroline's men of a new breed" as they were described on a popular station jingle. The 1967 line-up, left to right: David Williams, Nick Bailey, Jerry King, Don, Mick Luvzit; front: Tony Prince and Jerry Leighton.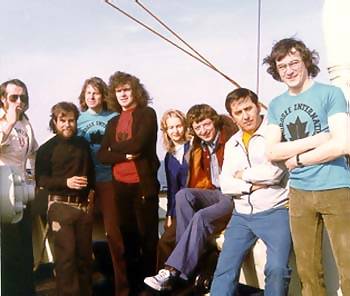 During the early seventies Don worked for Radio Northsea International off the Dutch coast. This 1973 picture shows, left to right, Brian McKenzie, engineer Steve Berry, Graham Gill, Arnold Layne, Sheila and Mike Ross, Don, Ian Anderson.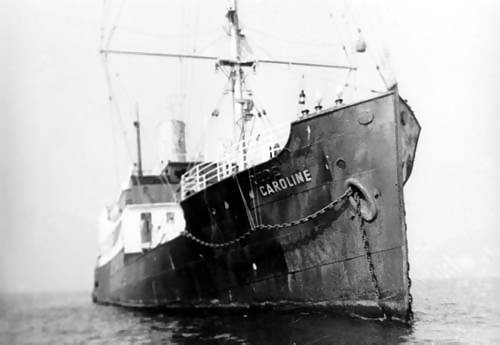 The Caroline North ship, mv. Fredericia, November 1965.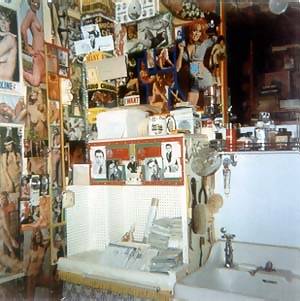 Don's cabin on Radio Caroline, showing just part of his substantial collection of pin-ups.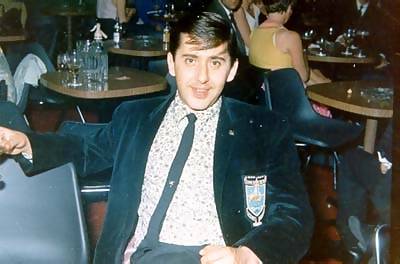 Don in an Isle of Man casino, 14th August 1967.

1973 fan club car sticker.
Don Allen sitting in for Jerry Leighton on the Leighton Early Show on Radio Caroline North 8th March 1966. The birthday dedication is for his wife Sandy. 8th March was also Don's own birthday (duration 5 minutes 9 seconds)

A few of the huge collection of jingles that would enliven every Don Allen programme (duration 1 minute 18 seconds)