Part Ten: Fool If You Think It's Over
It had become a standing joke how the media were always keen to write Radio Caroline's obituary but, even to the most loyal and dedicated fan, the abandoning of the mv Mi Amigo in January 1979 really did seem like the end.

Amazingly though, when the weather calmed down and a salvage crew was able to get out there the following afternoon, they found that the ship was still floating although a lot of water had got in. Peter Chicago, the chief engineer, volunteered to stay aboard, alone, overnight with just enough paraffin to keep the navigation lights burning.

The next day six others joined Peter to help with the mopping up including DJs Tony Allan, Roger Mathews and Tom Anderson. Once again the Mi Amigo had survived.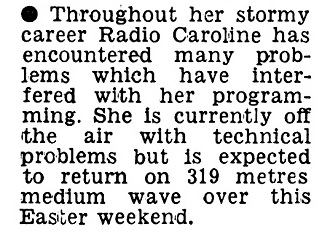 The London Evening News of 14th April 1979 reveals that Caroline is about to return to the air. The full article is here.
While Caroline was having troubles at sea, the listeners' magazine Caroline Newsletter was having problems with officialdom on land. The police warned the printer that if he agreed to print the seventh issue of the magazine he would be liable for prosecution under the Marine Offences Act. The circulation manager June Sutton was threatened too. Fortunately no charges followed and later, in a special edition of the newsletter dated Winter 1979/80, she revealed to the readers what had been going on behind the scenes.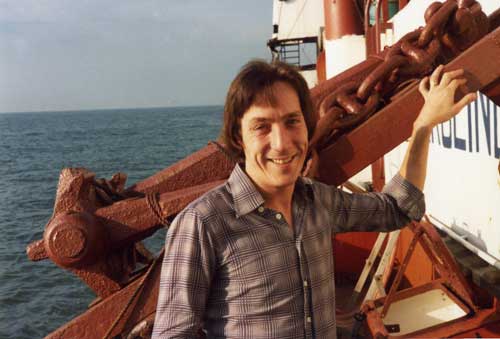 Tony Allan on the Mi Amigo. Photo by Marc Jacobs, kindly provided by Hans Knot.
Easter 1979 was Radio Caroline's 15th birthday. The station had been off the air for nearly six months. Despite this, thousands of fans tuned in to 963 kHz ("319 metres") just in case - and they were not disappointed. There was a signal. Caroline was back!

At 9.36am on Easter Sunday, 15th April 1979, non-stop music began; at 10.08 it was announced that programmes would resume at 11am and, sure enough, at 11.00 BST, 12 noon Dutch time, DJ Tony Allan re-opened proceedings. After The Fortunes' theme tune had died away, he taught the doubters a lesson. He played Chris Rea's Fool, If You Think It's Over. Caroline was unstoppable - now with a Dutch service by day, English at night.
Tony Allan reopens Radio Caroline on Easter Sunday 1979. This is an edited version of a recording shared on The Offshore Radio Club Forum by Mart538. Our thanks to him (duration 6 minutes 59 seconds)
Although they were now broadcast as Radio Caroline, the Dutch shows sounded very similar to those of the late Radio Mi Amigo - not surprisingly as three of the DJs had previously worked on that station - Herman de Graaf, Johan Visser and Rob Hudson, later joined by a fourth: Marc Jacobs. All that was missing were the advertisements for waffles! Despite using the Radio Caroline name, the Dutch output was a separate concern. The new service was owned by Fred Bolland and run by Ben Bode. They hired the airtime from Caroline founder Ronan O'Rahilly and sold the advertising for it. The English programmes picked up where they had left off the previous year. Within days it seemed that Caroline had never been away.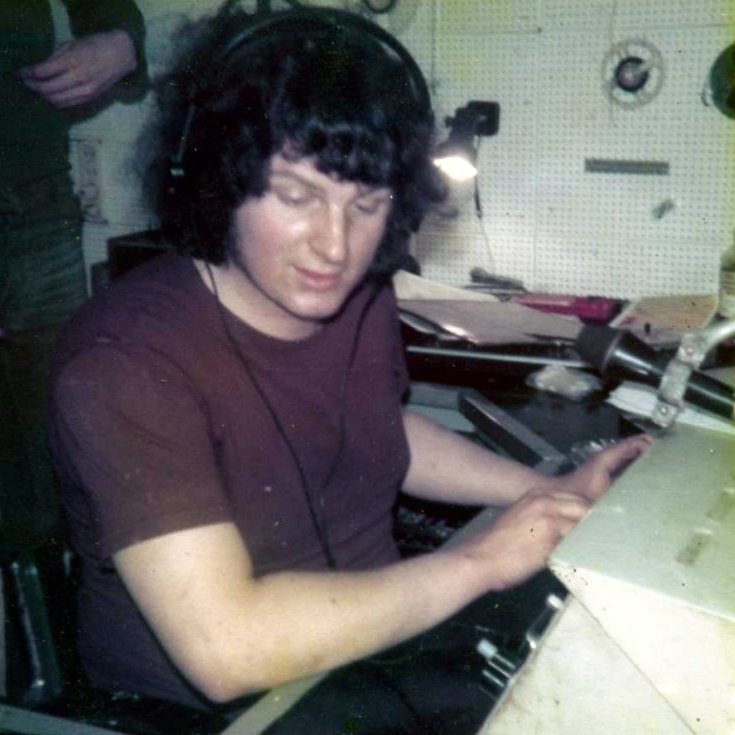 Stephen Bishop, now known as Johnny Lewis. Photo kindly provided by his Rounds And Sounds website.
Most of the English DJs had been with the station before but there was one new voice, Stephen Bishop. Later known as Johnny Lewis, he is still with the current incarnation of Caroline, along with Stuart Russell (now called Nigel Harris) and Martin Fisher. Another 'new boy', Nick Richards, was first heard on air in September.

The frequency change of 962 to 963kHz had been necessitated by the Geneva Frequency Plan of 1975 which had come into effect on 23rd November 1978, while Caroline had been off the air. The divisions of the radio spectrum had altered, meaning that many stations across Europe had been forced to change frequency.

During early May the station closed early most evenings, eventually settling on a 10pm closedown. The following month the schedule was augmented by a number of sponsored shows, mainly evangelical, taking up as much as two hours of airtime a day. Roy Masters's How Your Mind Can Keep You Well in a Moment of Truth went out for an hour in prime time every evening. These programmes were a tremendous intrusion into the station sound but they brought much needed revenue to the Caroline coffers, depleted as they were after an expensive winter off the air. There were also Dutch religious shows courtesy of Dominee Tournavliet and Johan Maasbach.

Other income continued to be raised by The Caroline Roadshow, a mobile rock disco which played successfully all over Essex, Kent and East Anglia.
SOME 1979 / 1980 RADIO CAROLINE PROGRAMME SCHEDULES

from 16th April 1979
August 1979
2nd-16th February 1980


Monday-Friday
6.00am Non-stop music
6.30 Paul de Wit
8.00 Non-stop music
9.00 Ad Roberts
11.00 Herman de Graf
1.00pm Paul de Wit
3.00 Rob Hudson
4.30 Dominee Tournavliet *
5.00 Tom Hardy
(mon 'Countdown of Album Sound')
8.00 Tom Anderson or Stephen Bishop
10.00 Tony Allan
12.00am Closedown

Saturday
06.00am Non-stop music
6.30 Herman de Graf
8.00 Non-stop music
9.00 Ad Roberts
11.00 Herman de Graf
12.00pm Paul de Wit (Top 50)
3.00 Rob Hudson (Disco Show)
4.30 Dominee Tournavliet *
5.00 Tom Anderson
8.00 Stephen Bishop
10.00 Tony Allan
12.00am Closedown

Sunday
6.00am Non-stop music
6.30 Herman de Graf?
8.30 Dominee Tournavliet *
9.00 Ad Roberts
11.00 Rob Hudson
12.00pm Johan Visser (Oldies Show)
1.00 Paul de Wit, Rob Hudson and Ad Roberts (Sunday Matinee)
4.30 Dominee Tournavliet *
5.00 Tom Anderson (Listener's Top 30)
8.00 Stephen Bishop
10.00 Tom Hardy
12.00am Closedown




* sponsored programme.


ENGLISH SERVICE For the first ten days of August, the only English DJ on the ship was Stephen Bishop. He was assisted by Dutch colleague Marc Jacobs presenting a few shows in English. On 11th.August, Stuart Russell joined Stephen:

Monday
5.30am sponsored religious shows
6.00 Dutch Service
5.00pm 'Countdown of Album Sound' (Stephen Bishop) [with interruptions 6.00-6.15, 6.15-6.30, 7.00-8.00 for sponsored shows]
9.00 Stuart Russell
10.00pm Closedown

Tuesday-Friday
5.30am sponsored religious shows
6.00 Dutch Service
5.00pm Stephen Bishop
7.00 'How Your Mind Can Keep You Well In A Moment Of Truth' *
8.00 Stuart Russell
10.00 Closedown

Saturday
5.30am sponsored religious shows
6.00 Dutch Service
5pm Stuart Russell
7.00 'How Your Mind Can Keep You Well....' *
8.00 Stephen Bishop
10.00 Closedown

Sunday
5.30am sponsored religious shows
6.00 Dutch Service
5pm Stephen Bishop (Listeners Top 30)
6.00 sponsored shows
8.00 'Sunday Joint' (Stephen Bishop, Stuart Russell, engineers and crew)
10.00 Closedown




All times BST/CET.


NIGHT TIME SCHEDULE
Monday-Friday
6.00pm 'Space Play'
7.00 sponsored programmes
9.00 Tom Hardy
11.00 Mike Stevens (mon:'Countdown of Album Sound')
1.00am Stevie Gordon
4.00 'Night Watch' (Stephen Bishop)
6.30 Closedown

Saturday
6.00pm 'Space Play'
7.00 sponsored programmes
9.00 Listener's Top 30 (Stevie Gordon)
12.00am Tom Hardy
3.00 'Madrigada' (Mike Stevens)
6.30 Closedown

Sunday
6.00pm 'Space Play'
7.00 sponsored programmes
9.00 Listener's Top 30 (Mike Stevens)
12.00am Stephen Bishop
3.00 'Madrigada' (Tom Hardy)
6.30 Closedown

Tom Anderson, Marc Jacobs, Tony Allan and other members of the team gather in the Caroline studio for the Sunday Joint on 24th June 1979. This clip is taken from a studio recording shared on Martin van der Ven's Offshore Radio Guide by Marc Jacobs. Our thanks to Martin and Marc (duration 5 minutes 26 seconds)
| | |
| --- | --- |
| | |
| Tom Anderson. Photo shared on Facebook by Jeremy Chartham. | Dutch DJ Marc Jacobs, left, and Tony Allan. Photo shared on Facebook by Jeremy Chartham. |
During the summer of 1979 Caroline was not alone in the North Sea, as both Radio Mi Amigo and Radio Delmare briefly returned from new ships.

Radio Delmare was run by Gerard van Dam, formerly of Radio Caroline, and operated by the people behind the long-running Dutch land-based pirate Weekend Music Radio. The station had first been heard the previous year when programmes were broadcast from the mv Aegir. The station had broadcast in August / September 1978 but in the early hours of Monday 11th September, during bad weather, the anchor chain parted and the tiny ship began drifting towards some rocks. Fortunately assistance was at hand. The tug Smitbank towed the Aegir into harbour where the crew were arrested and the ship impounded. The Delmare organisation announced that it would return with a new ship but in January 1979 they suffered a set-back when the mv Epivan, intended as a replacement for the Aegir, was impounded by the Dutch police. Still the enthusiasts did not give up and in April their third ship, the 270 ton former fishing boat, Martina, now called Aegir 2, put to sea. Signals were initially erratic, beginning on 2nd June on 1575 kHz then, from 9th June, stabilising onto 1566 kHz. Programmes were a mixture of live and pre-recorded shows.
Richard Thompson plays Radio Delmare's theme tune - Jeff Wayne's The Eve of the War - and welcomes the rival station on to the air. Radio Caroline 8th June 1979. This recording courtesy of The Offshore Radio Archive (duration 4 minutes 44 seconds)
Tuning around the AM band on the evening of 26th June 1979. First we hear some of Radio Mi Amigo's test transmissions, complete with seagull sound effects, then a bit of Delmare's theme tune, back to Radio Mi Amigo, then Delmare again for a short clip of the on-air DJ, then back to non-stop instrumentals on Radio Mi Amigo. This recording kindly provided by Hans Knot (duration 1 minute 48 seconds)
Radio Mi Amigo began test transmissions on 25th June 1979 on 1100 kHz, 272.7 metres from a 69 metre long former grain transporter called Casablanca, now renamed Magdalena and anchored off Zeebrugge, Belgium. On Sunday 1st July she began transmitting programmes. The ship was registered in Puerto Cortes, Honduras, and had been fitted out in Greece. Two former Mi Amigo DJs Ton Schipper and Ferry Eden joined the new ship. Initially the new Mi Amigo broadcast 24 hours a day but this was quickly cut back and the station was frequently off the air for unexplained technical reasons. It was not until 9th September that it moved onto a recognised broadcast channel, 1098 kHz, 273.2 metres. Unfortunately for British listeners, reception was poor because of BBC Radio One being on an adjacent frequency.

Things did not go well for either venture. The new Mi Amigo ship drifted four times in August and twice in September. On Friday 14th September she dragged her anchor and was carried in a north-easterly direction. On Monday she grounded on a sandbank. From there she moved on again. On Tuesday morning the non-stop music programme cut off abruptly at 6.10am as the Magdalena entered territorial waters. The captain was on shore leave and no one aboard could get the engines started. In the force 8 winds the ship continued to drag her anchor until she found another sandbank. There she began to take in water. Eventually the Dutch authorities pulled her off, towed her into harbour, and took her into custody. It was a sad, ignominious end to Radio Mi Amigo, but also a confusing one as the ship from which the station had taken its name was still broadcasting as Radio Caroline. The Magdalena was later sold for scrap.

And on Radio Delmare, by September, there was only one person left aboard. Johan Rood, an engineer, was running the station single-handed, maintaining the ship and all the equipment, presenting some programmes and running the tapes, as well as cleaning and cooking. Eventually it became too much and the station closed on 28th September. In October five people were arrested attempting to take supplies out to the ship. Soon afterwards another tender enabled Johan to escape ashore and his place was taken by the ship's owner, a Mr Keers. He stayed out there on his own until, after running out of food and water, he gave up and set sail for shore. On the way back his engine packed up and, on 31st October, the Aegir 2 was towed into Stellandam harbour where, like her predecessor, she was impounded.

By the autumn, Caroline was on her own again. In September Wilson, the station's pet canary, passed away. He was buried at sea with due solemnity and later replaced by another bird, Wilson 2.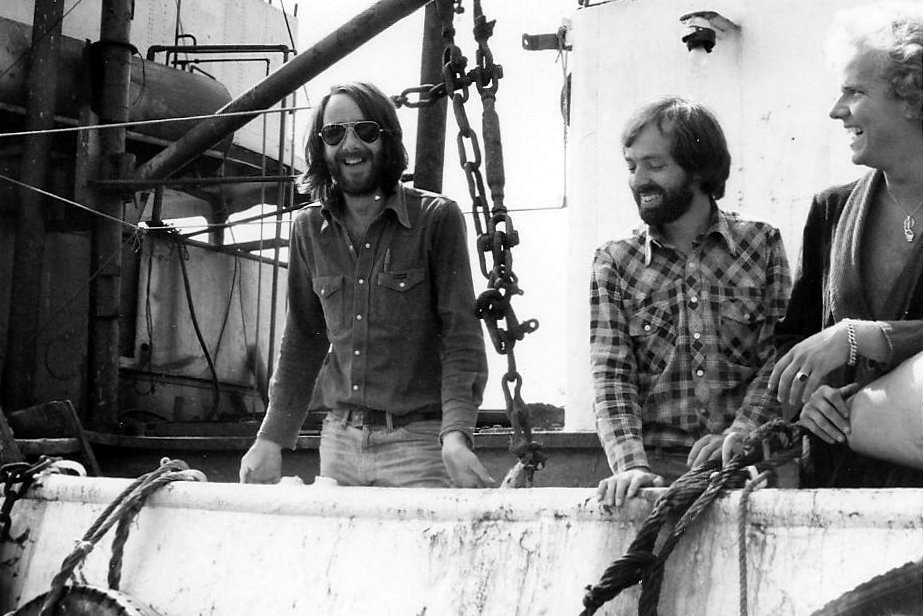 Left to right: Mike Stevens, Martin Fisher and Marc Jacobs. Photo posted on Facebook by Stevie Gordon.
During October problems with money and with the tendering from Holland caused all the Dutch DJs to leave the ship. Their English colleagues took over the daytime shows - practising their Dutch and playing continental hits. This interruption to the normal service was prolonged by the Belgian authorities intercepting a loaded trawler in Zeebrugge harbour carrying food, fuel and new programme tapes. Fortunately the difficulties on land were resolved and at the end of the month the Dutch Service resumed. (There is a timeline covering the Dutch Caroline programmes, in Dutch, on the Radiopedia website.)

In November the station began running a daily pre-recorded two hour show called Space Play, made in Los Angeles by former Caroline DJ Mike Hagler, now using the name Michael Light. Mike's friends Emile Garrett, Cyril Scott and Sara Leone also occasionally hosted the show.
"Michael Light" starting an edition of Space Play on Radio Caroline. This is a clip from a recording shared on The Offshore Radio Club Forum by Hans Hendriks. Our thanks to him (duration 2 minutes 21 seconds)
The Caroline schedule now continued until 2am each day and, just before Christmas, it was extended to full 24 hour broadcasting. The all-night programming continued after the festive season was over although in January the service was slightly reduced to twenty-three and a half hours, allowing engineering checks to be carried out each day between 5.30 and 6.00am GMT.
Stuart Russell seeing in the New Year and the new decade with the help of Richard Thompson out on deck. This clip is taken from a longer recording available from www.azanorak.com (duration 4 minutes 16 seconds)
As Caroline rocked on into the '80s, efforts were being made to find a replacement ship. Even the greatest optimist realised that the mv Mi Amigo couldn't last forever.
Back to part nine.
Two articles about Caroline from the London Evening News in 1978/1979 are here.
The final part of 'Caroline In the 70s' is over the page.