1971
Following the seizure of the two Caroline ships in March 1968, a few Christmases passed without any English-language offshore radio in Europe. Radio Northsea International was launched in 1970 but closed again a few months later, not lasting through to Christmas that year. In early 1971 though it returned to the air and by Christmas was well established with Dutch programmes during the day, English at night.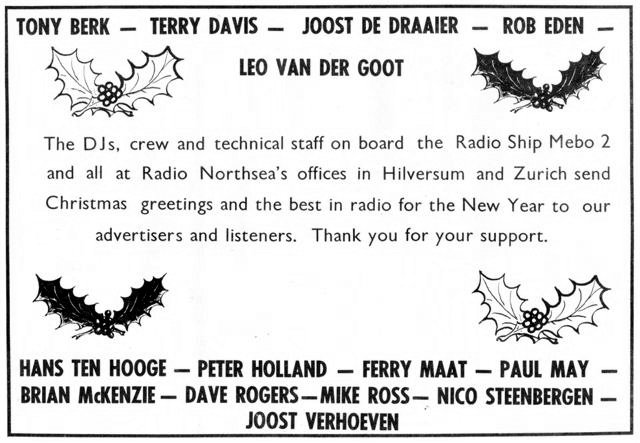 Christmas greetings from Radio Northsea International. Advert from 'Record Mirror', issue dated 18th December 1971, courtesy of Munro Jack.
Dave Rogers and colleagues having a Christmas night party on RNI with a singalong version of We Shall Overcome. Recording courtesy of The Offshore Radio Archive (duration 5 minutes 5 seconds)

On New Year's Eve, the disc-jockeys took it in turns to play their favourite records of the year:
Robb Eden starting to spin his fifteen favourite tracks from the past twelve months. Recording courtesy of Manfred Steinkrauss (duration 4 minutes 12 seconds)

Because of the one hour time difference between the UK and Holland, the Dutch disc-jockeys on RNI celebrated New Year ahead of their British colleagues.
Following the Dutch New Year celebrations, Paul May with Robb Eden, Brian McKenzie and Dave Rogers build up to midnight in the UK. These are a couple of clips taken from a recording made available by The Offshore Radio Archive (duration 7 minutes 10 seconds)
---
1972
During the autumn of 1972, Caroline's mv Mi Amigo put to sea again and began broadcasting off the Dutch coast. Output over the first few months was erratic and, for a while, the station was known as 'Radio 199' but it was called Radio Caroline again by Christmas. And, just a mile away, Radio Northsea International was on the air too.

8pm on Christmas Eve and Mike Ross is joined in the studio by some of his colleagues during the Hitback Show. As well as Mike, you can hear Don Allen, Mark Slate and Father Christmas, alias Arnold Layne. An extract from Offshore Echo's tape Offshore Classics vol.3, used with kind permission (duration 4 minutes 22 seconds)

Christmas morning on Caroline with Crispian St.John, kicking off a day of mixed Dutch and English programmes. The clip includes an advert for Gold, a film produced by Caroline's founder Ronan O'Rahilly. The recording is taken from a cassette called 21 Years - A Lady vol.II marketed in 1985 by J.E Patrick. This particular copy is from Martin Lynch's collection and has been kindly donated by Lynne Sims (duration 2 minutes 45 seconds)

Andy Archer and Crispian St.John, on board the Caroline ship, had both previously worked on RNI so it was only natural that the two stations should link up to exchange the season's greetings. It sounds as if there may have been some alcohol invoved too!
Robb Eden and A.J Beirens on RNI sharing a few in-jokes with Andy Archer and Crispian St.John on Caroline on Christmas Day. Recording from the Offshore Multimedia CD-ROM (duration 2 minutes 37 seconds).

New Years Eve on RNI as Don Allen and Arnold Layne say hello to some former colleagues. Don keeps accidentally referring to Arnold as "Roger", the name he used when the two of them had previously worked together. Recording from the Golden Radio NL archive shared on the Internet Radiocafé, now known as the Radiotrefpunt (radio meeting point) forum by MartinJA. Our thanks to him (duration 6 minutes 52 seconds).
---
1973
Offshore radio was about to undergo another boom time at the end of 1973. As well as the well-established Radios Veronica and Northsea International, on the Mi Amigo test transmissions were going out for the launch of a new Belgian station, Radio Mi Amigo, shortly to be joined by the English-language programmes of Radio Seagull; and on the mv Jeanine, low powered test broadcasts were running for the launch of another Belgian-owned station, Radio Atlantis.

Not mentioning any station name while in test broadcast mode (although the sound of the Caroline bell makes it pretty obvious) Norman Barrington and Andy Archer celebrate Christmas on the mv Mi Amigo. Recording courtesy of Paul de Haan (duration 5 minutes 20 seconds)

There was to be no link-up between RNI and Caroline at Christmas 1973 - the RNI bosses had forbidden it after the previous year's frivolities - but there was still plenty of fun on both ships.

Christmas Eve on RNI and it is a special festive edition of Don Allen's Country & Western Jamboree. The programme had been recorded to go out on Christmas Day but a last-minute schedule change meant it was broadcast a day earlier. Recording kindly donated by Hans Knot (duration 4 minutes 16 seconds)

Robb Eden with a number of colleagues at just after midnight Central European Time on 25th December 1973. This clip is taken from a recording posted on The Offshore Radio Club Forum by Hans Hendriks. Our thanks to him (duration 10 minutes 35 seconds)

New Year's Eve on RNI and Mike Ross, his wife Sheila, Brian McKenzie and Robb Eden welcome in 1974. Recording kindly donated by Hans Knot (duration 4 minutes 17 seconds)

And just down the coast Radio Atlantis had just started broadcasting from its new ship, the mv Jeanine:
Crispian St.John, on the air at midnight UK time, wishes everyone, including political leaders and the British royal family - all, no doubt, regular listeners - a happy new year! Recording courtesy of The Offshore Radio Archive (duration 3 minutes 33 seconds).
---
1974
In August 1974 the Dutch anti-pirate legislation forced the closure of Radios Veronica, Atlantis and Northsea. However the two stations based on the mv Mi Amigo continued, Radio Mi Amigo by day, Radio Caroline at night - northern Europe's last remaining pirates.

Simon Barrett opens up the programmes of Radio Caroline on Christmas night 1974, plays a special Christmas jingle and says hello to a few friends (duration 4 minutes 20 seconds)

The other Caroline DJ on duty over Christmas, Tony Allan, also sends out some festive greetings. Both clips taken from recordings made available by The Offshore Radio Archive (duration 3 minutes 51 seconds)

Tony Allan and some of the crew with their New Year messages at 11pm GMT, 12 midnight Central European Time, on 31st December 1974. Recording kindly provided by Hans Knot (duration 5 minutes 44 seconds).
---
1975
The latter part of 1975 was not a good time for Caroline. In November their ship, the mv Mi Amigo, lost her anchor in a gale and drifted inside the UK territorial limit. After a bungled towing attempt, the station returned to the air while still inside British waters, resulting in a police raid and the arrest of four people. After a couple of weeks silence, the station returned from outside the limit on 26th November but it was a relatively subdued festive season, with just two DJs on board, Geoff Bolan and James Ross.
On Christmas evening Geoff and James read out some of the Christmas cards that had been sent to the station (duration 3 minutes 52 seconds)
James Ross on New Years Eve, ending a bad year for Caroline and looking forward to a better 1976. Both clips are taken from longer recordings available from www.azanorak.com. Our thanks to Jim Nantz and Ray Robinson (duration 3 minutes 50 seconds)
---
1976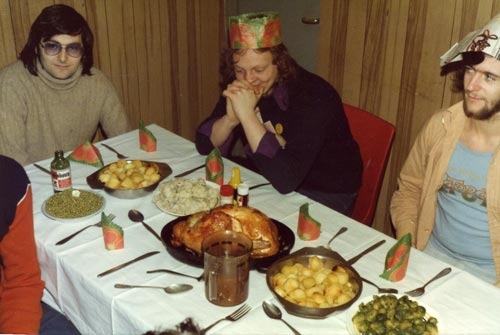 Christmas dinner on the Mi Amigo, 1976. Left to right Steve Kent(?), Mark Lawrence and Tom Anderson. Photo kindly provided by Hans Knot.
For some years in the early seventies Radio Caroline only broadcast a night-time service but, from May 1976, the station was able to provide 24 hours a day English-language programmes again. Over that Christmas and New Year period Mark Lawrence, Tom Anderson, Ed Foster and Steve Kent presented a number of festive shows including an All-Time Top 100, produced in conjunction with Wavelength magazine, individual DJs counting down their own Top 30 favourite tracks, an album review of the year and some music specials.

Ed Foster, a bleary-eyed Steve Kent, Ed again, Mark Lawrence and a short clip of Tom Anderson from Radio Caroline's Christmas Day 1976 output kindly provided by John Ashworth (duration 7 minutes 18 seconds)

James Ross and Ed Foster kick off the All-Time Album chart on 1st January 1977. This is an edited version of a recording shared on The Offshore Radio Club Forum by Paul de Haan. Our thanks to him (duration 3 minutes 44 seconds)
---
1977
During November 1977 severe storms hit the North Sea and both Radio Caroline and Radio Mi Amigo were silenced for a time. Although the anchor chain held, the appalling weather prevented a tender reaching the ship and the DJs were forced to endure dreadful conditions and little food. Eventually the weather subsided and the stations returned to the air on 22nd November. However at the beginning of December Radio Caroline reverted to night-time broadcasting only with Radio Mi Amigo filling the daytime hours. At Christmas Roger Mathews and Stuart Russell were three quarters of the way through a massive four month stay on board and had been joined by Brian Martin.

Stuart Russell at 7pm on Christmas Day 1977 on Radio Caroline (duration 3 minutes 13 seconds)

New Years Eve - Roger Mathews, Brian Martin, Stuart Russell, Radio Mi Amigo's Ferry Eden and others welcome in 1978 on Radio Caroline. Both clips are taken from longer recordings available from www.azanorak.com. Our thanks to Jim Nantz and Ray Robinson (duration 5 minutes 18 seconds)
---
1979
Radio Caroline was off the air from 20th October 1978 until Easter Sunday 1979 so there were no Christmas broadcasts in 1978. When the station returned to the air in 1979 it had a Dutch service by day, English at night.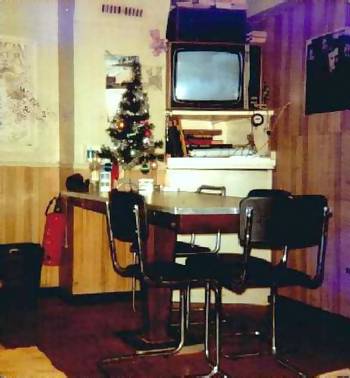 The mess room on the Mi Amigo at Christmas 1979. Photo kindly provided by Johnny Lewis's Rounds And Sounds website.
1979 promotion for Radio Caroline's Christmas programmes (duration 59 seconds)

Tom Anderson and Stevie Gordon were on leave over Christmas 1979, so they recorded this message to be broadcast while they were on shore (duration 3 minutes 37 seconds)

Stephen Bishop is the victim of a practical joke while presenting The Caroline Countdown of Album Sound on Christmas Day 1979. Both this and the recording above were donated to www.azanorak.com by Bill Rollins. Our thanks to Bill and Ray Robinson (duration 2 minutes 56 seconds)

Stuart Russell seeing in the new year and the new decade with the help of Richard Thompson out on deck. This clip is taken from a longer recording also available from www.azanorak.com (duration 4 minutes 16 seconds)