With the passing of the Dutch legislation in August 1974, Radio Caroline was now a total outlaw - one small ship against all the governments of northern Europe. Not only was there a new Dutch law to contend with but the British Marine Offences Act too. On Thursday 31st October a small boat carrying DJs Andy Archer, John Mair, Johnny Jason and engineer Clive Correll was stopped on its way back from the Mi Amigo to Burnham-on-Crouch, Essex. Everyone was searched, questioned and cautioned that they could be charged with an offence.
Johnny Jason on Radio Caroline from the evening of 18th January 1975. Recording shared by 'Scotty' on the Internet Radiocafé, now known as the Radiotrefpunt (radio meeting point) forum. Our thanks to him (duration 3 minutes 14 seconds)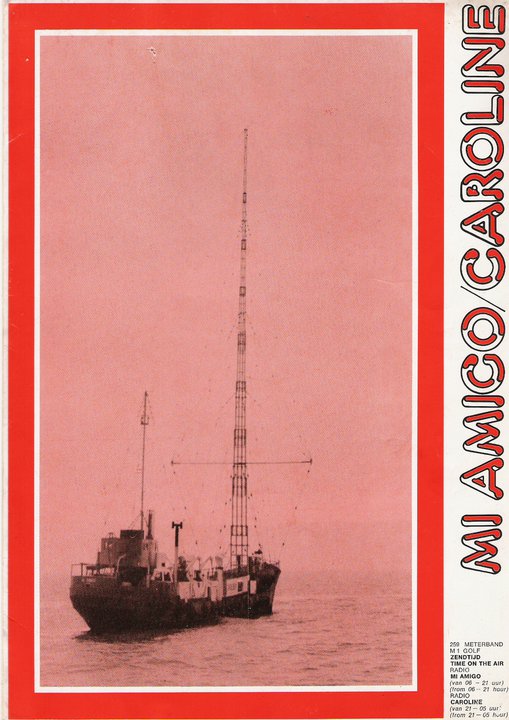 Radio Mi Amigo rate card. Scan shared on Facebook by Don Stevens.
Since the closure of the Dutch office, Caroline's day-to-day operations were now mainly run from the UK and France. Working outside the law was difficult but fortunately they had the successful daytime service, Radio Mi Amigo, paying the bills. With the demise of the other Dutch/Belgian stations, Mi Amigo was now doing exceptionally well. Its regular payments to Caroline ensured the technical upkeep and crewing of the ship. Caroline also used Radio Mi Amigo's mailing address in Playa D'Aro, Girona, Spain.

The difficulties inherent in running an illicit radio station were emphasised on 26th November when, again, a tender was intercepted and everyone aboard warned of possible prosecution. The ship-to-shore link was also confiscated and its operator threatened with legal action under the Wireless Telegraphy Act. On top of this he lost his job after intervention from the Home Office, as did an engineer at London's Capital Radio who had been helping Caroline on the side. The authorities were obviously not content to sit back and watch the law flouted. Pressure was also applied on record companies. They were requested not to supply their releases (although of course they denied doing so) and advertisers were threatened with prosecution. To the listeners though, things seemed to be improving. The programmes were stabilising, the technical quality fairly high and, in January 1975, with a further widening of the music policy, a growing audience. Although Caroline was still featuring a Top 50 album playlist, the disc-jockeys were allowed to feature tracks by other artistes as well and this gave them the flexibility needed to produce some excellent programmes.

By the spring of 1975 Caroline was claiming 3 million listeners spread throughout twenty countries. However programming was cut back during the summer, first by three hours, and then, in June by a further hour a day so that the station was closing each night at 2am.
Simon Barrett ending his show and Don Stevens starting his, either side of 10pm on 18th April 1975, edited from a recording shared by The Offshore Radio Archive (duration 2 minutes 27 seconds)
Phil Mitchell on Radio Caroline from the evening of 26th June 1975. Recording shared by 'Scotty' on the Internet Radiocafé, now known as the Radiotrefpunt (radio meeting point). Our thanks to him (duration 3 minutes 29 seconds)
SOME 1975 RADIO CAROLINE PROGRAMME SCHEDULES

14th January-4th March 1975
14th March-25th April 1975
30th July-5th September 1975


7.00pm Johnny Jason
10.00 Dave Owen
1.00am Johnny Jason
4.00 Dave Owen (-06.00)




7.00pm Simon Barrett
10.00 Don Stevens
1.00am Simon Barrett
4.00 Don Stevens (-06.00)

All times BST/CET.



7.00pm Michael Lloyd
10.00 Alan Simons
12.00am Nigel Elgin
2.00 closedown (-06.00)
Michael Lloyd on Radio Caroline from the evening of 31st August 1975 (duration 3 minutes 20 seconds)
Alan Simons on Radio Caroline from later the same evening, playing two hours of music by female artists. Both clips taken from recordings shared on The Offshore Radio Club Forum by Hans Hendriks. Our thanks to him (duration 3 minutes 28 seconds)
From the same night, Nigel Elgin. Edited from a recording shared on the internet by Jan-Fré Vos. Our thanks to him (duration 4 minutes 21 seconds)
On the morning of Sunday 24th August some non-stop unannounced music broadcasts went out from the Mi Amigo on 773 kHz, 388 metres. These tests went on all day and the following morning as well but at midday both transmitters had to go off so that work could be carried out on the aerials. The stations were off until the 28th and, when they returned, 1187 kHz was on low power. Caroline closed at midnight for engineering work for a number of days but, by the beginning of September, programmes were back to normal and on full strength. Music broadcasts continued on 773 kHz and jingles identified these as being from Caroline, although no announcements were made, and signal strength was low. The first speech broadcast on that frequency took place on Sunday 14th September when, during a storm, a small boat sailing near the Mi Amigo got into difficulties and the taped shows on both frequencies were interrupted so that an appeal for help for the sailors could be transmitted.
Radio Mi Amigo's programmes are interrupted with an appeal for assistance on behalf of a yacht in trouble and then, later on Radio Caroline, Kelvin Carter thanks the rescue services for their help. Recording shared on www.azanorak.com by Bill Rollins. Our thanks to Bill and Ray Robinson (duration 2 minutes 12 seconds)

Click on the headline above to see two pages of press cuttings relating to offshore radio in 1975.
On 18th September the first ever prosecutions under the Marine Offences Act took place at Southend Magistrates Court. DJs Andy Archer and John Mair pleaded guilty to broadcasting on Caroline. They were each fined £100 plus £50 costs. Former Capital Radio engineer Mike Baker pleaded guilty to supplying records. He was fined £100 plus £50 costs and ordered to pay £50 towards his legal aid. Arthur Ord, a Brightlingsea boatman, was fined £25 plus £10 costs for carrying DJ Dave Owen back to England.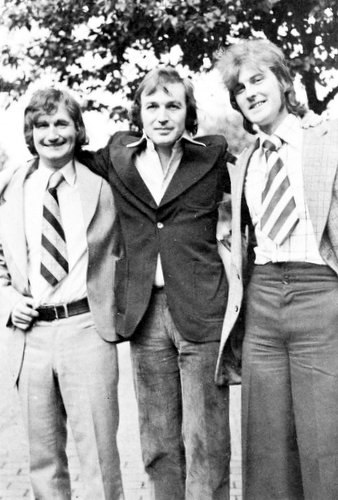 Left to right: Mike Baker, Andy Archer and John Mair attend their trial. Photo from 'Radio Caroline Picture Souvenir Book', published by MRP Books.
On the 9th October another boatman, Vincent Ferguson, was ordered to pay a total of £100 but DJ Johnny Jason pleaded not guilty and his case was transferred to a Crown Court. In Holland too, pressure was mounting. On 7th October a small boat was intercepted between the Mi Amigo and the port of Stellandam.

At the beginning of October, some actual programmes, as opposed to non-stop music, went out on 773 kHz and reception reports were requested although the power was still very low. Too low. The signal was not strong enough. On 15th October these test transmissions came to an end. It would be some months before Caroline would be able to launch a second service.

On the night of Saturday 8th November 1975 the Mi Amigo very nearly met a disastrous end. During a force 6 gale the ship lost her anchor and drifted onto a sandbank. DJ Simon Barrett kept the music playing while asking listeners to phone the London office. As the tide rose the boat rode free and managed to make some headway into the wind under her own steam, but in the wrong direction. The ship had no navigational aids. As the storm intensified the bad weather became too much for the small ship and, just after 10 o'clock, Caroline closed down as the crew believed the ship had drifted inside territorial waters. The Mi Amigo was just about able to keep stationery by using her engines at full power steering into the wind and eventually, at about 1am, the crew managed to drop an emergency anchor. Unfortunately the ship then came to rest rather too close to a buoy and a constant watch was required to ensure it did not damage the Mi Amigo.
On the evening of 8th November 1975 Simon Barrett ends his show, Michael Lloyd starts his but almost immediately engineer Peter Chicago interrupts to announce that the Mi Amigo is about to drift inside territorial waters and must go off the air. Recording shared by Hans Hendriks on The Offshore Radio Club Forum. Our thanks to him (duration 4 minutes 29 seconds)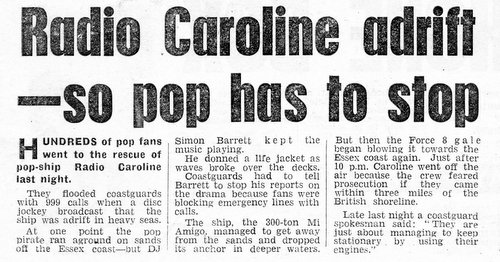 'Sunday Mirror', 9th November 1975.

'The Daily Telegraph', 15th November 1975.
The bad weather continued and it was not until Wednesday that a supply boat could get out with a new anchor. During this time the Port of London Authority complained that the Mi Amigo was a danger to shipping. They also offerd to help by towing the ship but, because of fears that the vessel would be impounded, this was refused. Eventually a tender did arrive and an attempt was made to tow the radio ship back outside the limit. This was less than successful and in fact the Mi Amigo was slightly damaged in the process. After pulling her less than a mile, the tender gave up and the operation abandoned. The new anchor was fitted and, on the evening of Thursday 13th, Caroline returned to the air after Radio Mi Amigo had resumed at 9.30 GMT that morning. Simon Barrett and Michael Lloyd thanked everyone for their help and hard work, and sounded delighted to be back. What the listeners didn't know was that the Mi Amigo wasn't alone. The authorities were in attendence too, observing the radio ship from two nearby boats. The guys on the Mi Amigo were nervous that some sort of boarding party was about to be launched so decided to carry on broadcasting right through the night, rather than closing at 2am. They were right to be concerned.
Simon Barrett opens up the programmes of Radio Caroline on the evening of 13th November with some grateful thanks to those who assisted the station. Recording shared on www.azanorak.com by Bill Rollins. Our thanks to Bill and Ray Robinson (duration 3 minutes 50 seconds)
At 2.50pm GMT the following afternoon Radio Mi Amigo's pre-recorded Peter van Dam programme was interrupted. First there was silence, as the tape was abruptly stopped then someone opened the microphone channel on the studio mixer and the sound of arguing voices could be heard, including an instruction to "switch it off". At 3.01pm the transmitter went dead. Essex police, with the assistance of the Home Office and H.M Customs, had mounted a raid on the ship. They closed down the station, confiscated equipment and arrested four of the seven people aboard. It seemed that maybe the ship was not back in international waters as the Captain had thought (see cuttings).
The last few seconds before the microphone cable is cut, silencing the station, during the police raid on 14th November 1975. Audio taken from the CD The Legend Lives On produced by Hans Knot and released by Stichting Media Communicatie (duration 25 seconds)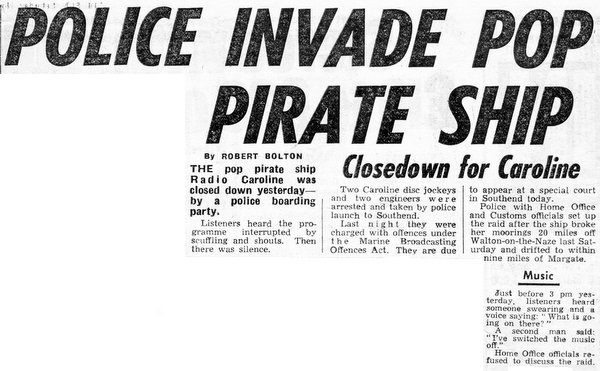 'The Sun', 15th November 1975.
The crew was left on the ship but Captain Werner de Zwart, engineer Peter Chicago and the two disc-jockeys Simon Barrett and Michael Lloyd spent the night in police cells. The next day they appeared before a special sitting of Southend Magistrates Court. All were released on bail of £1000 and the surrender of their passports. The case was set for 11th December.

Meanwhile, on 17th November, Caroline was back in the news when a lifeboat was called out to rescue two visitors from the Mi Amigo.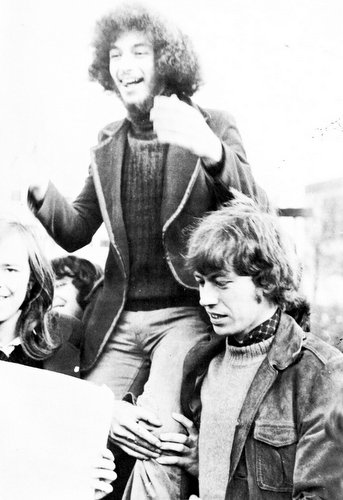 Left to right: Simon Barrett and fans outside Southend Magistrates Court. Photo from 'Radio Caroline Picture Souvenir Book', published by MRP Books.
A replacement captain and crew were sent out to the ship with a new team of DJs and an engineer. On the 23rd November the Mi Amigo moved back to her correct anchorage, outside the territorial limit, and, at lunchtime on Wednesday 26th November Radio Mi Amigo returned to the air. That night Caroline too was back. Only the 10kW transmitter was used initially but, after a few nights of closing down at midnight, the 50kW was brought back into action on 1st December. Unfortunately full-power transmissions were short-lived as the output was interrupted by the ship losing the top of the aerial mast.
A tired James Ross opens up the programmes of Radio Caroline on the evening of 26th November. Recording shared on www.azanorak.com by Bill Rollins. Our thanks to Bill and Ray Robinson (duration 2 minutes 50 seconds)
On 11th December, at Southend Magistrates Court, the Home Office requested, and was granted, powers to confiscate the Mi Amigo should the ship stray inside territorial waters again. Simon Barrett was fined £200 with £50 costs on pleading guilty to twice taking part in illegal broadcasts. He claimed that he returned to the ship after a previous warning from the authorities because a demo tape had been confiscated and he needed to make a new one. The magistrates ordered the Home Office to return his tape. Michael Lloyd was fined £50 with £25 costs and Captain de Zwart had to pay £100 for allowing his ship to be used for illegal broadcasting. Engineer Peter Chicago pleaded not guilty to maintaining the broadcasting equipment. His passport was returned and he was released on £1000 bail until 23rd February 1976 (see cutting). Simon later wrote a book, SOS Ten Days in the Life of a Lady, about the incident.
Into 1976 and Geoff Bolan wishes everyone a happy new year on Radio Caroline. This is a clip taken from a recording available from www.azanorak.com. Our thanks to Lee Mendham who donated the audio and to Ray Robinson (duration 4 minutes 7 seconds)
Despite the set-back, Caroline continued and, with the replacement of the capacitance hat on top of the aerial mast on 8th January, reception was improved and all-night programmes re-introduced.
SOME 1975/6 RADIO CAROLINE PROGRAMME SCHEDULES

6th September-18th October 1975
16th-22nd.December 1975
9th-12th.March 1976


7.00pm Kelvin Carter
10.00 Phil Mitchell
12.00 or 1.00am Robbie Duke
2.00 or 3.00 closedown (-06.00)




7.00pm James Ross
10.00 Geoff Bolan
1.00am Samantha Dubois
3.00 or 4.00 closedown (-06.00)

All times BST/CET.



7.00pm Chris Elliott
10.00 Doctor Boogie
1.00am Samantha Dubois
3.30 Chris Elliott or Doctor Boogie (-06.00)
On land, the legal battles continued. In Liverpool three men Jim Monks, Ronald Doyle and John Jackson-Hunter were charged under the Marine Offences Act. Doyle had been one of the two people rescued by lifeboat when visiting the mv Mi Amigo a couple of months earlier, but that wasn't why he was being prosecuted. His alleged crime was operating a disco called the "Caroline Roadshow". Jim Monks pleaded guilty to displaying a poster advertising the disco at the hotel he managed. The other two pleaded not guilty and the trial was adjourned until 26th April 1976.

On 23rd February 1976 Peter Chicago was back in court. Having discovered that the prosecution had possession of the ship's technical log containing his signature, he changed his plea to guilty. He was fined £100 with £50 costs and given three months to pay. The magistrates ordered the confiscation of eleven transmitter crystals seized by the police in their raid on the ship. Another DJ Don Stevens also pleaded guilty and was fined £50 with £25 costs and given 30 days to pay.

On 26th April 1976 Johnny Jason was in Southend Crown Court, the first person to fight a prosecution under the Marine Offences Act. He was charged under the section dealing with people broadcasting live on an offshore station. Johnny admitted to being a DJ, and to being on the Mi Amigo while transmissions were taking place, but his barrister pointed out that it was impossible to differentiate between live and pre-recorded programmes. Judge Martyn Ward stopped the hearing and ordered the jury to find Johnny not guilty. He said he was uneasy about asking them to make a decision on his guilt from the police evidence. However he said that the DJ had got off on a technicality and refused to award him his costs. But the important thing was Johnny had won. Jim Monks, Ronald Doyle and John Jackson-Hunter were less fortunate. In Liverpool Magistrates Court they were found guilty of promoting Caroline. After appeal, Jackson-Hunter was given a suspended prison sentence plus £500 costs for displaying a Radio Caroline car sticker. He refused to pay and spent time in prison as a result.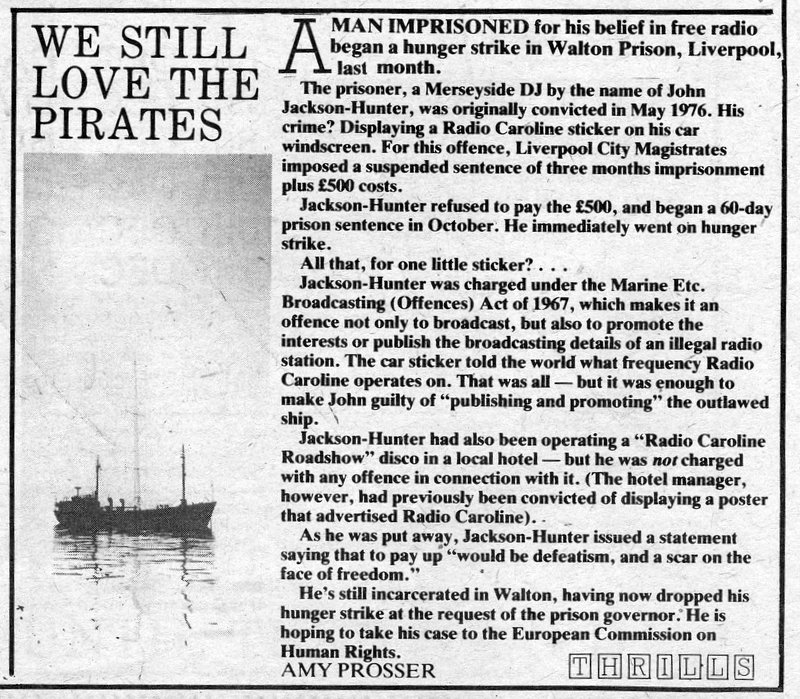 NME, issue dated 10th December 1977, reports on John Jackson-Hunter's prison sentence. Cutting kindly provided by Brian Long and Mary Payne.