Part Eight: up and down the dial, in and out of court.
We have reached late 1976 in our history of Radio Caroline in the seventies. The programmes of the new daytime service had been well-received but, unfortunately, the broadcast frequency was not a particularly suitable one. During the hours of darkness continental interference caused problems to the signal on 1562 kHz. Being close to a number of local stations on 1546 kHz (194 metres) also made it harder for some people to tune in. Radio Mi Amigo fans were also unhappy because of interference in the Benelux from a Hungarian station making it difficult for them to enjoy their station on 1187 kHz. Caroline engineers were aware of the problems and, in November '76, a test broadcast was put out on 962 kHz, 312 metres, although nothing came of it at the time.

It was finally decided that Caroline and Mi Amigo should swap frequencies. Caroline would now use 1187 kHz ("259" metres), 24 hours a day, with the 10 kW transmitter, while Radio Mi Amigo would use the 50 kW transmitter on 1562 kHz (192 metres). This wavelength change took place on 12th December and was met with a mixed reaction from Caroline listeners. There was no doubt that the daytime audience was better served by 1187 than it had been by 1562 but at night the station was now on lower power than previously, and the difference in coverage was noticeable. This led to discussions about a further change.
Ed Foster and his colleagues close Radio Caroline down on 192 metres at 11am GMT on 10th December 1976. This is an edited version of a recording available from www.azanorak.com. Our thanks to Ray Robinson (duration 3 minutes 37 seconds)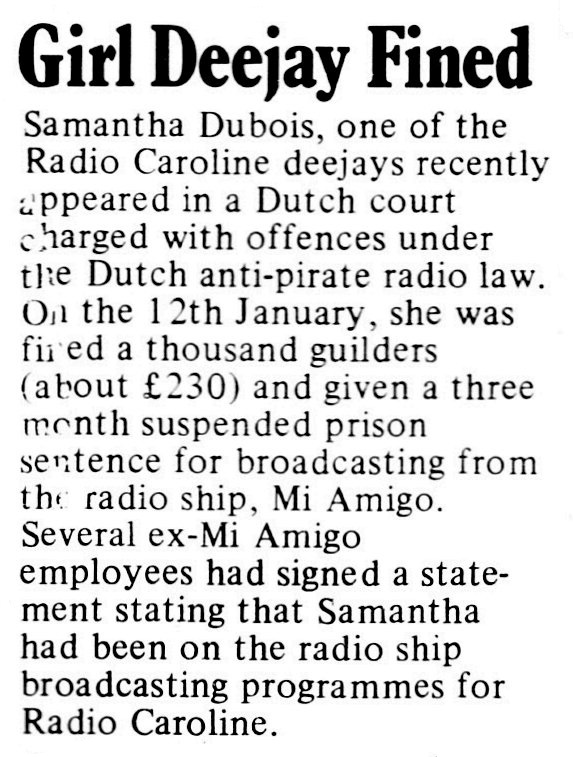 'Wavelength' magazine reports on Samantha's prosecution.
On New Years Day 1977 Caroline broadcast a countdown of a Top 100 album chart, compiled by votes from the station's listeners and readers of Wavelength magazine (see chart here). Pink Floyd did particularly well, claiming the top two positions as well as numbers 20 and 72. At a time when most UK radio stations were concentrating on playing pop singles, Caroline was providing something completely different.
James Ross and Ed Foster kick off the All-Time Album chart with some of the LPs that didn't make it into the Top 100 on 1st January 1977. This is an edited version of a recording shared on The Offshore Radio Club Forum by Paul de Haan. Our thanks to him (duration 3 minutes 44 seconds)
Following Johnny Jason's successful defence of his prosecution under the Marine Offences Act, the number of Caroline-related legal battles had noticeably reduced. This changed on 27th January 1977 when two men appeared before Southend magistrates. 67 year old Arthur Ord was making a return visit. Accompanying him was shop-keeper Dave Hutson. He had been organising day-trips out to the Mi Amigo for Caroline fans using Ord's boat. Hutson was fined £125 and Ord £200. Each had to pay £20 costs. Also in court, but in Holland, DJ Samantha Dubois was fined £230 and given a suspended prison sentence for broadcasting from the Mi Amigo and allowing her address to be used by the station. Ignoring the threat of jail, she returned to the ship and refused to pay her fine. However her grandmother paid it on her behalf.

The following month another country began legal action. On 25th February, in Lille, France, five businessmen were fined between 1000 and 5000 francs (1000 francs then being around £117) for supplying food, linen and wine to the station.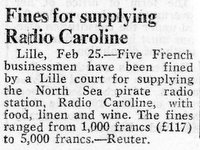 'Daily Telegraph'.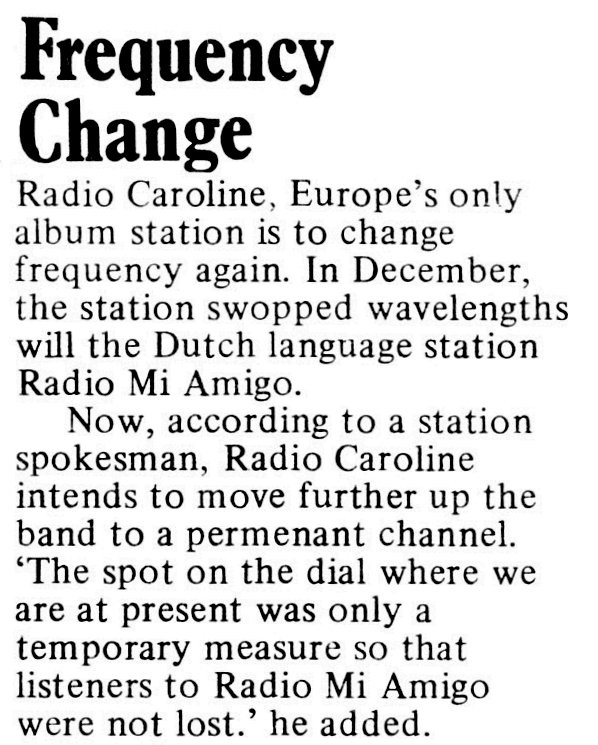 'Wavelength' magazine reports on the frequency change.
At the end of February 1977 another frequency change was announced. This was because Radio Caroline's broadcasts on 1187kHz were causing problems for Radio Orwell listeners in East Anglia, and vice versa. (Radio Orwell had begun broadcasting on 28th October 1975 on 257 metres.) At 6pm on Thursday 3rd March 1977 Caroline closed down. Five days later non-stop music was heard on the new frequency of 953 kHz, 315 metres (announced as "319") and on Wednesday 9th Caroline was back.
Johnny Jason on Radio Caroline from 3rd March 1977, the station's last day on 259. Despite his prosecution under the Marine Offences Act, Johnny had returned to Caroline the previous month. Recording courtesy of J.E Patrick (duration 2 minutes 34 seconds)

Some extracts from Radio Caroline's last show on 259 metres, 3rd March 1977. Mark Lawrence is presenting, James Ross is out and about on the ship (duration 6 minutes 27 seconds)

A short extract from Radio Caroline's first programme on 319 presented by Mark Lawrence on 9th March 1977. This and the clip above come from recordings made by Dave Bullock which he kindly shared on www.azanorak.com. Our thanks to Dave and Ray Robinson (duration 40 seconds)
In March a Home Office surveillance helicopter spotted the Saint Andre des Flandres, a fishing trawler, apparently loading supplies onto the Mi Amigo. As a result her five crew members appeared in a French court and, following enquiries, a 40 year old English woman, Mrs. Oonagh Karanjia, a former secretary to Ronan O'Rahilly was arrested in Boulogne. She was charged with being the land-based co-ordinator for Radio Caroline.

While all this activity was going on ashore, the DJs on the Mi Amigo had to stay put without a tender to relieve them. One of the team, Mark Lawrence, broke the then DJ-endurance record by staying at sea for more than three months. When the tender finally did arrive, he had a two week break, then returned for a further stint. It was dedication like this that enabled the station to survive.
Samantha on Radio Caroline during the afternoon of 24th March 1977. This is an edited version of a recording shared on The Offshore Radio Club Forum by Paul de Haan. Our thanks to him (duration 3 minutes 43 seconds)
On 1st June Oonagh Karanjia appeared in court in Boulogne with a number of boatmen, charged with tendering the radio ship. The Captain gave evidence that Mrs Karanjia had chartered his vessel and he was fined, as was his mate, although the charges against a third crewman were dropped. Mrs Karanjia refused to give any information about the Caroline organisation and was fined 4,000 francs (nearly £500), which she did not have. The court was adjourned until 23rd June and, when it resumed, she was freed. The fine had been paid by an anonymous well-wisher.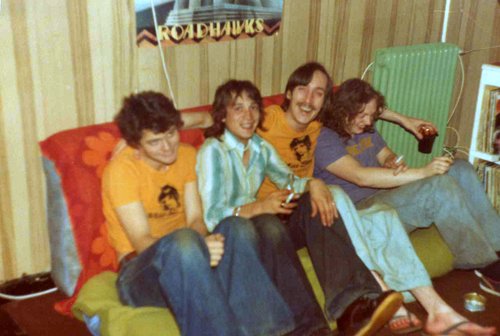 Left to right: James Ross, David Brown, Tony Allan and Mark Lawrence. Photo by Marc Jacobs, kindly provided by Hans Knot.

Although Caroline's daytime signal was now better than at any time since the start of the 24 hour service, evening reception was still sometimes poor and there was considerable pressure from listeners asking for the power to be increased. With this in mind, in June, the DJs started appealing for donations to help pay for a new transmitter. This was not a great success and, after only a couple of weeks, the appeal was abandoned. About £400 had been collected.
Some clips of Radio Caroline from June 1977 featuring David Brown, Mark Lawrence, Tony Allan appealing for money and singing a song, and Ed Foster advertising the second edition of the Caroline Bulletin. You can read an article from that magazine here. These extracts come from some recordings made by Dave Bullock which he kindly shared on www.azanorak.com. Our thanks to Dave and Ray Robinson (duration 4 minutes 15 seconds)
On 5th July Caroline changed frequency slightly, to 962 kHz, 312 metres, although this was still referred to as "319". This new channel was clearer than the old one but caused problems for campus radio stations in the UK who had been officially allocated the frequency. Later in the month Radio Mi Amigo also changed, to 1412 kHz, 212 metres.
SOME 1977 RADIO CAROLINE PROGRAMME SCHEDULES

15th-22nd February 1977
7th April-15th May 1977
19th September-22nd October 1977
259 metres
319 metres
319 metres


7.00am Mark Lawrence
10.00 James Ross
1.00pm Johnny Jason
4.00 Mark Lawrence
7.00 Johnny Jason
10.00 James Ross
1.00am Ed Foster
4.00 Martin Fisher (-07.00)




6.00am Mark Lawrence
9.00 Stuart Russell
12.00pm Mike Stevens
3.00 Roger Mathews
6.00 Stuart Russell
9.00 Mark Lawrence
12.00am Roger Mathews
3.00 Mike Stevens (-06.00)





All times BST/CET.



6.00am Mark Lawrence (weekdays)
Dickie Allen (weekends)
9.00 James Ross (wd)
Martin Fisher (we)
12.00pm Mike Stevens (wd)
Mark Lawrence (Sat)
James Ross (Sun)
3.00 Dickie Allen (wd)
Mike Stevens (we)
6.00 James Ross (M-Th)
Mark Lawrence (Fri-Sun)
9.00 Mark Lawrence (M-Th)
James Ross (Fri-Sun)
12.00am Mike Stevens
3.00 Martin Fisher (wd)
Alan the cook (we)(-06.00)
+ Fri/Sat/Sun 6-9pm, 9pm-12 mid:
Listeners Top 30s

During the summer of 1977 Wavelength magazine published the results of its latest survey, carried out by N.O.P. This research had been conducted while Caroline was on 953 kHz and it showed that of those questioned, 3% listened, a drop from the 4% of the previous survey. The reason for this drop was probably that Caroline was now only using the 10 kW transmitter, whereas previously it had the benefit of the 50 kW at night. The only encouraging sign from this otherwise depressing poll was the large number of listeners in the 15-24 age group - two thirds of the audience. At least Caroline was not just broadcasting to the old faithful; it was attracting some new listeners.

At the end of July DJ Tony Allan decided to go for a ride in the sunshine in a rubber dinghy. Unfortunately the motor broke down and the dinghy drifted off. Tony was lucky to be picked up by a passing boat and taken ashore but his premature departure left the ship one man light.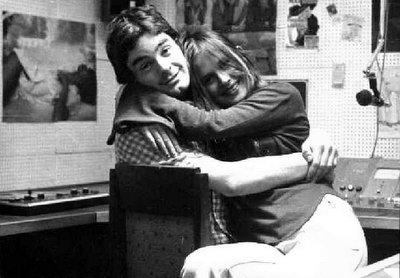 Stuart Russell and Samantha Dubois. Photo kindly provided by Johnny Lewis's Rounds & Sounds website.

On the 4th August the crew of the ageing Mi Amigo had a terrible shock. Water was found to be pouring in and the ship began to list heavily. Non-stop music replaced the normal programmes as everyone aboard manned the pumps. These were able to remove the water only marginally faster than it was pouring in and, even more worrying, the crew could not find the leak. The emergency services were informed of the situation and at around 3.50pm Radios Caroline and Mi Amigo closed down. The Kent police sent out a boat to offer assistance, although it was not required. Fortunately - much to everyone's relief - the leak was traced. It was not in the ship's structure. The water was gushing from a fractured pipe in the generator's salt water cooling system. This was quickly repaired and, after the water had been pumped out, the station returned to the air at 8.05pm. DJ Stuart Russell explained what had happened and sounded very relieved that it was all over.
Stuart Russell with his colleagues and ship-mates on Radio Caroline, 4th August 1977, relating the dramatic events of the day. This clip is taken from a longer recording available from www.azanorak.com. Our thanks to Ray Robinson (duration 7 minutes 59 seconds)
On 10th August the Mi Amigo was visited by the tug Vengeance carrying a number of Home Office officials. They took photographs as the disc-jockeys posed with paper bags over their heads!
13th August 1977 and time for another tour of the ship, this time carried out by Roger Mathews. Stuart Russell and Radio Mi Amigo's Marc Jacobs also make brief appearances. This clip is taken from a longer recording available from www.azanorak.com. Our thanks to Ray Robinson (duration 5 minutes 59 seconds)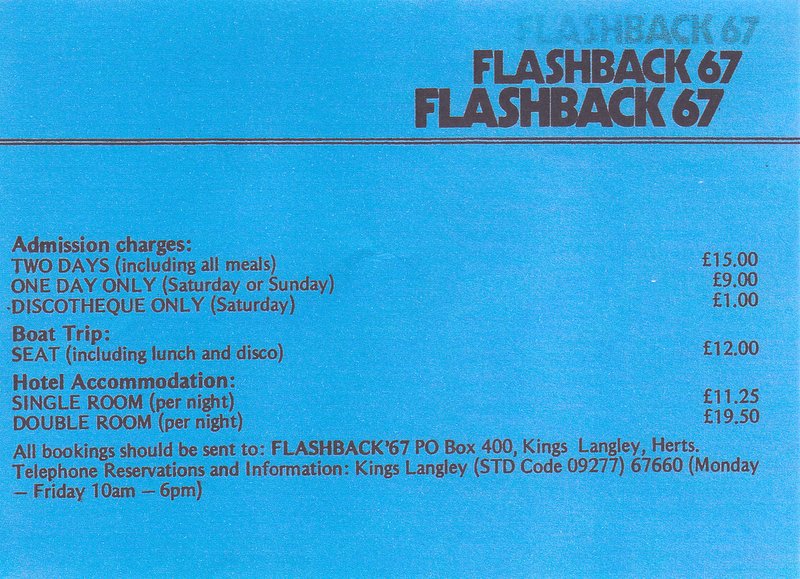 'Flashback '67' price list kindly provided by Ray Clark. More on this event here.
Over the weekend of 13th-14th August 1977 the first ever offshore radio convention took place at The Centre Airport Hotel near London's Heathrow Airport, marking ten years since the Marine Offences Act. Called Flashback '67 it was organised by Mike Baron and Nik Oakley of Music Radio Promotions the publishers of Wavelength magazine. (See here for more details and memorabilia.) On the Saturday, former Radio Caroline DJ Robbie Dale wandered round the venue interviewing a number of the attendees. The tape of his interviews was then rushed out to the mv Mi Amigo and, on the following evening, a special joint programme of Radio Caroline and Radio Mi Amigo was broadcast on both stations. The DJs played out Robbie's cassette, claiming it was a "live link-up" with Flashback '67.
Radio Mi Amigo's Herman De Graf and Radio Caroline's Stuart Russell start the special programme at 6pm on Sunday 14th August 1977 and 'link up' with Robbie Dale at Flashback '67, talking to the guests. The "young Irishman with grey hair" is, of course, Caroline founder Ronan O'Rahilly. Clips taken from a full-length recording available from www.azanorak.com. Our thanks to Ray Robinson (duration 4 minutes 50 seconds). More of this broadcast can be found on this page.
On the day after the convention, Monday 15th August, there was a 'radio nostalgia' boat trip organised. The route included some of the anti-aircraft forts in the Thames estuary which had been used by offshore stations in the sixties and then on to the mv Mi Amigo where the DJs welcomed them.
A mix of two tapes - an off-air recording and one made on the Flashback '67 boat. Caroline DJ Stuart Russell and Radio Mi Amigo's Marc Jacobs are up on the deck of the Caroline ship, Roger Mathews is in the studio. The other, muffled, voice is former RNI DJ Mark Stuart who provided the pleasure boat's PA system. Thanks to Ray Clark and Stuart Russell (not the DJ, another one) for providing the tapes (duration 4 minutes 35 seconds)
The team was already one man short following Tony Allan's departure in the rubber boat. On 2nd September another DJ left. Steve Kent, who had fallen ill, called out the Walton on the Naze lifeboat to take him ashore. With two broadcasters gone, this just left Roger Mathews and Stuart Russell to run the station 24 hours a day. They made a sterling effort but needed the help of their Radio Mi Amigo colleagues, old taped shows, some non-stop music and albums such as The Tamla Motown Story, a documentary history of the Detroit record company issued free to radio stations as a promotional item. A relief crew arrived on 19th September.

Meanwhile, on 9th September, senior Caroline engineer Peter Chicago was back in court, this time in Norwich. He had been caught coming ashore on the trawler Vita Nova at Gorleston on 5th August (following the water leak emergency). Peter pleaded guilty to maintaining equipment on the Mi Amigo and was fined £150 plus £20 costs.
Back to part seven.
The All-Time Top 100 Album chart, as broadcast on New Years Day 1977, is here.
An article by Stuart Russell about life on the Mi Amigo is here.
Part nine of 'Caroline In the 70s' is over the page.